Best Practices for Optimizing Your Google My Business Listing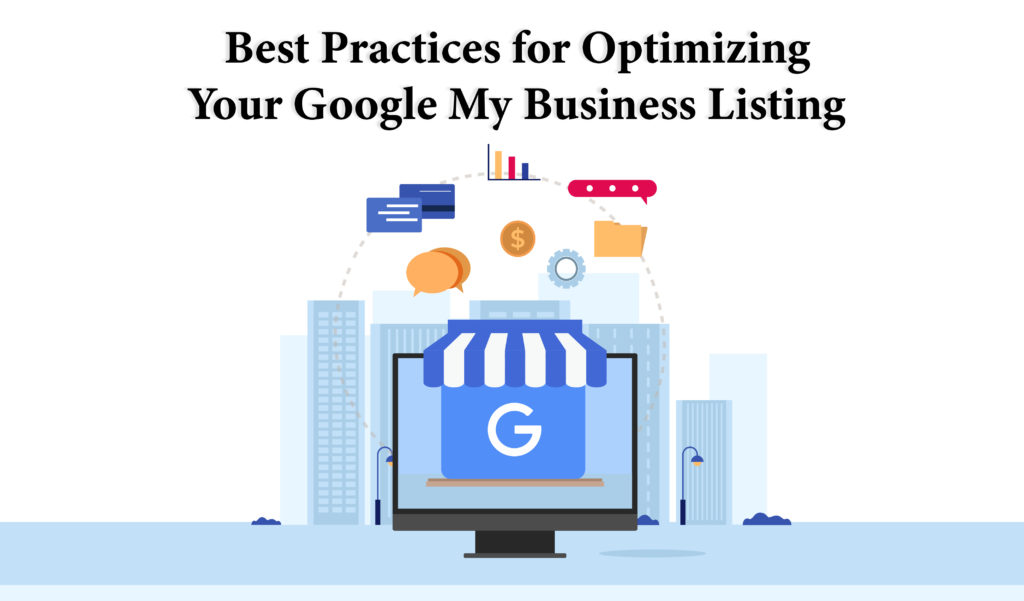 Today Google My Business has become an important asset of your business with an ever-increasing number of people using Google to search local businesses. It is a great tool to place your business in front of your prospective clients and entice them to do business with you.
However, just simply having a Google My Business listing won't be enough to succeed in the local searches, especially when there are so many businesses listed over there. You will need to optimize your listing and make the most of its variety of features by providing the best possible information and experience to your customers in order to impact your Local SEO rankings and make your business more discoverable in the local searches. If you are wondering how. Then read through this guide where we as a Jacksonville SEO Company have mentioned some best practices that will help you improve your Google My Business listing and boost your profile in such a way that can put you over the edge in your customers' minds. Have a look.
Best and the most effective practices to optimize your Google My Business profile
1. Make sure that your NAP information is accurate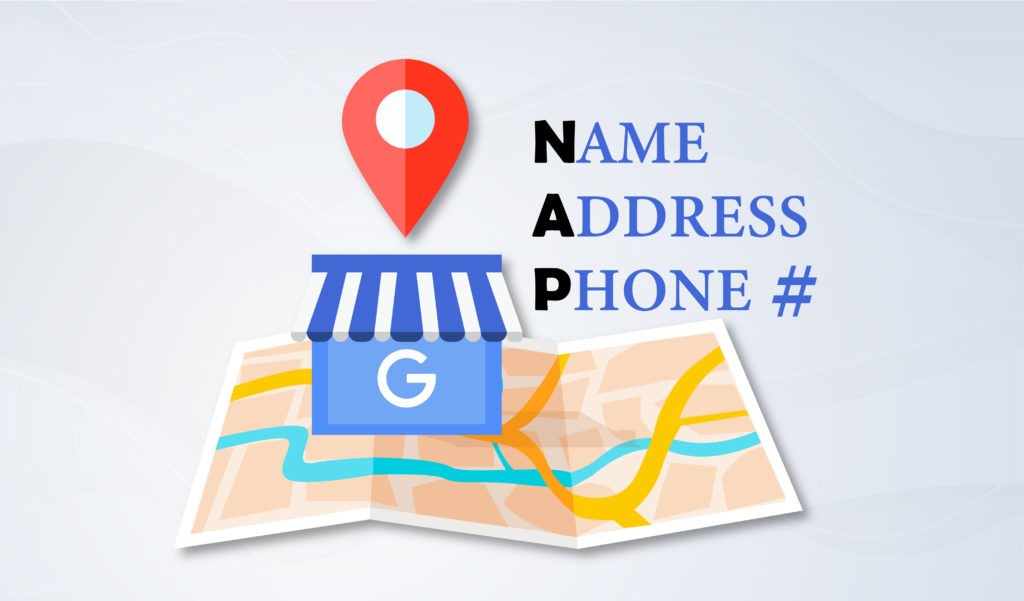 Let's start with the basics first. Before you dive into any of the following steps mastering the basics first is important. Here, it basically includes ensuring the accuracy of your NAP information. By accuracy, we mean whatever information you fill in should appropriately reflect what your business is in the real world. For instance, the name of your business on the signboard, business cards, or website should be exactly the same on your listing.
NAP basically refers to the name, address, and phone number, and getting it right is of utmost importance for optimizing your listing. If any of this information is not accurate can lead to a terrible loss. Suppose that the number you entered is wrong then the customers' will not be able to reach you. Even any misinformation that shows your shop is open, but when the customers show up they find you to be closed will make a terrible first impression. This will ultimately result in loss of your money and loads of business. It was also found that almost 69% of consumers will stop using a local business if they found that the information in online directories is incorrect. Hence, ensure that your address, name, phone number, as well as business hours, are all accurate and consistent.
There is much more to do, but until your account is fully optimized this will hold you over.
2. Write a compelling and perfect business description
You only have a 750-character limit description in your Google My Business listing. You can make the most of this opportunity by writing a compelling description and telling people what your business is about. Because this is one of the first things that your customers will see when they visit your Google My Business listing. So, make sure that you get it right.
The best thing you can do here includes any unique selling points that your business offers. Also, ensure that you use the key search terms of your that your customers use in your business description. But remember that you do not stuff your description with too many keywords. For instance, if you are an SEO company in Jacksonville, you can write a description like, "the best Jacksonville SEO Company for all your regular and Jacksonville SEO needs. If you feel like you are stuffing the keywords, just read the sentence yourself and ask whether it reads naturally or not and would it be useful for your searches. If yes, then there you are all set.
However, there is no clear evidence that including keywords in your description has any impact on the rakings. So, our Jacksonville SEO experts will advise you to focus more on sharing information that will mostly be useful to your potential customers.
3. Choose the right business category as well as subcategory
Picking up the right primary category is one of the most important aspects of Google My Business as it will be visible on your business listing as well as is an important component of your local SEO. Hence, make sure that you get it right. With your primary category, the subcategory you select is also important as it informs whether or not your listing is surfaced for local queries. Well, it might seem to be a simple task at first. But with so many categories listed out there, choosing the right one can really be tough. Well, you can easily simplify this task for yourself by checking on your competitors with a help of a tool or manually. A tool like BrightLocal's Local Search Grid can provide you with a good comparison of your nearby competitors' categories. If you choose to do it manually, you can follow the following steps:
Perform a local search on Google Maps with your keyword.
Visit one of your competitors' listings.
Now, right-click on it and click the 'view source' option.
Press Ctrl + F and search for the primary category. Once, you locate it, you can also see the subcategories next to it.
Note down these categories and test them for yourself.
The best thing about this section is that categories can be changed. So, feel free to experiment and see which category has an impact on your listing and figure out the best one for you.
4. Encourage customers to leave their reviews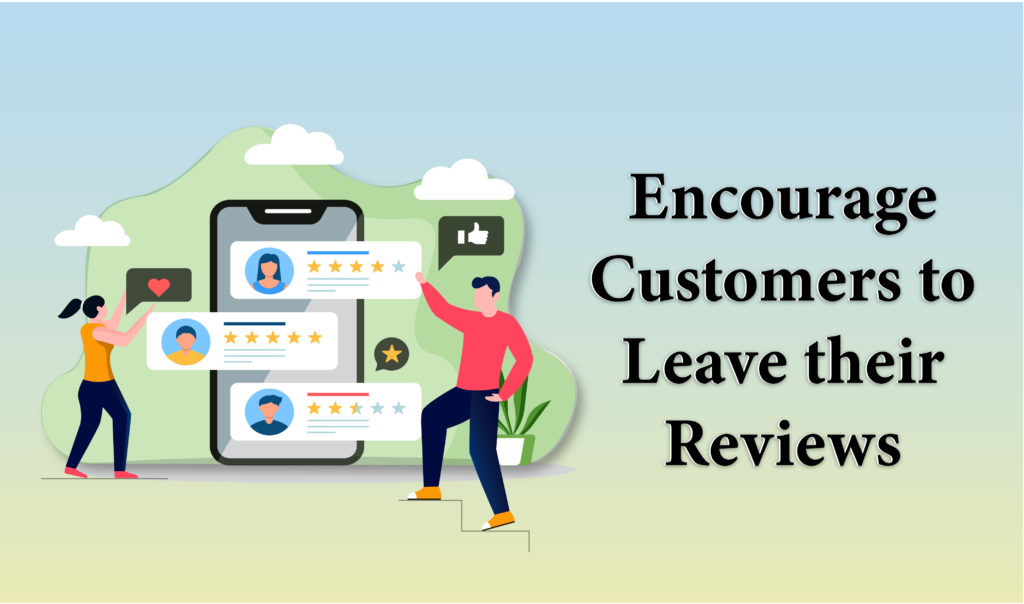 Getting a lot of good and high-quality reviews is another great must-have Google My Business strategy. You must have noticed that Google places the review section in a can't-be-missed way. They are exactly in the front and have a prominent position directly below your business name. So, this is a great opportunity to impress new clients and attract them to your business. The yellow stars will stand out on your profile page. In fact, reviews are a great way to help you climb the rankings, get more clicks, boost your sales and visits, and show up in the map packs. Even customers usually trust these reviews more than your words. A customer will at least read 10 reviews on average before approaching you. So, make sure that you are proactive and consistent in the process to leverage more and more reviews.
Here are some great ways to improve Google My Business reviews:
Whenever your team has a positive interaction with any customers, tell them to ask for a Google My Business review.
Make sure to include a link to your Google My Business profile on your website as well as places where you have regular communication with your customers such as emails.
Select your best customers and request them to leave a review on your profile.
At last, also, ensure that you respond to every review, even if it is negative. Reply to those reviews in a polite and prompt professional manner. This will help you tell your customers that you pay attention to every customer and they are valuable to you as well as you will do everything that takes to fix a negative customer experience. While a simple Thank-you will also be great after a positive review.
5. Post photos on your Google My Business profile
When it comes to optimizing your Google Business listing for boosting your local SEO, photos are the most sure-fire way to make your profile shine. As Google gives you many options to include photos in your profile, you can use both interior and exterior shots of your business. You can also use a 360-degree view. This will give you incredible results as strong images capture the attention of your audience more effectively.
In fact, businesses with photos gain 42% more requests for driving directions to their location according to Google. Plus, 35% more clicks to their websites over a business that doesn't have photos.
Here are some best practices to include photos of your business on Google My Business profile
Add photos of the exterior of your business in order to help the customers spot your business easily when they decide to visit it.
Also, make sure to include interior photos of your business so that customers understand what to expect from your business.
It is also a best practice to add your happy customer's photos to encourage other people to do business with you.
If you are a product-based company, make sure to include photos of your products too.
With all the above list, your cover photo is the most important photo. So make sure that it defines your business appropriately and is colorful, and of high quality. Also, optimize it to the right size- 1332 x 750 and most probably take a close-up shot of your storefront as Google prefers it the most.
6. Publish posts regularly and consistently
Google My Business account also allows you to create posts with the Google My Business dashboard. These posts are basically the mini blogs that provide consumers the important information and updates on your business. you can also create posts to highlight specific products of your business. When people click on your listing these posts will show with your listing and give consumers additional information about your business, product, or service. This is a great opportunity to entice them to do business with you. More importantly, it will also help you with your local SEO in two ways. Regular posts will help you feed important keywords and phrases and drive up engagement. The more you will drive engagement through your Google My Business profile, the more Google will take your business seriously as it measures how much you as a business owner engage with your profile.
Here are some ideas that will help you improve your Google My Business listing:
Appeal to your consumers by showcasing your products and services through your posts.
Highlight your special offerings in your posts.
Also, make sure to share relevant updates to your business.
You can also feature something special for consumers who approached you through Google My Business.
Good posts are always a great way to increase your visibility and rankings in the local searches. Plus, they can be highly influential in encouraging the customers to choose your business over others. Hence, it is important to be consistent and regular while publishing your posts in order to boost your rankings.
7. Optimize Q & A section on your Google My Business Profile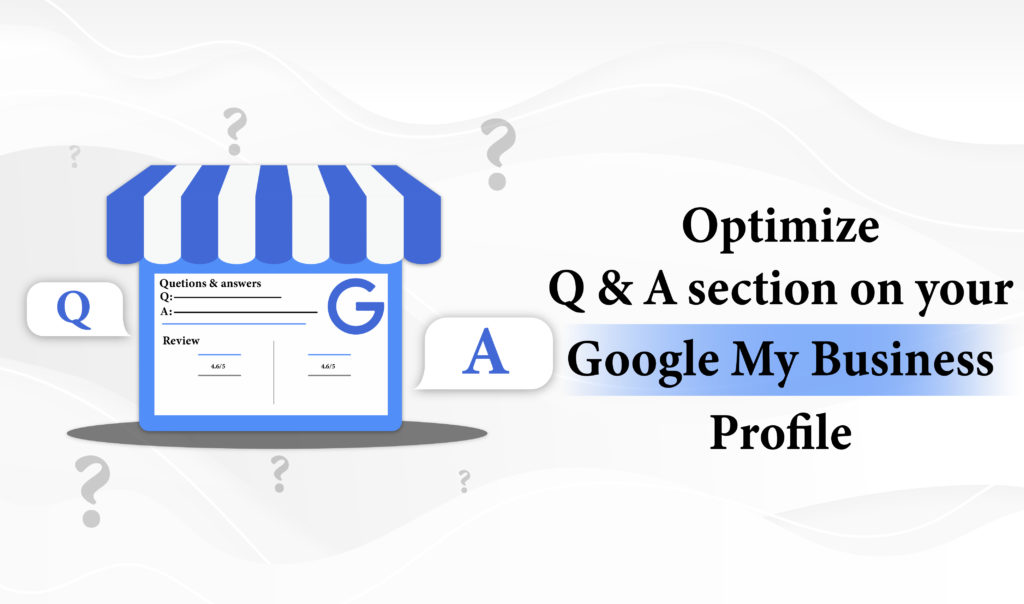 Usually, before approaching a business, consumers generally have many questions in their minds. Moreover, there are many people on the streets out there that can contribute and influence how your business is perceived online. However, like many other elements of your Google My Business profile, the Q & A feature can be greatly helpful to your business here, but you need to make it work. Here, you have the ability to create both questions and answers within your profile. So, analyze and monitor your customer data, make sure to include the right questions and their best answers in your profile. This will allow you to have more control over the narrative as well as the perception of your business.
When you optimize your online presence for local SEO, Google My Business profile always comes top on that list. It is an important component of local search as well as plays a crucial role in determining how consumers perceive your business and optimizing your GMB profile can greatly help you with that. However, it isn't a set-it and forget-it task, it takes consistent work and attention to boost your rankings in the local search results. So, we hope that the above-mentioned ways can greatly help you with that and increase your exposure and influence in the local market. You can of course learn more and optimize your profile more to make it easier for customers to choose your business over others. If you would like more help or are struggling to optimize your local listing, there are many Local SEO agencies that can help your business to rise to the top of local searches and grow.