How to create a wireframe for Mobile App Development and Web App Development?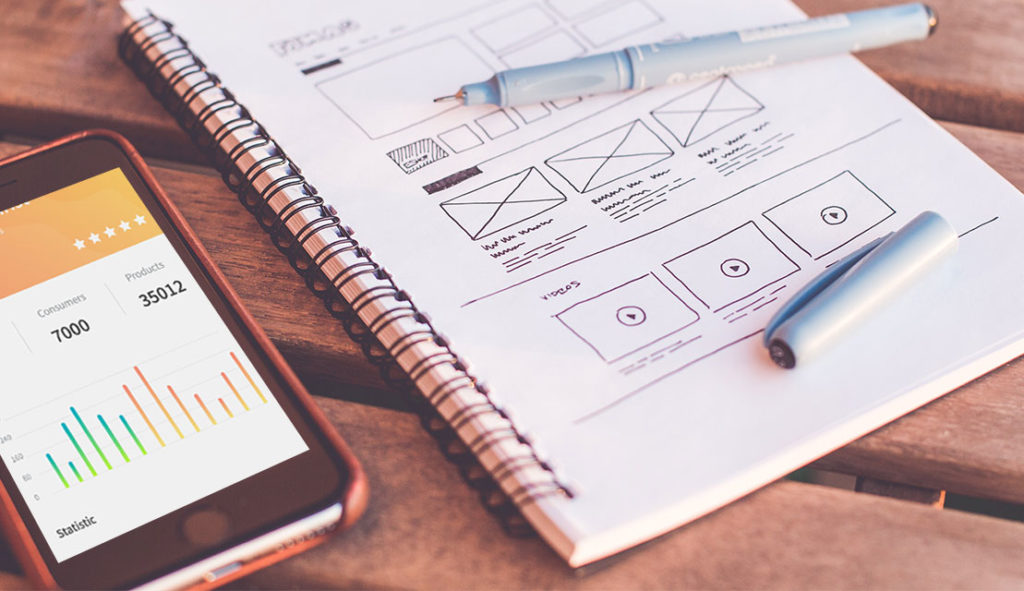 A wireframe can be a confusing concept to understand if you are not getting what it is and can fail to make the expected web or app development project from the client. So, you should always have full information about the subject before performing it. Here below I have explained what is a wireframe, what is its importance, real-life example of a wireframe, what is not a wireframe, and explained the working of a wireframe.
What is Wireframe?
A wireframe is a blueprint of your website or application, it a basic visual representation of various elements that will be present on your app or website. It is just a 2D illustration of your website where you can imagine how your app or website will look later. Here we prioritize the elements or content into high priority and low priority so that it should be highlighted and must be seen by the user's ex. Call-to-action like learn more, call now, email us, buy now, add to cart, etc. and placing other content with low
priority at not so highlighted places so that they can read it if they want to. Now you may be thinking that wireframe is used for only showing the visual part of the app or website, but the main thing is that it also illustrates every step in the user journey so that we can understand the easiest way to navigate through the app and change if needed.
Importance of Wireframe?
Wireframes are important as they give a glance at how the app or website will look after the complete development. So, creating wireframes is an essential step in the web development and app development process. This makes it easy to decide, what the client, stake-holders, or the person with power to take decisions to decide the changes at the very early stage. Wireframe helps in making all the major changes in this stage so that the app or website doesn't need to make major changed after starting the development process. This helps in saving time as well as money because if major changes are made after the development stage, the time required for completion will be more and the developing charges may also increase. We can place the content according to the priority, which content has the highest priority and need to be placed where the user can see clearly. It helps in making the user journey of the website or app easier by making multiple changes in the first few steps.
It solves a lot of major problems in the initial stage which keeps the development cost stable.
Elements of Wireframe
Elements of a Page are those parts of the page that can contain anything from text, image, button, etc. that occupies a particular area on the screen and have a certain value.
Categories
How do you want to categorize the objects on the website or app?
Navigation Area
The navigation symbols, or elements and their placement.
Prioritization of content
Identifying which content is of high priority and low priority
Action areas
There are different types of elements in the app or websites,
Readable content that does not act like clicking on it
Other content that gives feedback after the action is taken, ex. Buttons, hyperlinks.
Not-Elements of Wireframe
Design elements
Elements that are added to make your website look attractive are not included in the wireframe
Colors
The color combination of your website is not included in the wireframe
Fonts
What font to be used is not selected in the wireframe (text size is rather included according to priority)
Styled graphics and images
Images, videos, infographics are not included in the wireframe
Logos
Logos are not included instead an element for placing a logo is specified.
Real-life example of Wireframe
A wireframe for an app or website is the same as a blueprint for any construction complex like a house, building, hotel, office, etc.
As in the blueprint, we can see windows, doors, rooms, passage, area of the room, electric wires, water pipes, drainage system.
There are no other items like daily used items like fridge, Television, furniture, or decorative.
In the same way, the wireframe shows all the important elements in the app and design.
Steps of creating Wireframe
Gathering Info
The first step is to start a collection from the clients about how they want the app or website to be. You can ask questions like
Who will the users be?

Can they understand complex navigations or we have to keep it easy?
What is the purpose?
The goal of using this app?
How are we solving this problem?
How should the buyer's journey be?
Collecting this data will help you get insights into how the application or website will look and what should be its functionality.
Make an excel file
You have to input all the things with detailed descriptions in the excel document so that nothing is missed from you and you can omit things that are not so important from the document.
Inspiration
Before doing the real work, you can take inspiration from multiple apps or websites, where you can refer by keeping those elements in mind.
BASIC Wireframe
The basic wireframe is the most basic form of layout, that is designed on plain paper or computer. It is like a simple sketch where layouts with the positioning of elements are given. This initial process of actually designing a wireframe is mostly done using the zoning process where the placement of the specific elements is being done.
DETAILED Wireframe
These wireframes are a detailed version of the basic wireframe, here things like indentation between elements, text sizes, are being done. We hope you have got a detailed overview of what a wireframe is and the process of making it. You won't find it difficult to design it next time
Wireframes focus on getting the flow and the user experience right and hence are the crucial part of both the app designing and web designing process. Creating wireframes gives you better clarity to look into the details objectively and lay down a flawless, intuitive, and functional product with great potential to engage users.
So make sure to define every single element of the screen to represent information in a way that aligns with the end goal and remember that simplicity is the key while designing a wireframe. If you are thinking App design & App development to be done by web design and app development experts, you should surely be seeing YashaaGlobal for the project. YashaaGlobal is the best web and app development company in Jacksonville Fl. You can search for phrases like Web design Jacksonville or App development Jacksonville company to approach them.