Importance of UI and UX in Website Design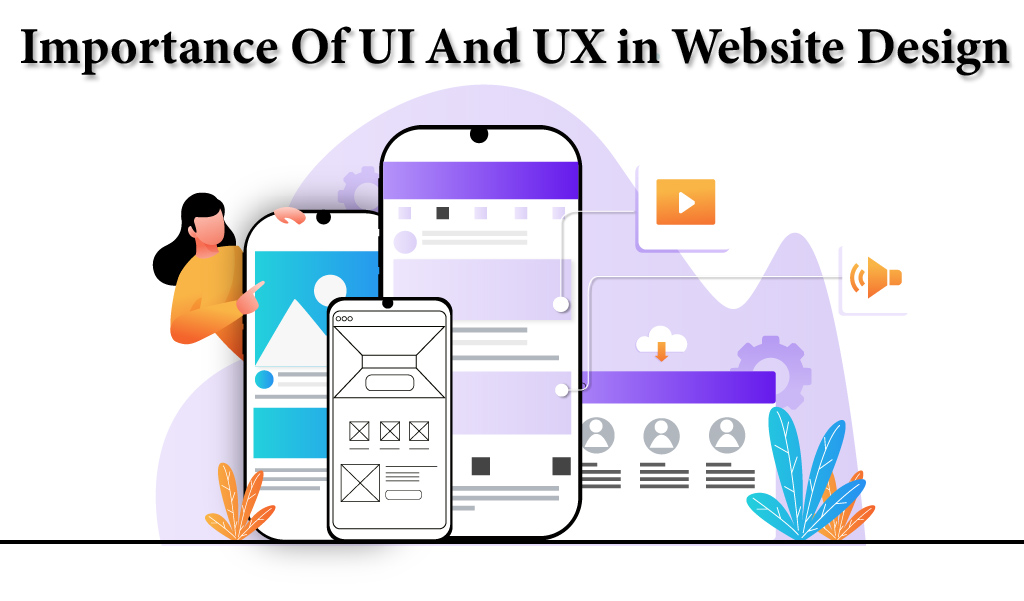 In this digital world of evolving technology, we always witness a tremendous shift of focus on how the website's audience interacts and consume the web content. Everybody wants to experience the best technology now and that too without investing much of their time and getting exhausted. To state this accurately, we can say that it is all about consumers and their perspectives today. So, if you wish to gain successful outcomes make sure that you build a website that is not only quick but also efficient. But how? Well, UI (user interface) and UX (user experience) can help you here.
When we talk about the website's user satisfaction, UI (User Interface) and UX (User Experience) plays a great role here. However, many people usually get confused between the terms UI and UX and are unaware of their importance in website design.
So, in this article, our Jacksonville website design experts will highlight both these terms, their differences as well as help you understand why they are an important aspect of website design.
So let us first start with understanding what the user interface and user experience are.
User Interface (UI)
User Interface (UI) mainly focuses on the look and style of the website. The main goal here is to create an interface that users find easy to use and pleasurable as well. To put it simply, we can say that it is a point of interaction between a human and a computer.
Users can effectively operate a machine due to the user interface in order to achieve specific goals like making a purchase or downloading a game. For example, you are in fact using UI right now to read this article.
Key elements of user interface (UI)
The elements of the User Interface are basically the building blocks used to build an interactive website by providing touchpoints for users while they navigate through. The four key user interface elements are:
Input controls: Input controls allow the users to enter information into the system. Some of the input control elements are drop-down lists, list boxes, checkboxes, radio buttons, buttons, toggles, text, field, and a data field.
Navigational components: Navigation is basically a set of actions that guide users to move around the website and some of the components that allow easy navigation are breadcrumb, slider, search field, pagination, tags, icons, buttons, links, tabs, and menu.
Informational components: The components that are used to share information with users and allow them to understand unfamiliar or unknown objects are known as informational components.
User Experience (UX)
User Experience (UX) is all about how a person feels while interfacing with a website and includes many factors like usability, accessibility, performance, design/aesthetics, utility, and overall human interaction that are controllable by designers and developers. Thus, we can define user experience (UX) as the connection that users feel when using a website.
Key components of user experience (UX)
Information Architecture (IA): Information architecture is all about satisfying the business strategies by designing the website's structure. The main aim is to provide users with easy navigation irrespective of the browser they use.
Interaction Design: Interaction design includes creating a conceptual design so that users can also try their hands on it. It includes various elements like aesthetics, colors, fonts, audio, videos, graphics, images, etc.
Usability: Usability can be defined as the friendliness of the website with the user. It comprehends the ways to handle the errors, plus also helps users to get the information they want through easy navigation.
Wireframing: Wireframing is an important stage in web designing as it plays a vital role in achieving the perfect look and usability before the final launch of the website. You can easily modify your design here and thus save a lot of time and money.
Visual design: Visual design basically defines the brand of the company. So, it should be such that the user comes to know what the design is about as soon as he visits the site.
Difference between User Interface and User Experience
Though both user interface and user experience are crucial to a website, the professional relationship between the two is quite different. You all must have clearly understood by now that UI mainly deals with the interaction between the users and computers, while UX focuses on the overall experience with the website.
Stating it more clearly we can say that the terms such as ease of use, aesthetic of the design, and graphics fall under the UI segment that is mainly focused on enhancing the look of the website. (A successful user interface must be visually appealing, innovative, user-friendly, and comfortable to operate).
On the other hand, user experience (UX) deals with the emotions, feelings, and preferences of the user. It fully concentrates on how the user would feel while interacting with the website thus providing countless benefits for both users as well as the owner.
So, when we talk about UX (user experience), we refer to the way the client interacts with the website and when we talk about UI we refer to visual elements that offer an attractive and pleasing web design that is also comfortable to understand.
Importance of UI (user interface) and UX (user experience) in website design
A well-developed UI/UX experience offers you multiple benefits that can bring significant competitive advantages to your business by drastically improving customer satisfaction. Some of them are listed below.
UI/UX can help you increase your customer acquisition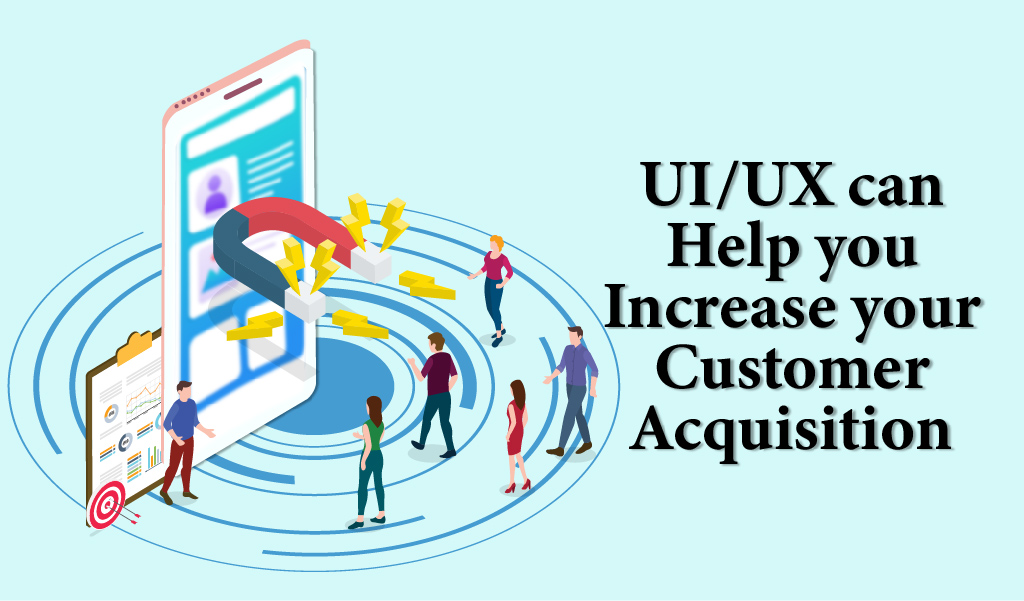 Customer acquisition simply refers to getting new customers and a strong user experience gives you a competitive edge in attracting them. This is because interacting with your website becomes easier for your users and navigating through it is more comfortable and effortless. This gives them a reasonable degree of satisfaction. Thus, helping you easily build trust with your visitors and increase the chance of your brand to attract more users. In fact, even convert them into your customers. Proving UI/UX design an effective strategy to gain new customers.
UI/UX can help you in retaining your customers
Similar to customer acquisition, customer retention is also important for businesses and requires a well-thought strategy. These strategies should enable businesses to provide and get value from their existing customer base.
When creating UI/UX, understanding your customers is a must in order to come up with a design that is focused on your target audience. Plus, UI/UX also allows you to segment your audience and know what each audience wants. Thus, you will come up with an intuitive and visually beautiful website that not only attracts more visitors but also convert them into your loyal customers. Thus, retaining them for a long time.
UI/UX improves the visitor's perception of your brand
Investing efficient time in UI/UX design greatly helps you in improving your customer satisfaction and thus making them happy. People love engaging with brands that please them and are more willing to interact with you. Thus, they will end up buying more from your site and recommend it to other people too. While if they have a good experience, they will also raise awareness of the brand. This will ultimately boost the reputation of your brand.
You just need an intuitive layout that will help customers find what they need quicker. You can achieve this by creating a great logo that enhances the success of your business significantly. Because the logo is the way that can differentiate your business from your competitors with visible graphic elements that support your message.
UI/UX provides ease of reading the content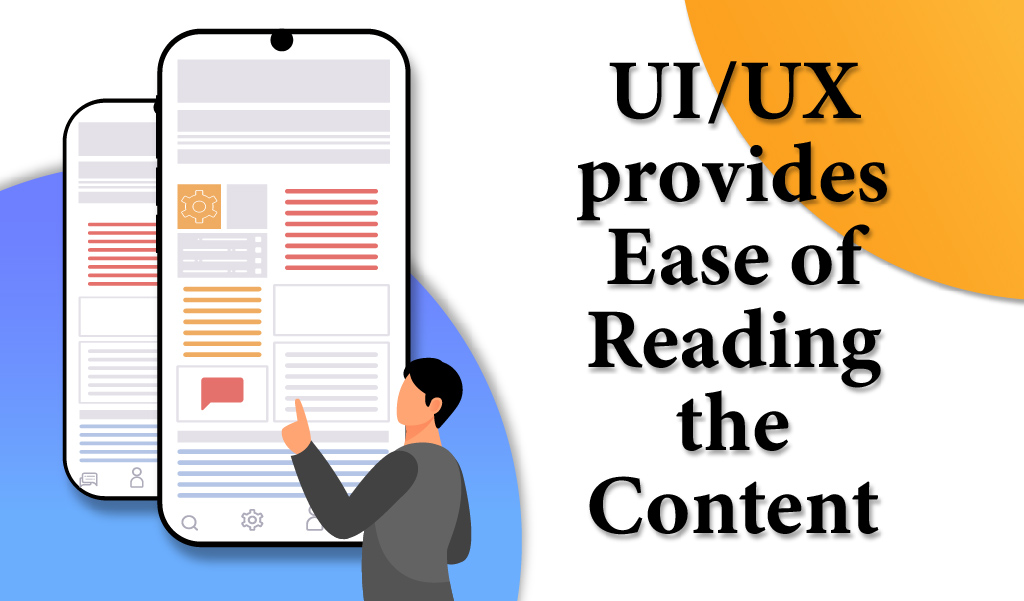 We all know that search engine optimization prefers and rewards websites that are readable. The major reason behind it is that makes picking keywords easy and the content highlighted. Also, retains users on the site for longer due to easy readability.
There are many sites that are designed hurriedly by just considering the outlook which makes it quite difficult for the users to pick out the key points. Additionally, ending up with a low rank on the search engine results page.
A proper design interface is one of the ways to foster this and in fact, even you can be guaranteed that the core message is well pronounced.
The other thing that your interface will include is a good font for the text, especially the one that is easy to read. This will also help the visually challenged people to easily comprehend the written content.
Boost Interactions with users
When you build a website there is always a motive to reach the maximum number of people. However, without a proper user interface and user experience, it is nearly impossible to achieve this goal. This is why maximum business owners are urged to invest in this venture.
Moreover, the use of UI/UX also makes it easy for the start-up to understand the reaction of users through a comment section. Here the website visitors and viewers can freely share their experience thus boosting the user interactions and you can also modify your website accordingly.
UI/UX help in providing easy navigation
As already discussed many times before, UI/UX are great aspects to help the users navigate easily. Especially, when it comes to websites, navigation is a major part that plays a great role in providing a user experience. So, you should always make sure that your users can move from one page to another without any hassle. This also includes actions such as fast loading speeds and swipes. Otherwise, the users will be annoyed by slow response and switch to other fast-loading websites. You will not only lose your customers through this but also lose the rank of your website due to the high bounce rate.
To avoid this from happening, you should focus on making your navigation easy. You can have a search box on your website where the users can easily search for any information they want quickly. This will allow to minimize the time taken to research and peruse the content on the site.
UI/UX can help you boost your sales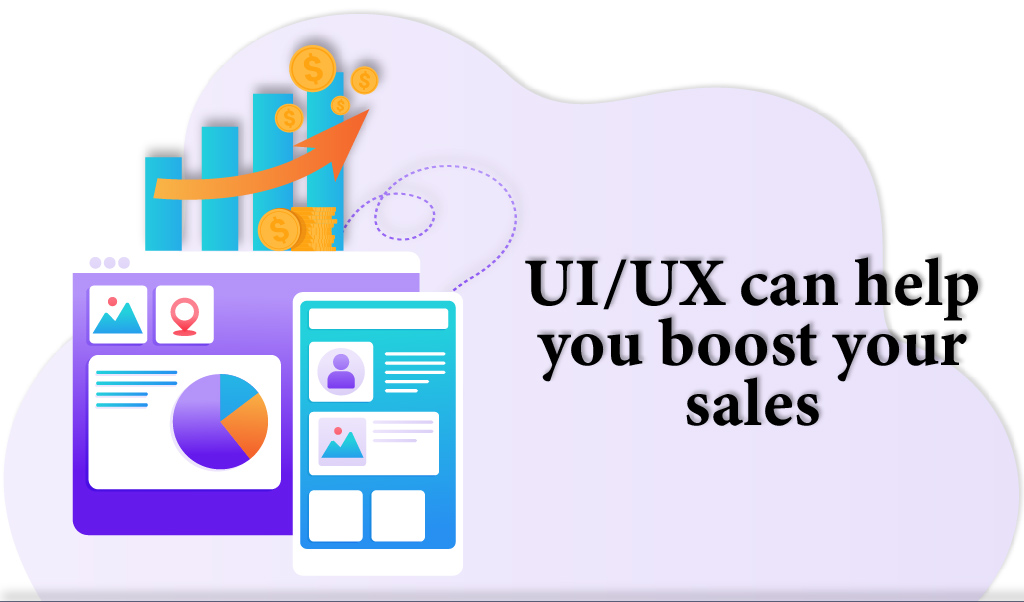 Talking about online presence, we can say that good usability can directly impact the conversion rate on your website and UI/UX helps you achieve that greatly. It is of course essential to take care of the purchasing process, especially in e-commerce websites where transactions take place. Make sure to keep it short and straightforward without asking for unnecessary data. In fact, it is also necessary to inform users about the remaining steps to finalize a purchase.
Such a well-designed checkout process will greatly help you in reducing the number of cart abandonment rates. This will ultimately help you increase your sales and generate more revenue.
You can also hire UI/UX professionals to modify your design elements more efficiently. A good web design will clearly help you gain more customers and boost your sales drastically by providing a great user experience.
In this fast-paced world of technology, we can say that businesses can't survive without a website. However, it is essential to provide a good user experience, or else there is no point in developing a website. Thus, developing an interactive, innovative, and user-friendly website is a must and two ideas that surround the good practice of web design are UX and UI.
They are the most important aspects of a web design that can bring many benefits for your business as well as the users. Some of them include providing easy navigation, boosting your sales, retain existing customers, increase customer acquisition, improving the user's perception about your brand, boosting user interactions, and much more.
Well, the right move will be to approach a professional website design company that helps you effectively implement UI and UX in your website. Though their hourly rates seem expensive, it is worth it. Because you will not be saving your time to do but also boosting your revenue through their result-driven services.