What questions should be asked to a web design company?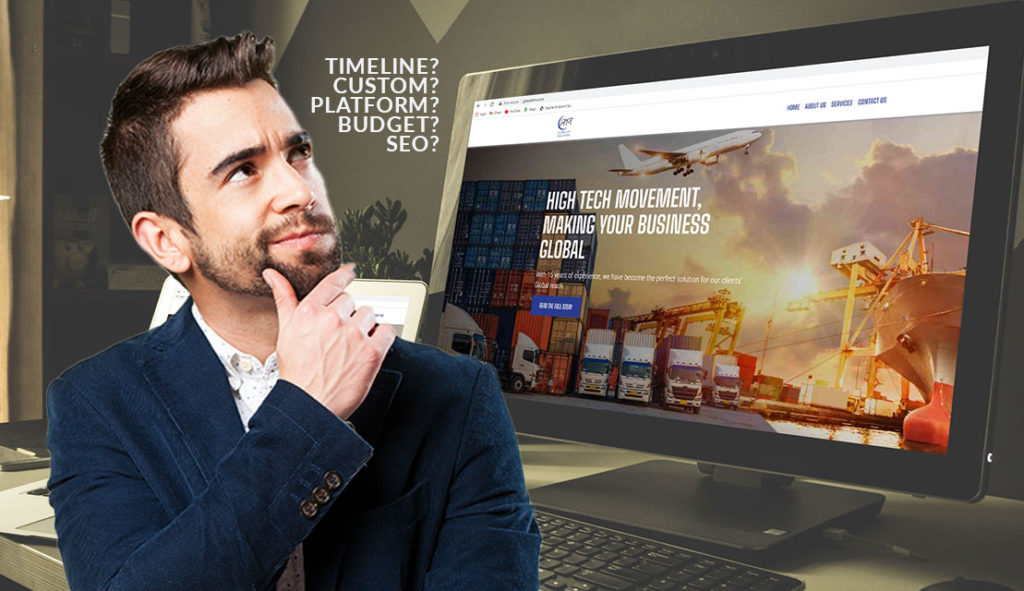 Nowadays, having a great website is crucial for every business as it is the first point of contact your visitors have with your brand. So, it becomes important to select the right agency for developing a website for your business. But do you know how to pick the right web development company?
Well, selecting a good company that will be the best fit for designing your website and a good extension of your team can be a challenging task. Because whom you select to work with and build your website will decide the end product. By being prepared to ask the right questions while choosing a web development company can provide you the insights you need while making the selection decision.
To help you find the web development company that you can trust and feel confident in calling your partner, we have researched and compiled a list of essential questions that you can ask to get the best web designing company.
How much experience do you have?
Your website is the visual representation of your company and will generate new leads and build your sales only if designed and developed properly. A well-experienced company understands the importance of your website for marketing and is well aware of the difficulties faced while developing a website and how to overcome them. Though it's not necessarily a bad thing to work with a novice company, but the experience of the company is incredibly valuable. Experienced companies know their work well and you will have the sense of reliability and trust that you end up getting a good website. Moreover, with years of experience, they have great skills and knowledge of developing a website that will rank higher on search engines and will be accessible on all devices. So, look for companies who at least have been in this field for three to four years.
What kind of websites have you designed?
Be bold to ask this question to know about the web development company's experience with different types of websites. This can be extremely helpful to narrow down the list of agencies you will review while making your selection decision.
Selecting a company that has designed websites on everything from e-commerce to microsites will absolutely face no issues while working on your site. You will definitely be in good hands if the company you select has a wide range of experience in building various websites and has the expertise in your type of site too.
Have you worked on similar projects having the same goals as ours?
It is essential for a developer to understand your vision, to be able to create the website that you want. If your developer doesn't understand your goals, then he will fail to fulfill your needs. You need to ensure that the web developer knows what you are looking for and can execute the process around it. If he has worked on similar projects before, it will be a bonus point as he will have a good understanding of your vision and goals. For example, if you need an e-commerce website and your developer has never worked on such a website, then it will take twice as long to create the website because of extra planning and research.
What kind of research will you do on our business?
For designing a good website, thorough research is required. Good research helps businesses to successfully strategize, design and market their brand. So, partnering with a company that understands your market, business and your customers becomes important for the success of your website. Even before designing your website's concept, your developer should be conducting research for detailed insights.
Hiring a company that understands your prospects and partners helps you build your marketing strategy around it.
Find a company that plans on analyzing your business before laying out design plans.
What does your SEO strategy look like?
Just having a good website is not enough. To gain benefits from your website, ranking it is essential. A website couldn't rank without a good SEO strategy. Now, SEO is more about creating good content that your audience is searching for and providing it in a user-friendly manner. There are many best practices related to SEO that can break or make your brand's ability to rank well. So, be sure to ask this question while selecting a company and choose the one with a good SEO strategy. For local companies selecting a good Local SEO company will be the best option.
Can you design a website that fits my budget?
It is always better to clearly communicate your budget. Do your research in advance, to figure out and set your budget, and the price you are willing to pay. Be sure to ask your developer about the options they offer and compare them with your budget.
Don't opt for the cheapest company available, you get what you pay for. It is better to select the company that provides quality work rather than paying more to redesign your website due to a lack of quality work.
Do you offer both custom and template designs?
A web development company generally offers both custom and template websites according to the client's budget and needs. A template website is cost-effective but includes clunky codes and plugins which can negatively affect its importance and have a high risk of breaking your website when one of the plugins incorporated malfunctions. Whereas, custom websites are built specifically according to the needs of the client and only include the specific code. Regardless of what type of website you provide select the company that is comfortable in creating both custom and template designs.
How long will it take to complete my website design and development?
Typically, the time required for developing a website depends on the scope of the work required and how quickly you provide them the required information. Asking this question will help you know the timeframe the firm will take to complete your project if they have all the information and know their average time taken for a single project.
If you want your website as soon as possible hire a company that can complete your project within that timeframe. Companies take different times for the completion of every task. Check if their schedule and availability align with yours and if their timeline fits your timeframe.
What assets do I need to provide?
A successful website is not built independently. There will be some work on your part too. Basically, you need to provide images, text, videos, or any other content you wish to have on your website. You can also opt for text work done by the company but it will also need some basic information. Whatever the case may be make sure to ask this question before the beginning of the project to avoid wastage of time scrambling for content, images, videos, etc.
Communicate with the web developer and get a list of things they will need from your side. So that your website can be completed on time. Choose to work with the firm that works hand-in-hand so that you get the website you desire rather than completely relying on it.
Do you offer other services apart from web design?
If a company offers other services like graphic designing, search engine optimization, digital marketing it assures that they will build a high-performing website that will generate leads.
A good website requires many aspects like logo design, illustration, video editing, and social media graphics. It's rare to find a company providing all these services in one place but not impossible.
In Jacksonville, there are some companies that provide all these services under one roof. If you want the best service provider in Jacksonville, you can search for the best Web design Jacksonville on Google and hire the best company to build a website you want to achieve your goals.
Can I reach out to your clients?
Last but not the least, it is important to verify whether the company does what it says. Because most of the time, many companies promise mountains but fail to deliver the desired results. So, don't hesitate to ask this question before hiring them to make sure that the company lives up to its promises.
Hence, it's always a good idea to reach out to their previous or existing clients to get an honest and unbiased opinion about the company. This will help you get a result-oriented company that can truly give you a measurable result on your website investment.
Developing a website is crucial for your business and you should not take it lightly. As the website is the first impression of your business, a well-designed website forms a great impression on your prospective clients. Additionally, it helps you to get more leads and improve your conversion rate. So, it becomes important to develop a website that delivers a great user experience to drive more traffic. But this will happen only if you hire a good web development company for designing your website.
Searching for the right web development company may require a lot of time and research. But by knowing what you are looking for and being prepared with the list of questions you can easily help you find the best one. To get more ideas about selecting a good company, you can also read our blog: five tips for hiring a web design company on our website.