App Development: Assumptions Vs Reality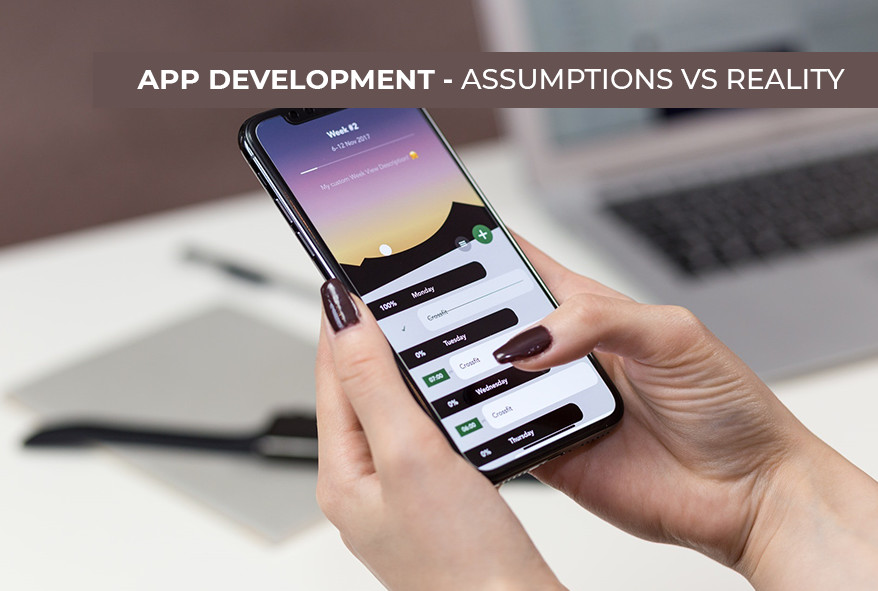 With the advent of technology and the booming demand for mobile applications, mobile app development has become the fastest-growing industry in the world today. After the successful launch of your website, every business wants to grow, and developing an app is the way to it. Certainly, the idea of developing an app will only be successful if the app is user-friendly, attractive, support the latest technologies, and also highly interactive. You should keep updating it with trending features and new technologies. The main aim is how to develop an app
in such a way that it provides the user a good experience and they do not get bored with it. Developing such an app will allow you to attract more users and keep them engaged and interested. App maintenance should be given special attention and you should also speculate the customer's feedbacks to check whether they are satisfied or not.
Well, at YashaaGlobal, an app development company we believe that every business can succeed by developing a good application, but when it comes to developing an app, many assumptions arise that vary from reality. So, to make your app development process a success, in this article we will take a reality check on some false assumptions related to app development.
Mobile App Development Process
Assumption:
Mobile app development is quite a simple and easy process. There are many tools and educational videos out there to help build an app, so building a first version of the app will be just a child's play. This process just needs an individual expert to set the entire application together just like a Lego game where we construct models by interlocking the blocks.
Reality:
Mobile app development is a lengthy process in reality. It involves various steps like idea generation, market research, app design, app development, testing, and app deployment. Every step requires utmost attention and commitment. Additionally, it also requires some extra efforts while developing the app like you start developing an app choosing the programming language, the right server with a good storage capacity, and a framework that best suits the business goals.
There are many resources available today that allow you to use templates to create and launch your app quickly, but even with these templates building an app is not that easy. Moreover, even if you choose a pre-formatted app, you will still need hours for identifying its features, and coding language. Developing a valuable app requires dedicated efforts and time.
You can get more information about the app development process here: what is the app development process? Or what are the 5 steps for app development?
Mobile App Development Time
Assumption:
Most business owners and entrepreneurs expect to get their app within few days after they share their requirements with the app development agency. As we mentioned in the first point that app development seems simple from the outside, so many people are not aware of the actual process and the time required to execute them.
Reality:
We already discussed in the above point that the app development process comprises phases like ideation and research, designing, architecture and development, testing, and deployment. Every phase requires a specific amount of time and cannot be completed in a short period. If you hurry, you won' be able to develop your app precisely and eventually end up building a failed app. The average time taken for only the ideation and research phase is around two, three, and four weeks for small, mid-sized, and big apps respectively. Moreover, you will require time for technical architecture, UI coding, backend setup, functional implementation, and testing. For smaller apps it is around 6 to 7 weeks (two or two and a half months), mid-sized apps take around 14 to 15 weeks (three to four months) while big-sized applications will take around 20 to 22 weeks (five to six months). Moreover, once the app is fully developed an additional time of around 1 to 3 weeks is also required for beta testing. So, we can say that for an app to be fully developed and launched, it can take around 10 to 38 weeks depending upon the size of the app. This time duration can also extend due to the increase in the number of requirements.
Mobile App Submission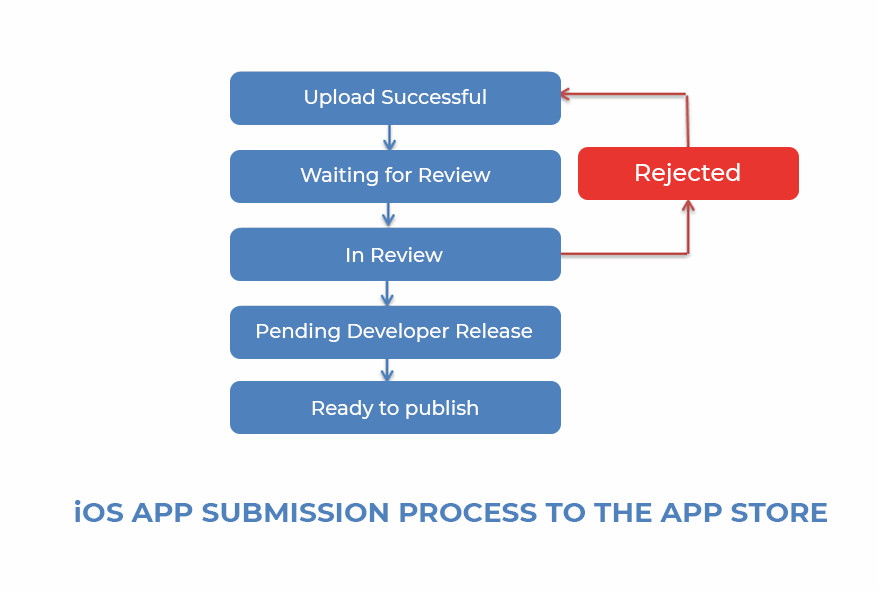 Assumption:
Launching the mobile app in the app stores is the easiest process like having a sip of tea. You click on the submit button and the app is launched into the market for the customers.
Reality:
App submission is not so straightforward. If it would have been such an easy task as expected above, then all the malicious apps would have been ruling the app store. The reality is that the app needs to go through a review process to be accepted by the app stores. For Android apps, there is no such review process but it takes several days for Apple to review your app. There are numerous evaluations that the app has to pass before it gets accepted in the app stores. The app should not crash, should be bug-free, should follow the privacy guidelines, should not use private APIs, and should not contain inappropriate content. If you fail to fulfill these conditions, then be ready to accept the rejection by the App store on your first go. Remember your app has to be perfect and adhere to all data privacy guidelines provided by the app stores. Make sure to create a checklist to get your application approved without any rejection. Even after all this, your app gets rejected pay attention to the note that explains why your app got rejected and update accordingly.
App Store Optimization
Assumption:
Once the app store optimization is done, I will get maximum users.
Reality:
You need a marketing strategy that involves targeting specific users to bring potential users to your app. App store optimization is of course necessary to make your app visible on the front go. 63% of the total users search for words to find the app, that does not mean that once you have optimized your app it will always be listed on the top. You need to optimize your application continuously. But to get maximum users, as soon as you launch your app in the app stores, you need to start promoting it by different methods too. There are a number of potential channels you can use to drive the attention of users to your app. You can promote your app on social media platforms like Facebook and Instagram. Create Facebook or Twitter page for your app. You can also create a microsite for your app where you can use the landing page to feature the screenshots and videos of your app. With the help of mobile ad partners, you can target the exact audience, you are looking for. You can check where you get the most engaged users by tracking these campaigns. This will allow you to strengthen those strategies that work the best for you and eliminate those that result in an inactive user.
Mobile App Visibility
Assumption:
Many people tend to think that once the app is submitted it is automatically and immediately visible to the users and anyone can see it.
Reality:
To improve the visibility of your app and make it more accessible in the app store, optimizing your app store is important as we discussed above. App store optimization is the same as search engine optimization. Same as search engine optimization helps to rank the website, app store optimization is the process to rank your app on the app store. It involves marketing techniques like making the use of appropriate keywords, titles, screenshots, app descriptions, and app videos. You will find more than thousands of app on the app store in one field of concern. Even if you search for a basic app like scheduler, you will get plenty of applications to download. Hence, app visibility is important. Having a good rank means good visibility and hence more downloads.
Mobile App Post-launch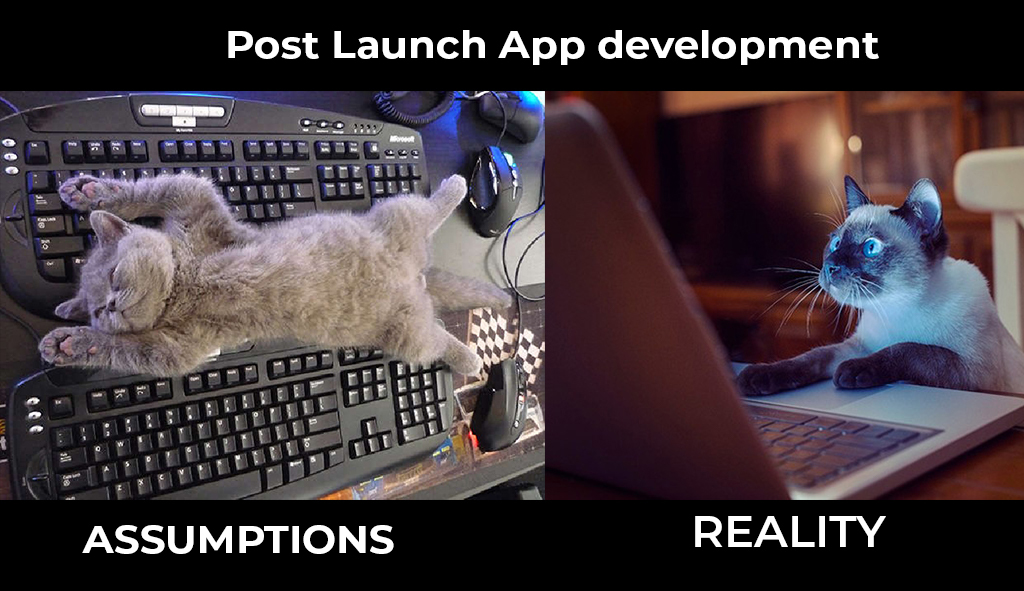 Assumption:
Once the app is launched, everything is set. Now, it will require just a few updates over time. The app will not require any changes now and still benefit the business.
Reality:
Well, the reality is far different from the assumption. The technology keeps evolving and the app users are not stagnant, their demands are constantly changing. Thus, your app should too. You should be continually updating your app with better features to tackle your competitors and avoid the loss of your market share. Hence, a mobile app development company always keeps itself updated with the new trends to stay on track with the realities.
If your app is downloaded, it does not mean that you have got an active user. Marketing may have made users download the app, but to make them your active users, providing a good in-app experience is a must. From fixing bugs to being responsive to your users, you will have to take every effort to improve the in-app experience. Even successful apps like Facebook, Instagram, Uber constantly keep coming up with their new app versions. So, never expect that once the app is launched the job is done.
Active Users
Assumption:
Many people think that once the app is launched and reaches the users. The users will download it, understand its value and come back again that too regularly.
Reality:
Your app can get many downloads by attracting more users through social media marketing, search engine optimization, and advertising on paid platforms. But in reality, many downloads don't turn into active users. So, the first thing that you need to remember is that downloading an app is not a sign of the user's interactivity. Once the user opens your app, it is your duty to create a continually valuable experience for the user to come back. You may think providing a good app experience would be more than enough to keep the users coming back, but it is not enough. Using smart marketing (sending the right content to the right users at the right time) to create a personalized experience is necessary to keep the users engaged. There are many tools, you can use to optimize your app and keep the user engagement strong. You can also try some hacks to improve your user experience.
Mobile App Success
Assumption:
Many people tend to think that once the app is launched success is guaranteed. The mobile application will be visible to their potential users and every desired user will land on the app. The only thing that remains after is checking the analytics and updates when necessary.
Reality:
There are millions of apps in the market and to make your app stand out, your app should be valuable to the users. The success rate of the mobile application completely depends on the way you keep the users engaged. To make your app visible to your potential users, app store optimization is necessary. Moreover, updates, feature enhancements, bug fixes should be regularly done to keep your users engaged.
High expectations definitely lead to high achievements, but what if those assumptions are a myth. It is a fact that several businesses encounter many inconsistencies between the app development process assumptions and realities. This blog would definitely have given you clarity regarding what are the assumptions and what the actual reality is, regarding the app development process. But acknowledging the realities and proceeding with them is only halfway through. You may have your own set of expectations while hiring an app development company. However, researching and understanding the realities will reduce your higher expectations. This will allow the developers to get the right space for working towards successful app development.
You can refer to our blog: What questions should I ask an app developer, to get started with the app development process by selecting the right company.