Effective Web Navigation To Boost Your Conversion Rate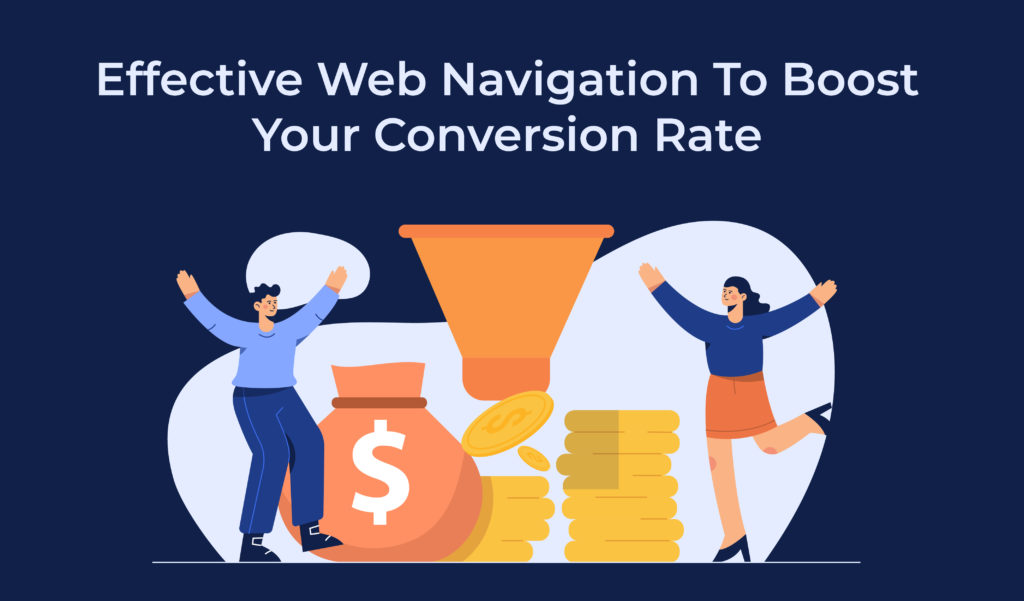 It's critical to bear in mind that the primary goal of a successful eCommerce website is to guide visitors through a sales funnel and convert them into customers. Your website's navigation is its focal point, so it should not be treated lightly. Poor site navigation makes it difficult to find products, aggravates users, and raises the bounce rate say the Web Design Jacksonville experts. While friction is reduced and consumers are supported through every stage of the customer journey, conversion rates go up when the site navigation is streamlined. The six recommendations we are offering you today on enhancing your website navigation will be helpful whether you are building an eCommerce website from scratch or have chosen to modify your current website navigation for better outcomes.
They'll make shopping easy for your clients, boosting your site's conversion rate. The website's usability, consumer confidence in your brand, the relevance of the incoming traffic, and several other elements play a role in conversion rate. Continuously improving your website for more conversions is a no-brainer if you want to ensure you get the most for your marketing dollar. However, you can frequently find yourself in a bind while trying to devise a step-by-step plan that produces valuable outcomes. This blog post presents 11 statistically supported strategies you may apply to boost your website's conversion rate and enhance your bottom line as a starting point.
In this article, we'll look at:
What is Website conversion?
What is the conversion rate of a website?
Tools for Increasing Website Conversion Rates
Tips for boosting the conversion rate of web navigation
What is Website conversion?
A website conversion occurs when a user clicks your call-to-action buttons, signs up for your newsletter, shares a blog article on social media, or makes a purchase. The conversion rate is the proportion of visitors who finish the activity you want.
Any marketing strategy must consider website conversion since getting visitors to do what you want them to do is essential for every organization states the Web Design Jacksonville experts. The overarching company objectives are connected to improving website conversion rates.
To attain a typical website conversion rate, you must first decide what your site should do for your company. Every website for a business is designed to increase conversions. Website conversions come in two flavors: micro and (ii) macro conversions.
What is the conversion rate of a website?
The percentage of site visitors accomplishing the targeted activity can be referred to as the website conversion rate. The action differs between different websites and turns the visitors into your customers. Performing a purchase, registering for a membership, subscribing to an email list, signing up for a trial, downloading an e-book or app, scheduling a demo, etc., are a few examples.
The essential statistic of website conversion rate can be used to assess how optimized your website is and identify prospects for increased sales. If your website's conversion rate is higher, it means three things in particular:
You can draw in the appropriate clientele for your goods and services.
Your audience will be receptive to the website copy, messaging, calls to action (CTAs), etc.
You have made the necessary efforts to simplify and simplify your user journey.
By improving the user experience, the conversion rate of the website increases.
Tools for Increasing Website Conversion Rates
The objective of marketing is to convert leads into customers, but without the correct tools, conversion rate optimization can appear to be an overwhelming undertaking. Website conversion rate optimization (CRO) tools gather information about your website and its users to help you better apprehend how users interact with your site and to discover and test potential modifications that could boost conversion rates. Some of the top website conversion rate optimization tools are listed below:
Google Analytics is a robust and free analytics program with practical conversion features.
Convert Box is an excellent conversion optimization tool for creating and improving CTAs and opt-in forms.
Famous landing page builder Unbounce can also be used to distribute CTAs and forms.
To increase the CRO of your website, use User Testing to gather user feedback.
Lucky Orange is a dedicated, reasonably priced conversion rate optimization program.
Robust heat map monitoring software called Mouse flow can increase conversions.
Tips for boosting the conversion rate of web navigation
Here are a few best tips by Web Design Jacksonville for the effective boost of the conversion rate on the website.
Gather and examine visitor information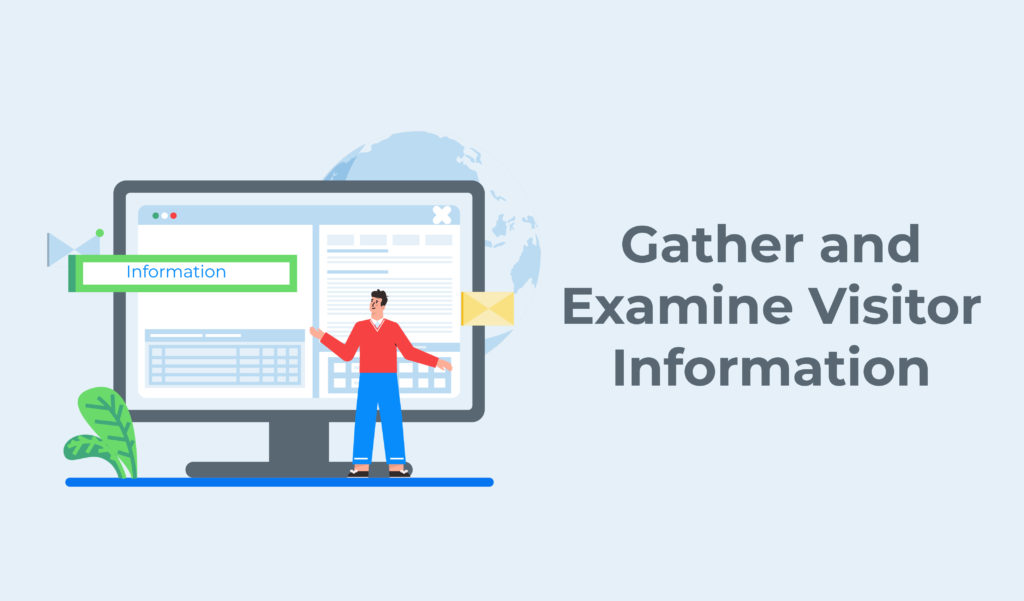 It's advisable to steer clear of assumptions and estimates regarding CRO and make all decisions based only on data. To better comprehend your website users and their interests, continuously track and evaluate your website data. You should use this information to guide your optimization strategy. The critical data points listed below are crucial for understanding your visitors and must be tracked:
Information about traffic and its sources
Information about user activity on your landing pages
Web page and form bounce and abandonment rates
rates of click-through for advertisements and marketing campaigns
information about repeat clients and typical order values
Other client feedback, such as net promoter scores (NPS).
After gathering measurable data, use it to develop your user persona, a portrait of the ideal user. This must highlight all pertinent details about your intended customers' interests, preferences, objectives, and pain issues.
Visualization of Customer Personas
Customer persona illustration
Using quantitative data and your ideal user persona, you can develop hypotheses to conduct insightful tests to learn more about what functions well and poorly on your website.
Increase Website Conversion Rate by Adding Pop-Ups
Pop-ups may be a powerful tool for encouraging users to go through your sales conversion funnel when appropriately used, which means they promptly display at the appropriate moment and offer something pertinent to the user. The fundamental truth is that your pop-ups will be more effective at increasing website conversions if they are more valuable. Here are some short suggestions for increasing website conversions:
However, make sure to check these pros and cons of popups before implementing on your website,
Pop-ups can effectively catch visitors' attention on your landing pages.
Try out a variety of offerings (PDFs, premium content, other products) until you discover one that you can feel winning right away.
To ensure that the pop-up only appears once per user, utilize pop-up tools to set a cookie. Make pop-up windows simple to close to avoid aggravating customers.
Combining all of the advice mentioned above can significantly increase conversions and reduce customer complaints to zero.
Check the conversion funnel you have in place.
Ensure you thoroughly understand your website's typical user path and conversion funnel before attempting to remedy what is faulty. Here is a post on tips for converting website visitors to customers that can help you. By doing so, you'll be able to determine where visitors are stalling and leaving and the likely causes of those behaviours.
To properly optimize them, you can use Insights to monitor conversion rates throughout your funnels and pinpoint particular points in the user's journey where they may be losing interest. There will be a natural drop-down at each stage of the horn due to people choosing not to go to the next step for various reasons. By coming up with remedies to those likely causes, you can push individuals down the funnel and increase your conversion rate.
Improve the layout of your important pages.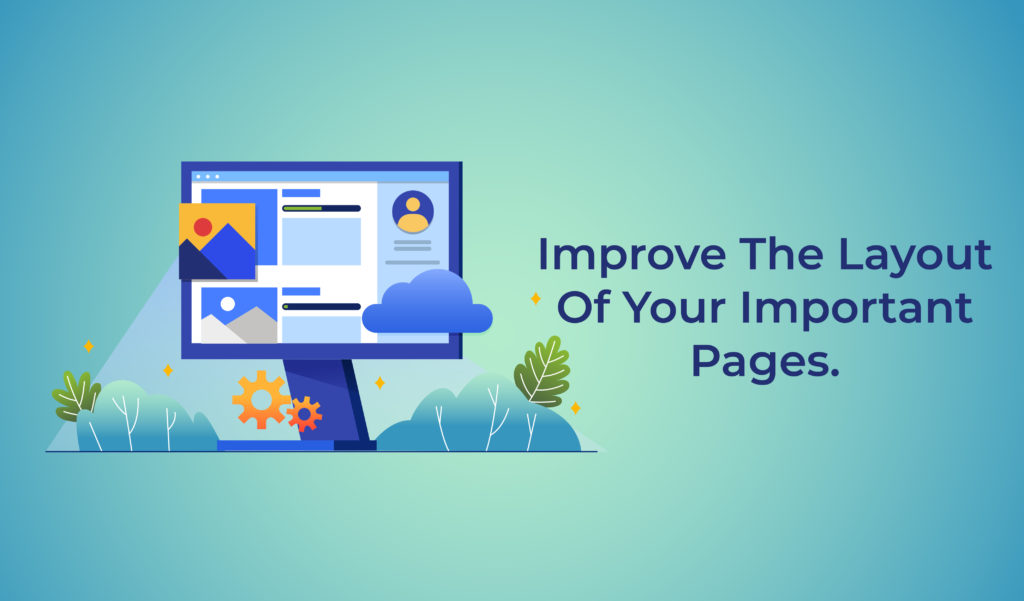 You need to significantly modify your page if, despite repeated efforts, your conversion rates aren't increasing. To evaluate if your conversions are impacted, try changing its design and layout based on insights from visitor data and best practices. The foundation of high-converting page design is a set of knowledge and case studies that show how users interact with websites. You may learn more about how users navigate your website using tools like eye tracking, scroll maps, mouse tracking, and click maps. Use these to make a page that users will want to interact with.
Adding product labels with enticing call-to-action messages to store items, such as "New," "Limited edition," "Holiday Special Deal," etc., may help further direct your visitor to the offer they may be interested in. Labels have consistently demonstrated their ability to increase sales.
Website Designers are advised to be cautious as one mistake business owners frequently make in adding them to practically all their products is forgetting that the goal is to draw attention to what makes this specific product unique compared to others. Utilize well-known, straightforward terms to help customers scan product lists.
Utilize testimonials and reviews to increase trust.
Customers won't convert if they don't trust you. The simplest way to gain trust is to display client testimonials and reviews to strengthen your reputation. You can display a customer's success story, photos, the trust badges of review websites, and the logos of well-known international companies to develop trust. These components increase visitors' faith and belief in the brand's legitimacy. That is a significant benefit of adding a few testimonials to your pages. When experimenting with testimonials, there are many things to keep in mind.
Ensure seamless and straightforward site navigation
It is your responsibility to make it as simple as possible for visitors who have come to your website with a specific reason to find what they are searching for. To boost your website's usability and encourage visitors to convert, make sure the navigation is simple and easy to use.
Before deployment, conduct thorough testing.
Testing is one of the most organized ways to make data-backed improvements to your sites and lower risk. Before deciding whether enhancements you make to your pages genuinely improve your conversion rate, you must measure and evaluate their impact. A/B testing enables you to compare your theories to the original version of a webpage to determine which one has the most significant influence on conversions and should be used everywhere. Doing this will stop making decisions based on preconceptions and instead rely on your visitors to select the one that speaks to them the most say the experts from Website Design Company. Create different iterations of your web pages using testing to find the ones that are most effective in increasing conversion rates.
If properly executed, product recommendations can almost multiply your conversion rate. The effectiveness of recommendation blocks depends on where they are placed. We found that widgets positioned above the fold perform twice as well as those put below. Place a "best sellers" block on your homepage towards the top. It will benefit first-time visitors unfamiliar with your business's products to start browsing and finding the things they require. The recommendation engine will learn more about customers' interests as they interact with your website and offer more tailored recommendations. The widgets labelled "Similar Products" and "Customers Who Bought This Product Also Bought" are well-known top sellers. Ensure that they are present on your product page.
The best-known strategy for upselling and cross-selling is currently recommendation blocks based on personalization, which make it simpler for customers to browse through the website and locate what they are looking for. The most basic navigation should be present on virtually any eCommerce website.
Make Eye-Catching Headlines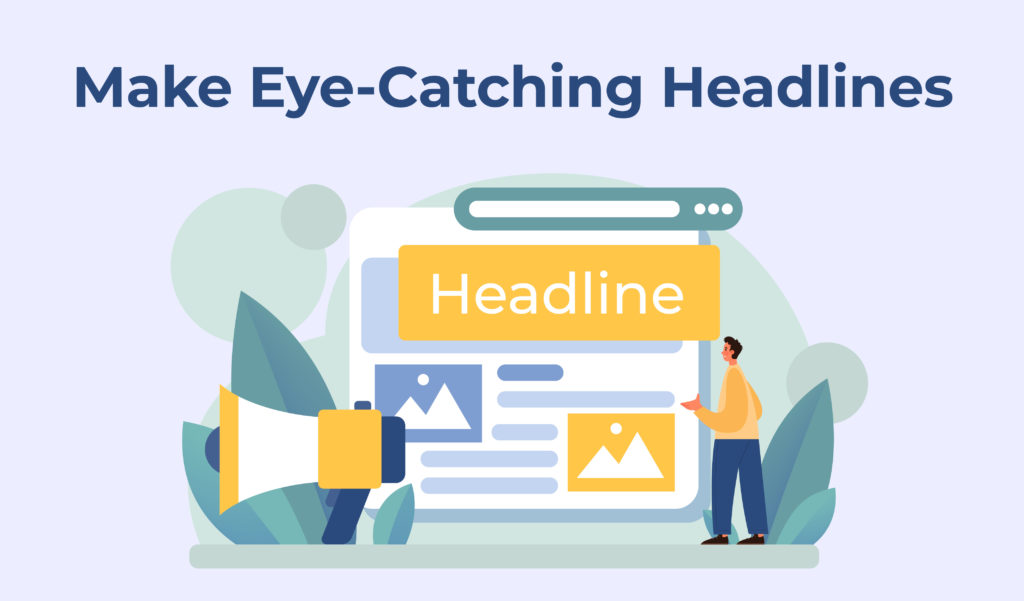 Attention-grabbing headlines to draw visitors to your website is one of the most straightforward strategies to enhance conversion rates. Always choose the appropriate messaging while creating your website so your audiences will understand it. A website that incorporates the main messaging can:
Boost awareness among the right audience and boost conversion rates.
Boost your standing as an industry authority and your leadership profile.
Boost the number of leads you generate.
If your headlines are unclear, readers may become lost and decide not to visit your website. Therefore, you must identify the target market and craft your messaging accordingly. The brand message must always be precise in expressing benefits rather than features. And to relate to the target audiences from their perspective.
Your website is the face of your brand and the most crucial medium for commercial communication. A couple of essential KPIs you should work toward are providing the best possible customer experience and using your website to attract new customers. Therefore, increasing your average website conversion rate is essential for communicating your brand's value proposition to potential clients and acting as a doorway to improving your sales conversions considerably. Your navigation system should make it simple for visitors to find the information they need. Your menu, search engine, and internal link structure should all guide visitors toward conversions.