SEO and PPC - How They Work Together To Drive Growth?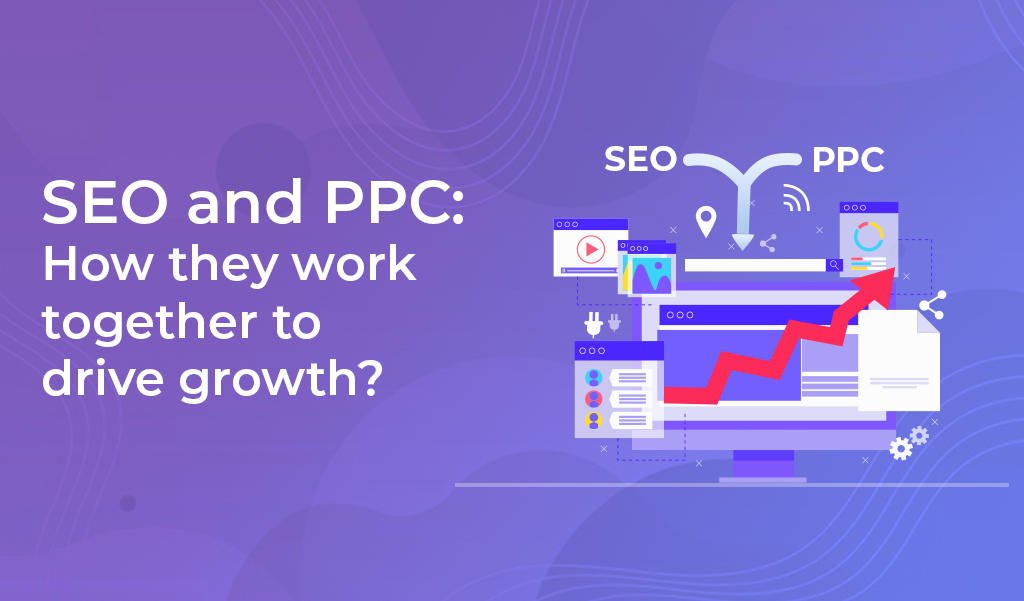 Many retailers consider their SEO and PPC marketing strategies to be different entities. Sometimes, they are even viewed as substitutes to one another, and businesses only invest in one at a time. But, this is a big mistake as PPC and SEO techniques are necessary to combine into one another for a website to reach its fullest potential in the search engine result pages. By combining these two methods, retailers also obtain far greater business results. So, let's see the difference between SEO and PPC.
SEO is the method by which a website is improved and rank higher on Google for targeted keywords or phrases. It increases the website's organic traffic through enhanced visibility and site authority. Alternatively, pay-per-click advertising aims to generate traffic through targeted advertisements in search engines, social media sites, and other popular online destinations. Whereas SEO delivers free clicks, PPC ads require you to pay every time a user clicks on your ad. This means that businesses often spend hundreds, if not thousands, of dollars every day to bring traffic to their website. Although they are distinct, they both seek to accomplish similar goals. Furthermore, SEO and PPC techniques are often dependent on one another, feeding the other with important data for helping to boost the performance of the other. To understand the relationship between these two marketing methodologies, let's explore these two strategies in detail, and outline precisely how they feed each other's outcomes.
SEO and PPC: The differences
Search engine optimization is the strategy that aims to increase the quantity of traffic that a website receives from search engines like Google or Bing. There are several SEO techniques for improving rankings, including technical optimization, content creation, link building, and other such activities.
On the other hand, PPC advertising is another strategy where advertisers pay an allotted amount each time when someone clicks on their ads. While both of these strategies fall under the umbrella of search engine marketing (SEM), there are some key differences between these two concepts.
Firstly, paid ads usually appear at the top of search engine results and above the organic rankings, which are influenced by search engine optimization implementations. Secondly, advertisers who generate traffic from the ads must pay for those site visits. The same is not true of organic listings that obtain clicks as a result of gaining visibility through SEO best practices. Thirdly, the results of PPC campaigns be it awareness, traffic, conversions or all of the above are immediate. However, when the promotion ends, a website's metrics will likely come back to pre-campaign levels. On the other hand SEO strategies often take a long time to get a boost and companies may not see a return on their investment for months or even years. But, once a company's SEO strategy starts producing results, those improvements are usually long-lasting and highly profitable. That's why for long-lasting results, always use a good SEO strategy which is very important for your digital presence.
SEO and PPC: The similarities
While SEO and PPC are different in many ways, they also share some similarities. First off, both strategies aim to drive traffic to a website and generate conversions as well. While one does this through paid ads and the other through the organic SEO process, the result remains the same.
Secondly, both SEO and PPC are keyword-driven techniques. While advertisers will perform keyword research to identify profitable phrases to bid on and unnecessary ones to exclude through negative keyword lists, SEOs will also analyze relevant terms to understand how to optimize titles, content, technical elements, and other critical on-site aspects. With the differences and similarities of these two strategies outlined, let's explore how using SEO and PPC work together to drive growth.
How can PPC and SEO work together to improve your website?
Both SEO and PPC strategies are used to increase leads, market exposure, and conversions. For most businesses, choosing between SEO and PPC is nearly impossible, simply because the two work really well together to drive search success. It's not always a case of SEO vs. PPC; each strategy can complement the other when used correctly. And if you have enough budgets to use both strategies, you absolutely should use them, even if only as a way to balance short-term and longer-term returns. SEO and PPC are not only used to achieve the same goals, but each strategy actually helps the other, resulting in gains in both campaigns. Let's look at six ways that you can get SEO and PPC working together to enhance your website traffic, increase your leads, and increase sales.
Visibility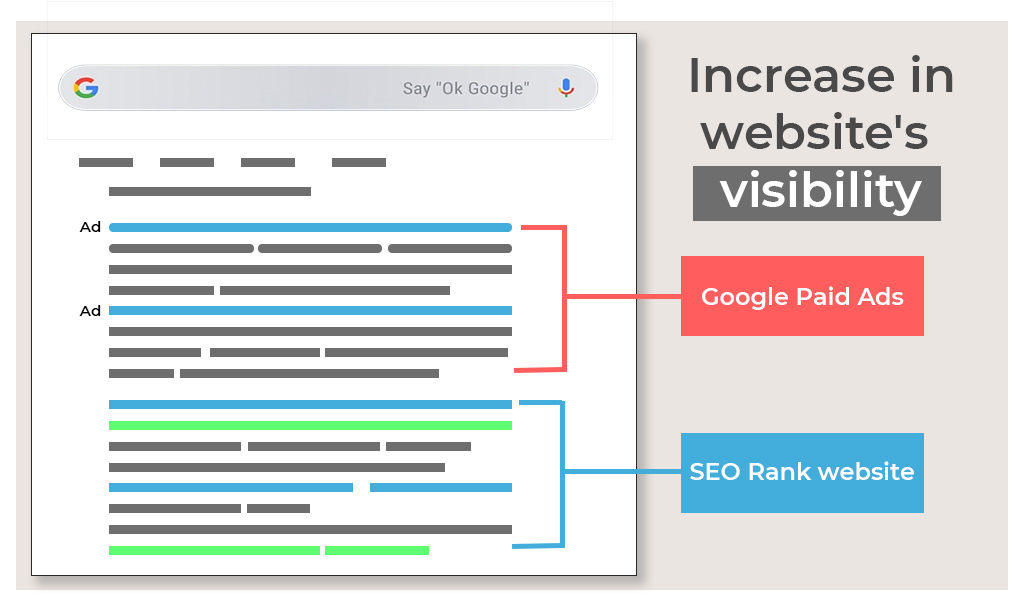 The most significant benefit of combining SEO and PPC efforts is increased visibility on the search engine results pages. When a search term ranks number one, clients are tempted to reduce PPC efforts. However, keep in mind that the top two or three results on most SERPs are PPC advertisements. Controlling the organic and paid search results will greatly boost traffic, and give the impression that you have a well-established presence in a particular market.
Furthermore, if a particular business is well-represented in the SERPs, this provides customers with enhanced confidence that the business is a reputable one that provides quality products or services.
By combining SEO and PPC, companies can more effectively drive prospects to their website and encourage engagement between customers.
Keyword symbiosis
Both SEO and PPC methods are heavily dependent on keyword optimization to surface for relevant searches. Businesses must target the correct words and phrases in order to appear in the SERPs for relevant queries. Businesses that have been optimizing their websites for search for a long time, already having keyword data that can help inform their PPC campaigns to produce better outcomes. The main goal of PPC advertising is to determine which keywords your consumers use to find your product or service. Enabling site search on your website, and analyzing the most commonly used terms, can give valuable insight into your customers' search habits. However, for those who are new to SEO, determining the efficiency of their efforts can be a challenge because the result takes time to appear. But, since PPC campaigns generate immediate results, advertisers can collect profitable keywords and pass that information along to SEO teams to optimize pages for increased visibility and traffic.
Using keyword data from PPC campaigns can assist SEOs in determining the types of phrases that users are searching to find a company's sites. Instead of waiting for SEO data to start rolling in, marketers can use PPC data to make the required changes to SEO campaigns. When SEO results start to appear that information can be fed back to PPC advertisers to help them improve the effectiveness of their campaigns.
Retargeting
Did you know that you can show your ads to people who have already visited your website? This is referred to as retargeting. By retargeting, you can reach previous customers and motivate them to return to complete a purchase, whereas without remarketing they may have totally forgotten about you. You can build and segment lists of customers who have visited your website. For example, if a user visited a particular page or website and added a product to their shopping cart then left the site, you can target these users with advertising on the SERPs or via banner ads on the Google Display Network and encourage them to return. You could increase your bids for people who left their basket, which means that when they return to the SERPs and search again, your products or ads will be more notable because you are bidding higher for this audience.
Run ads and use data to inform your organic content strategy
What works for PPC usually works for SEO as well. You can gain valuable information from your PPC activity that can incorporate into your SEO strategy. Since PPC offers faster, real-time data to create better ads, you can use this to your advantage from an SEO viewpoint. By determining which PPC ads get the most conversions, you will have a clear idea of how to create title tags, Meta descriptions, page content, and call-to-action for the pages that you want to rank organically. The immediacy of the results is one of the advantages of using PPC advertising to test page attributes. And you will understand quickly what works and what doesn't while organically testing titles and Meta descriptions. Your PPC campaign insights give you a glimpse into areas that need more focus to scale progress. This way, you do not have to spend hours creating ad copy in different formats and can focus on more complex tasks.
Own Brand Bidding
Brand bidding is the practice of bidding on a third party's branded terms or branded keywords. This way, when that brand name is entered as a search term, your ads will appear. The aim is to direct traffic away from the competitor's website.
Brand bidding is part of keyword advertising and is usually used in a negative way, especially when it affects third-party brand names. For example, company X might bid on company Y's brand name, then ads for company X would appear in the search engine whenever someone searched for company Y's brand name, the goal of this method is to redirect visitors from company X to company Y. It's not unusual to find that another company bids on your brand name. Yes, you read it correctly. Companies often bid on another business's brand name with adverts. If you are depending totally on SEO, you will probably have the top organic result for your brand name. However, competitors who bid on your brand name can appear above you on the SERPs. And as a marketer or business owner, this is a very frustrating thing. In cases like this, you can use PPC to bid on your brand terms to increase your visibility, which means that a searcher should end up clicking onto your site regardless of how they got there.
Using Shopping Ads to Target Buyers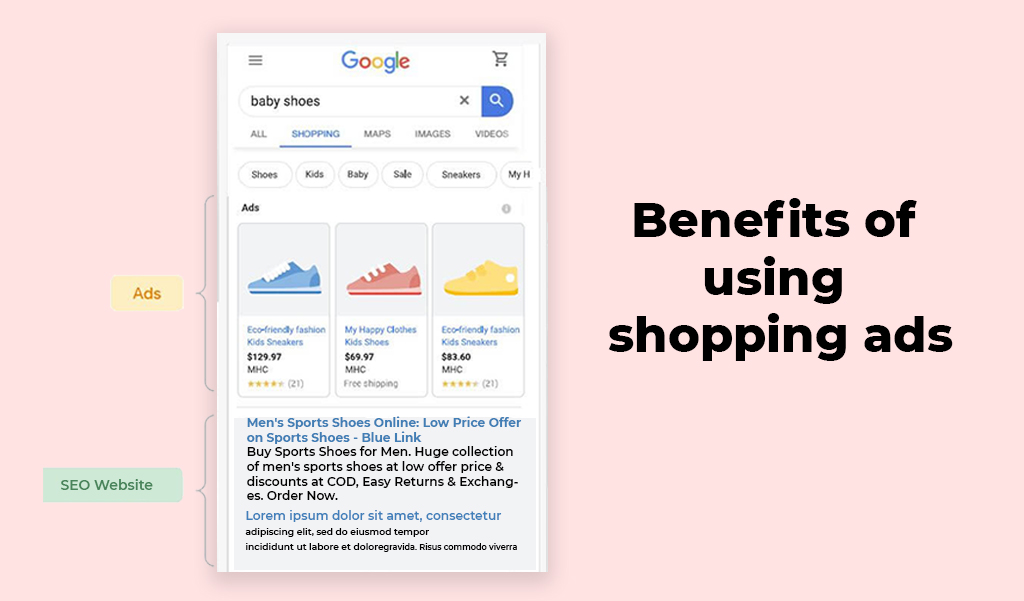 We all know that Shopping Campaigns work great for e-commerce businesses. So, if you run an e-commerce store that is selling goods online, you cannot ignore shopping ads. Even if you rank well through a great SEO campaign, you will need to create a compelling and powerful pay-per-click campaign. Statistically, consumers are attracted to product listing ads, because they display photos and prices directly on the SERPs.
A customer can easily see which products are available and at what price they are. You should be using shopping ads with SEO to ensure that you are maximizing your visibility on SERPs and covering all possibilities on how your consumers want to find a new supplier of products or services.
Once you have arranged your ad groups, you can start thinking about bidding on product ads. Remember, product ads are produced by your feed data so you don't need to write any ads directly in AdWords. Shopping Campaigns don't have any keywords. So, what do you bid on? Shopping campaigns are really cool because you can directly set the bid on the products that you are selling. You can either set the bid on a single item or you can set the bid on groups of products.
To conclude, we can say that both of these marketing strategies are essential to improving your website and delivering better results. So, instead of worrying about what to choose, you should be working on a strategy that combines both SEO and PPC to gain a higher amount of real estate on the SERPs. Using the Keyword Overview tool build a strategy that smartly targets the right keywords. But keep in mind that each has its own channel and that it rarely makes sense for two to be handled by the same person, given that they each require their own set of skills and knowledge to achieve results.
So, are you new to SEO and PPC? And, looking for some help combining the two into a unified internet marketing plan? YashaaGlobal can help! As a leading full-service digital marketing Jacksonville agency, our experts have many years of experience integrating SEO and PPC to create the best results for your company. We can help you improve your website's visibility in search engines, retarget visitors to your website, test new keywords, and make smarter marketing decisions with the use of SEO and PPC. Reach out to us today to let us know how we can help you flourish online.