SEO - Assumptions Vs Reality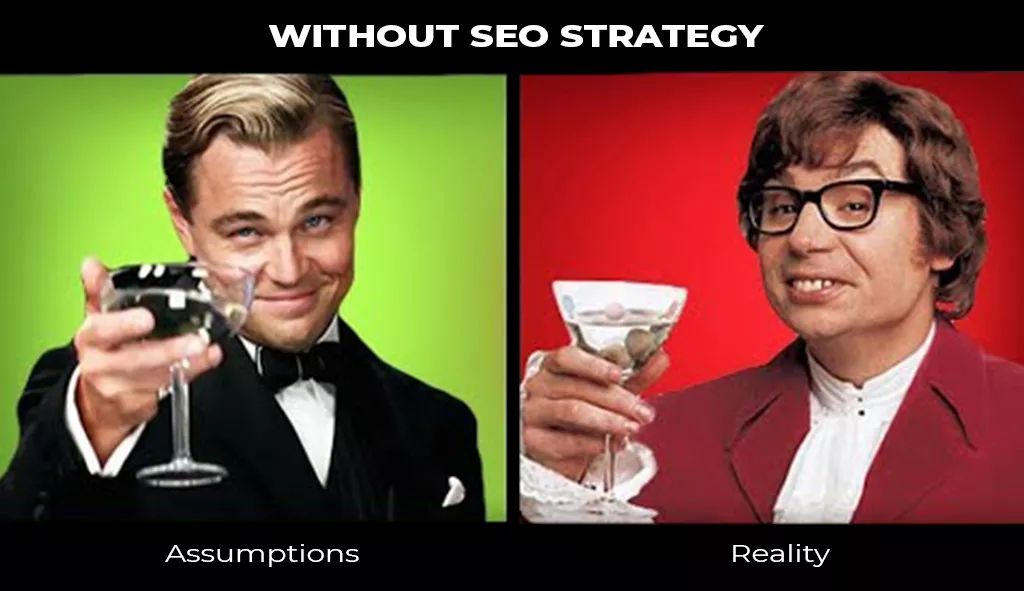 Search engine optimization (SEO) is one of the fundamental elements of digital marketing strategy and is an ongoing process that is used to enhance the website's rank on the search engine result pages and hence improve its visibility. By ranking your website higher on the search engines, SEO centers around boosting your website's unpaid, organic traffic. Moreover, it helps you to generate more leads, and thus increase your revenue gradually.
These are some of the great advantages of ranking your website first on the search engine result pages but these can only be achieved by proper search engine optimization. Though SEO sounds simple and fast it is challenging to run a successful SEO campaign. It is a continuous process and requires many checklists in its journey. Also, constant efforts are required to run a successful SEO campaign yet the results are slow to manifest. But people tend to have some misconceptions about SEO that can lead to a failed effort. So, to help you understand and build a successful SEO strategy, setting realistic assumptions and breaking down some misconceptions about SEO is necessary.
So, this article will help you to make a reality check on most of the SEO assumptions and even debunk some of your myths about SEO. Let us begin checking them one by one and know the reality.
Assumption 1: SEO can rank your website overnight
This is one of the most common assumptions that many people have, they believe that just by adding keywords they will be able to rank their website the next day. Probably they are bombarded by some ads or promotions that promise to rank their website within a week's time.
It is common for individuals with minimal SEO experience to believe that ranking is simple. But the reality is quite different.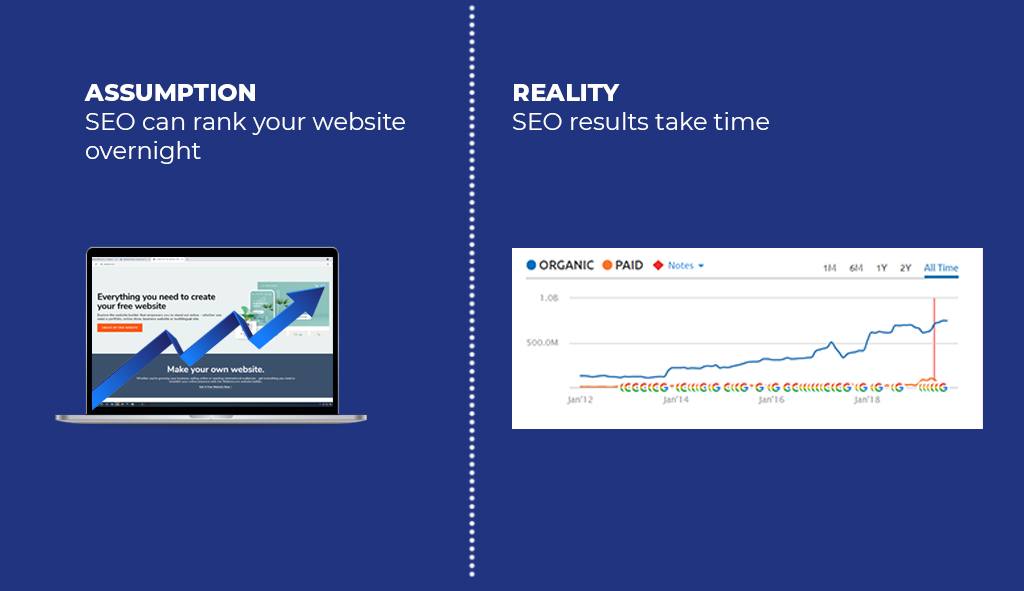 Reality: SEO results take time
High rankings cannot be obtained in such a small amount of time. There are many factors that go into optimization like content marketing, on-page SEO, off-page SEO, and technical SEO. So, setting up the right SEO becomes a time-consuming task. Moreover, it also requires regular monitoring and adjusting as it is an ever-changing area due to the continuous Google algorithm updates.
Additionally, the time required for ranking your website higher on Google also depends on the level of competition present in that particular industry.
Read, how to rank #1 on Google, our 2021 guide to know the complete process of SEO.
SEO is a marathon that keeps changing, so it can take around 6 to 12 months when you will start seeing the desired results. With proper optimization, you will definitely see the results but it will take some time.
Assumption 2: High traffic gives more sales
This is one of the most major misconceptions that people have. It is a fact that ranking your website higher gets you enormous web traffic. But if you think that high traffic means higher sales then that is a sure short misconception.
Higher traffic doesn't immediately result in more sales. Good web traffic is not always a quality lead. Even if you have multiple users viewing your content, it is won't give you that desired sales results.
Reality: Increase in web traffic doesn't always guarantee conversions
SEO definitely has the capacity of ranking your website higher and drive huge organic traffic to your website. But the purpose behind every visitor visiting your website may be different. For example, some visitors may just have visited your site to know more about your brand, some of them might just be looking for information, and some of them may even have the buying intention and may be searching for the best services.
So, it is completely up to you to convert them into potential customers. There are many factors under your control that can help you grab your user's attention and entice them to stick around and find out more about your company. Highly quality content and a good web design are two of them.
You can start by cleaning your website and making it more attractive and easily navigable for the users. This will help them easily navigate your website and learn more about your brand. Additionally, writing good content will definitely make your users attract your visitors and search more about your brand as they are already looking for something. Good content is very potential to encourage the user to take some action on your website. So, there are high chances that you will end up getting a customer.
Assumption 3: Only On-site SEO is enough to generate traffic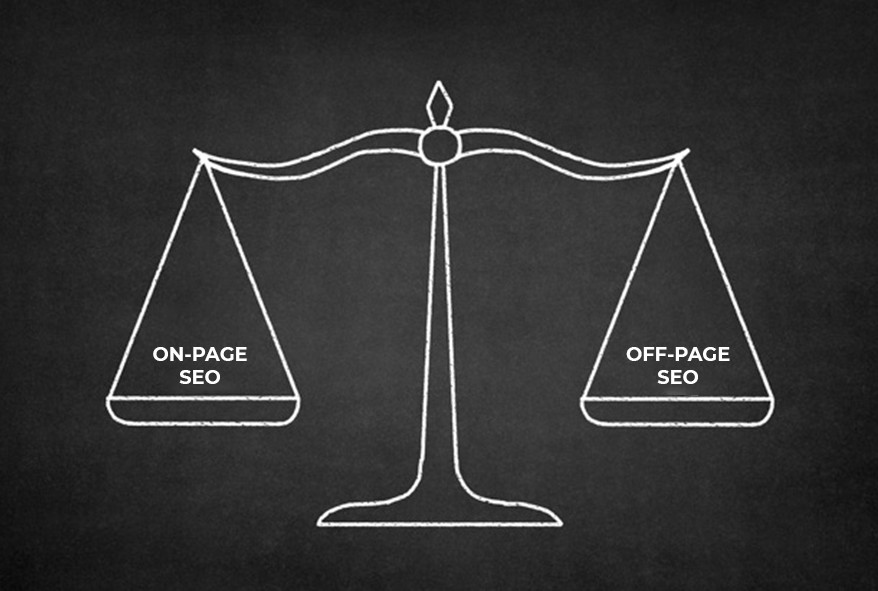 There is no doubt that On-page SEO is a crucial component to rank your website on search engines. But many people believe that only on-page SEO is enough for ranking their site getting a good amount of traffic. Though On-page SEO consists of many factors like keyword research, high-quality content, title tags, subheadings, alt tags, and much more, you can't just rely on your web pages to get noticed by the search engines.
On-site SEO is a crucial component of ranking in search engines, but it is just a part of SEO and isn't the only thing that will affect the overall SEO score.
Reality: Off-page SEO is as important as On-page SEO
SEO is composed of multiple factors and On-page SEO is just one of them.
For ranking your sites higher and generating a good amount of traffic you need a well-rounded SEO strategy. You should include all the SEO components that add value to your users as well as the search engines.
Creating backlinks is a great way of telling search engines that your site is in demand. Backlinks are simply links to our website from other sites. There are multiple ways, you can use to create good backlinks. Guest posting, replacing broken links, getting links from social media sites, etc.
You can refer to our blog, best link building strategies for 2021 to know about some of the best strategies to create high-quality links.
This will help you to prove your site trustworthy to the search engine and rank your website higher to generate great traffic.
Assumption 4: Your website needs to be loaded with keywords
People believe that stuffing their website with keywords will help them rank higher. Well, we won't say that it is a complete myth, but is partially true. A time before the algorithms were as sophisticated as they are now, keyword density was a major factor for search engines to determine what the content was about and rank it accordingly.
But now the search engines have become smarter and Google's SEO algorithm always keeps changing.
Reality: Keyword stuffing is an outdated practice
Keyword stuffing has become an outdated technique to rank your website today. Now, Google constantly keeps updating its algorithms to provide a good user experience. Google wants its users to receive good and quality content and is always working towards this goal. By stuffing your content with keywords creates you will end up creating poor quality content that won't be attractive and readable. Moreover, it will affect your ranking too because now if Google crawlers detect your keyword density to be high then it will think of your post as spam. This will ultimately result in a low ranking of your website.
Keyword density = Number of words in the content / Number of times the keyword is present in the content
You can use this keyword density formula to keep the track of the number of times you use a particular keyword in your content. It is always good to keep your keyword density around 2 to 3 percent. SEO experts always prefer to place important keywords at specific places rather than stuffing the keywords around.
Assumption 5: SEO is a one-time process
This is one of the major misconceptions that people generally have. Well, if you have the perception that you can just allow Google to handle your rest of the SEO after you have optimized your site, then you on the wrong track.
It is a common misconception that SEO is a one-time job and then you can just wait for your website to rank higher like an autopilot mode. As Google keeps its algorithms changing, SEO is an ongoing process and needs regular monitoring and updating in order to keep ranking well as we discussed above.
Reality: SEO is an ongoing process
So far you must have understood that SEO is not something that you can just turn on and off, it is a continuous process. As we know that the Google algorithms keep changing almost every 3 months, you need to keep yourself updated with the changing algorithms and keep improving your SEO strategies and methods. Continuous optimization is required to maintain your website's rank as well as improve its chances for ranking higher. If you fail to do so, you will never know when your website got hit by one of the algorithm updates and our website lost its rank.
It is important to continuously evaluate and implement the changes in your website to build trust with the search engines. Continuous inclusion of recent content and eventually putting efforts to increase the number of high-quality backlinks results in improving your website's rank.
Assumption 6: Internal links are a waste of time
Internal links are something that people think is pointless. Most people think that internal linking is waste of time and only external backlinks are important for SEO. So, they only need to focus on external backlinks.
They believe that if the whole point of the authority building campaign is getting backlinks, then what is the point in building internal links. Hence they always have a thought that internal linking is a waste of resources in the SEO process.
Reality: Internal links are important
Internal links are very helpful to establish site architecture and spread the link juice. Internal linking is the process of linking one page to another page or one blog post to another within the same domain.
Internal links help the Google search engine crawlers to understand your content with the help of anchor text used in the anchoring text. They also help the users to navigate through your websites easily.
While external links help you build your website's authority from other sites, internal links help you spread the link juice to other pages of your own site. Moreover, if your content is appealing enough for the users, they are more likely to read further. So, interlinking your blogs with each other will help boost your page views. This in return, improves the time on site and lowers the bounce rate. This will eventually help you improve your SEO performance and help you rank higher on the search engine result pages, thus improving your web traffic and eventually your conversion rates.
Hence, internal linking is very essential to build connections between web pages, improve usability, user experience, and ultimately rank your website.
SEO is a highly effective tool for your business to get noticed online and a long-term successfully running technique for your business's growth. It is a time-consuming task but the efforts are worth it.
It is vital to understand that search engine optimization is an investment that requires time, patience, consistency, and determination to achieve good results in the end. Most people fail to succeed in ranking their website because they give up early due to their wrong perceptions and assumptions about SEO.
So, now as you are well aware of what can you expect from an SEO campaign and what you cannot, you can set the right expectations to keep you going. You can convert your realistic expectation into reality by simply working with SEO experts. We at YashaaGlobal, a Jacksonville SEO company can help you along your journey of getting your business website at the top of Google's search engine result pages with our great SEO services.