Topic cluster: Your Next SEO strategy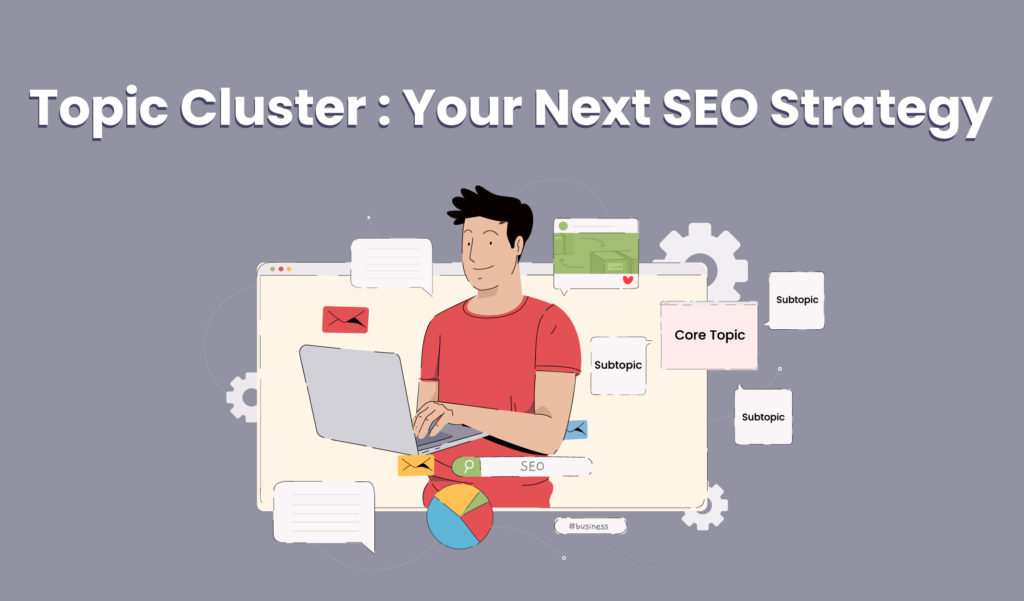 Topic clusters are the key to a successful content marketing strategy. And when done correctly, Google rewards its readers. Search engines (and conversational language assistants) become more intuitive as technology advances. Sophisticated algorithms can answer long questions and find search results specific to your query. Topic clusters are the next significant thing, and it's helpful to understand and apply the new strategy to your site. Making quality content and using the right keywords is still of great value. However, there is so much knowledge available online that Google wants to know that you are an authority in your field. For this reason, your material should be organized into pillar pages and topic clusters to establish your dominance.
From the disappearance of link schemes to mobile prioritization, SEO has seen some adjustments over the years state the Jacksonville SEO experts. However, implementing the topic cluster model as a modern SEO approach is one of the essential breakthroughs in the market.
In this article, you will learn:
What is Topic Cluster?
What is the Topic Custer model?
How does Topic Cluster work?
How to create a Topic Cluster?
How do Topic Clusters Improve SEO?
What is Topic Cluster?
The Topic Cluster is a collection of related websites built around columnar materials covering various topics. It is based on the concept that search visibility for a particular case is better than ranking a single keyword. This method contributes to the development of impact zones where the total number of keyword searches for critical terms exceeds the total number of searches for theme-related long-tail keywords states the experts from the Jacksonville SEO Company. This will help you manage the structure and content of your website. In addition, if one of your cluster's blog posts works well in your rankings, so does your entire collection. Using the topic cluster paradigm has many advantages, including:
1. Optimized delivery of content.
Pillar pages allow you to organize your material to make sense to you and your readers. Pillar pages will enable you to manage your blog around a series of related posts—improved search engine optimization (SEO). In the long run, this strategy will help your blog SEO by building expertise on a particular topic.
2. Accelerate the creation of new content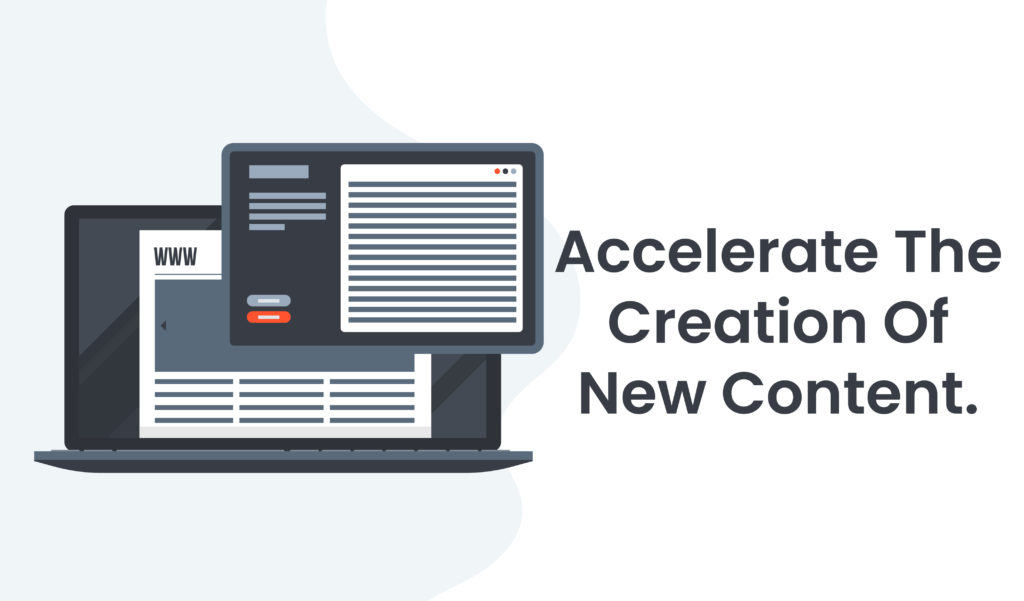 Since all the research is already in place, all topic cluster pages share the same pillar page, so it's easy to put them together. Relevant content. Make sure there are no gaps or duplicates in the range.
What is the Topic Custer model?
The topic cluster model is based on the idea that search visibility across topics is better than ranking specific keywords. By targeting a more comprehensive range of keywords, the cumulative total of long-tail keyword searches related to the matter aims to develop an "influence" that exceeds the number of attracting people exclaims the Jacksonville SEO experts. These long-tail articles promote pillar piece performance and increase the organic visibility of a broader range of keywords. These components are mentioned below:
1. Contents of column
The cluster core is a pillar of content based on a broader theme. It's usually between 3,000 and 5,000 words long and covers all elements of a topic while leaving an opportunity for other posts to respond. The pillar material is ideal for those unfamiliar with a subject who wish to understand it broadly.
2. Cluster Content
This component is responsible for any cluster material linked to the pillar content. Unlike pillar content, which covers a broad topic, cluster content concentrates on a specific keyword connected to your general keyword and discusses it in greater depth and detail. Finally, these cluster content pieces provide a link that leads back to the pillar content.
3. Hyperlink
This is one of the most important components. This is because hyperlinks connect the pillar and cluster information. This is an image of three components placed together to understand better how the topic cluster model works: Simply put, the topic cluster model is under a single topic. A collection of related information is grouped to help you find the engine better when searching. It produces a signal to demonstrate the authority and capabilities of your website on the topic at hand. This can increase site exposure and increase traffic and conversions.
Keywords have always been the basis for content creation. However, with constant innovation and improvements, there are gradual changes in the way users interact with or use a particular set of keywords. Existing SEO strategies that couldn't adapt to behavioral changes eventually became obsolete to give way to newer and more effective methods like the topic cluster model. Keywords are still important, but the recent approach is to target the entire topic, primarily for the ensuing reasons:
Search engines are more practical at understanding interconnected ideas. Searching for an accurate keyword is still relevant. However, search algorithms better understand multiple terms on the same topic today.
Reliable results are what Google and other search engines like Bing want to provide to users. To show authority over humans and bots, consistently create valuable and accurate content on a particular topic. This is much better than making a large amount of disjointed content that targets irrelevant keywords.
With this in mind, thinking about topics instead of specific keywords is one of the factors that should ultimately be focused on for the following benefits:
4. It keeps visitors on your site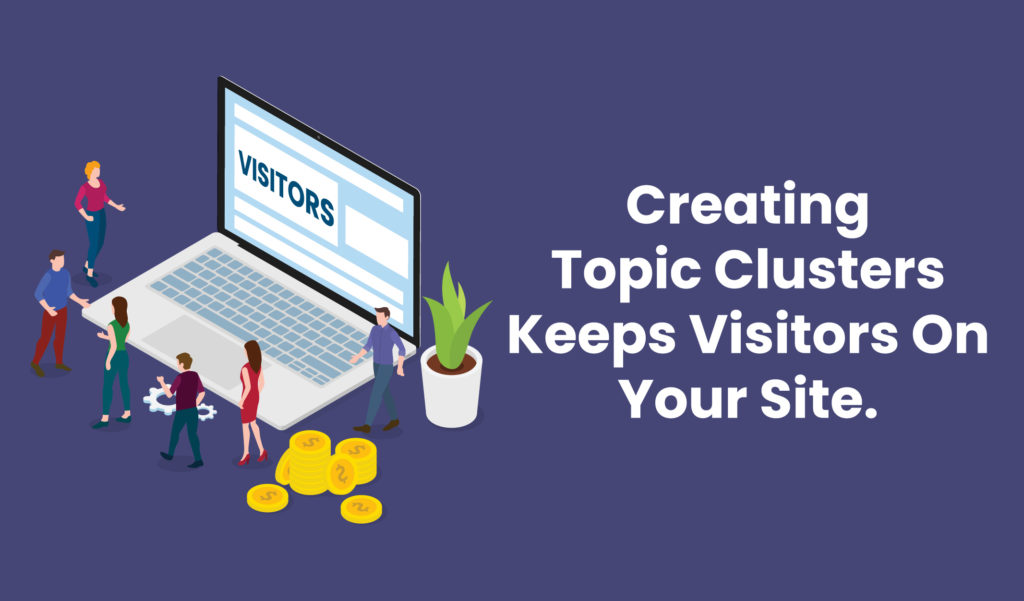 With lots of content related to your visitor's interests, they will stay on your site for a long time. When one article performs well, all related articles also perform well. Creating content around a particular topic gradually improves the search rankings of other similar content already on your site. This can eventually lead to you owning multiple SERP positions.
5. This helps you generate more traffic
Since your cluster is performing well in terms of rankings, it will attract more visitors to your site and be more likely to stay there, which will increase your traffic and conversions, friend.
Here are more tips on how to drive traffic to your website.
How does Topic Cluster work?
Internal linking is your best SEO friend (while external linking is the enemy). Internal links to your web pages show search engines that you are authoritative and have much information to offer online searchers. Providing external links helps build your credibility, especially if you are linking to valuable resources. At the same time, the frantic aspect begins because it's not ideal for readers to skip your page and visit the related page instead. You have to prioritize internal link building whenever you have a valuable and relevant source for your audience, and you can start reaping the benefits of improved SEO. However, it would be best if you had both types of links spread across your site to improve SEO and get the best SEO results.
How to create a Topic Cluster?
Now that you know about the topic cluster model and its importance and benefits, let's move on to the next step: create your topic cluster:
1. Select Your Topic
When curating a topic cluster, the first thing to do is figure out which topics you want to be authoritative for (sports, games, SEO, etc.) if you have a blog. However, if you're dealing with a company website, try to stick to your company's niche as much as possible. Here are a few things to once should keep in mind when choosing a topic for column content:
Your topic should be the basis of your business.
It should be what you want to rank. It should cover all the facets of the pillar page, but it's wide enough for you to write many articles about it.
Finally, when you select a pillar content topic, it's time to build content around it. This way, it helps potential customers trust you and your brand in the long run.
2. Inspect Your Existing Content
After finding and choosing the topic you want to discuss, the next step is to check the content to see if you have any existing and supporting articles you can link to your chosen pillar page. Ultimately, this allows you to maximize your existing content while focusing on your content creation efforts.
3. Optimize keywords
Topic clusters are the most delinquent strategy in the SEO world today, but that doesn't mean you should ignore and forget your target keywords. Optimizing content and web pages around keywords are still essential. Once the topic cluster is created, and the target keywords are complete, you can update and optimize the pages and content in the cluster. Here is a post on how to use keywords effectively in your blog for more help.
4. Link all content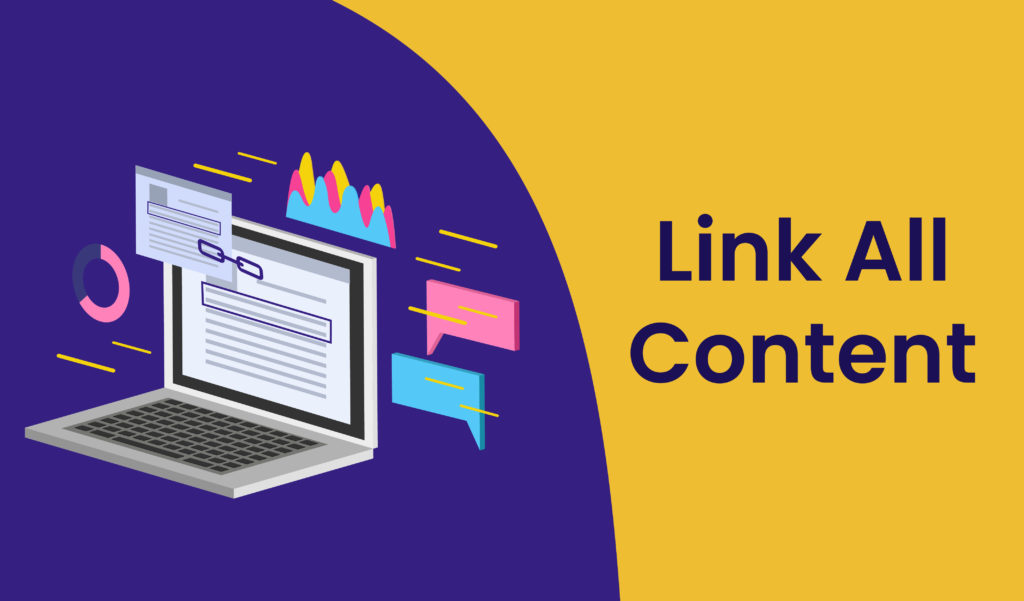 When all the content is ready, link them to each other and start connecting to the pillar page. Don't forget always to create a bidirectional link if you're in this part. The pillar page needs a link to each article in the cluster. This is considered the most crucial step in creating a topic cluster so that search engines like Google can verify that this content is connected and relevant.
After applying all these changes to your website, you must wait for the results of your website analysis. It takes a month or two to see and feel the effectiveness of your strategy. After the allotted time has passed and you have reviewed the results of your topic cluster, you can see which pages in your group have the highest performance and need to be optimized to improve your rank.
How do Topic Clusters Improve SEO?
Organizing your site using topic groups shows the search engines that you are an excellent resource for web surfers. Closely related topic posts show your deep knowledge and understanding of what users are searching for. While it's optional to pick topics in your niche and string them together, it's one element of the site that search engines base their search rankings on. Session length is your visitors` hang time on a specific page or website. Preventing users from hopping within seconds of arriving is vital to boosting your SEO. You're creating a longer hang time per visitor by linking helpful information to other useful information. The cluster model has several SEO benefits:
Better search visibility in a topic from targeted long-tail clustered content
Research shows that clustered content and closely connected pillars improved organic traffic.
Directing visitors from cluster elements to pillar elements increases time on site and page views per session and reduces bounce rate; all-important now determines all-important ranking factors
Despite Google's incredibly complex crawlers, you don't have to help them find your site. Organizing your content into logical groups makes it easier for search engines to identify the content on your site. This arrangement is not only easy for the machine but also for the user. If your visitors land on a post within a particular long-tail search term, then pointing to the pillar content throughout the center will encourage that all-important second click. Your pillar asset should be a centralized location where visitors can find all the information they need relating to their search.
Using the content clustering method is undoubtedly beneficial to those who regularly publish new blogs or currently maintain an extensive content archive. It allows you to improve existing and future content. Long-form, high-quality pillar content attracts users early in the sales funnel. Your content marketing approach becomes more structured, effective, and complex when fully implementing the topic cluster model. Search engines are improving at identifying semantic links between subtopics and main topics. Your search engine optimization efforts will also benefit from investing in topic clusters. Topic clusters are a win-win from an SEO perspective, site structure, and user journey. Yes, a new strategy is always a little tricky, and if you have a lot of content to curate at first, it can be a bit daunting. But stick with it; trust us, this new strategy can take your traffic and rankings to the next level. Like other aspects of SEO, navigating topic groups can be complicated. But to serve your readers – ultimately your means of survival – you should invest in this SEO content creation strategy. Develop an inbound marketing strategy around how to operate your audience best. Keeping this mindset helps shape SEO techniques and leverage your topic pools, benefiting your site visitors and search engines.