Web Design: Assumptions vs Reality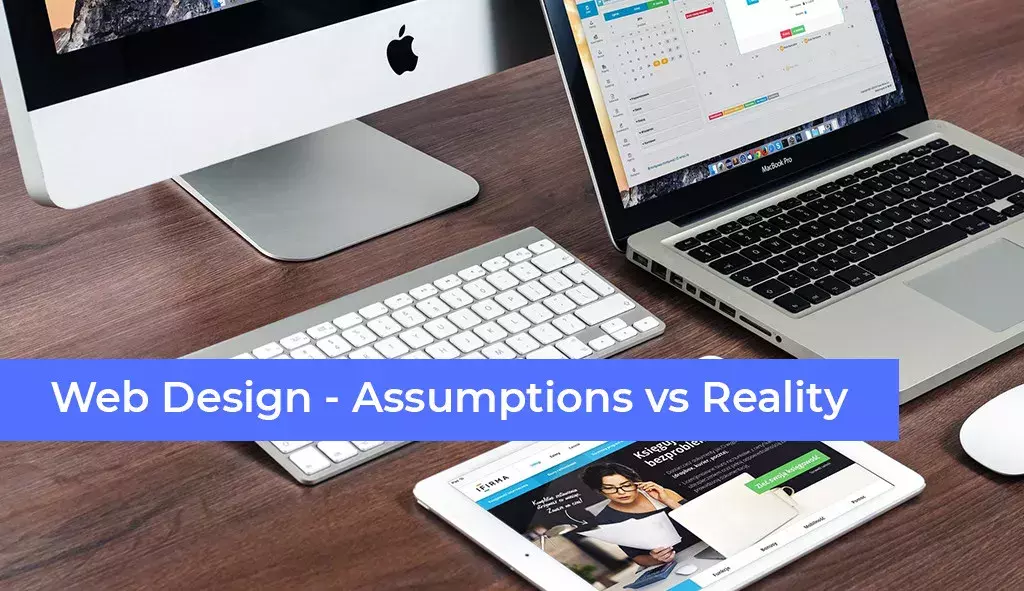 Websites are dominating the digital world today and are integral to the success of every business. A website is necessary for many reasons and if you don't have one, you will be quickly phased out and overrun by the competition. However, when it comes to developing a website, many people think that they can get the same results with the DIY approach as professional web development. Well, if you lack experience in web designing, you will end up losing a lot of time and money. So, to build an aesthetically pleasing, well-functioning website with outstanding user experience capabilities, you need to be well aware of the reality.
Whether you want to build a website yourself or hire a professional web development service, there are many misconceptions about web design and development that need to be tackled. So, in this article, we will look through the differences between the assumptions and reality of developing a website. Here is a quick check of reality in response to some of the common misconceptions.
Assumption 1: Website design is easy and it is not going to take a lot of time
Reality: Though it may be custom web design or a template web design, it is a tedious task.
Many ads promise to design a website within an hour or you must have heard from some industries that they can create a website within a day or a week. Yes, this may be possible if you want to design a simple website or don't get any setbacks while web design or there is a lot of free time and no other responsibilities. If web design would really have been such an easy task then web developers would not have to undergo training, get an education, and refine their skills. Yes, today there are many template web design platforms that allow you to choose any template and make your website. But that is not enough in this competitive world, template designs are very common and if you wish to grow your business, speak to your target audience, you need something unique. This doesn't make web development as simple as it looks.
In reality, web development is a very challenging task. It requires a lot of decision-making in finding the right domain, a good hosting provider, or selecting a template, colors, and content. Even if your site is simple it creates a lot of opportunities for blockages. Also, if you wish to create a template web design, you may be limited with the choice of template or some features. Moreover, sometimes even a simple update in WordPress may lead to an entire site crashing, for which you will need extra efforts. Hence, web development becomes a critical task with all these setbacks and limitations.
Assumption 2: Developing a website by yourself is free of charge
Reality: You need money for developing a fully functional website
If you think that developing a website by yourself will not require any money, then you are far away from reality. There are many hidden costs that you need to pay for developing a website and keep it running. The first expense that you will come across is purchasing hosting for your website. Moreover, you will need an extra charge to purchase the rights to use a content management system depending on your hosting. You will also need money for securing your site from online threats.
If you are building a website using CMS like WordPress, you would find thousands of plugins and templates, but are they all free? Though WordPress is a free platform, it may not offer everything you need, if you want to develop a unique and outstanding website to stand out from your competitors. Many of its advanced plugins and templates are paid. For example, the most used plugin for building a website (Elementor) is free with its basic features but its advanced features are available only in the premium version- Elementor pro. For developing an astonishing website, you will have to purchase the premium version to utilize its advanced features.
So, the extra money will be required to purchase the templates and plugins that can enable you to perform certain customizations for developing a highly functional website.
Assumption 3: Web design only affects the site appearance
Reality: User experience, SEO, and Site function all are also affected by web design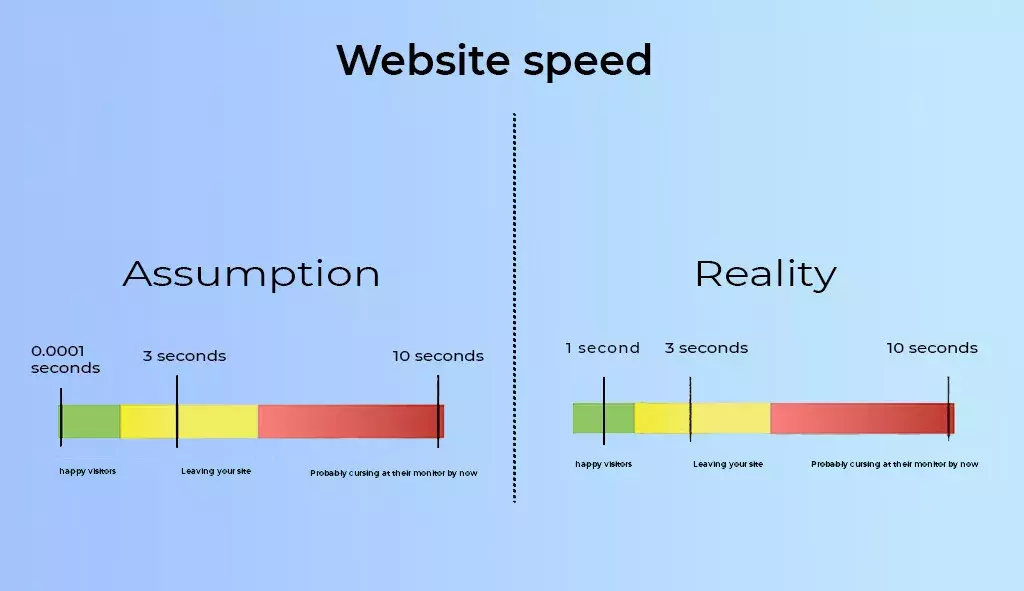 Many people have a perspective that web design means the visual changes that only impact how the website looks. But is that true? Of course, not. The reality is that every change you make on your website, though it may be adding a plugin, or an image will have an impact on the way your website performs. Whenever you add an image, a video, an animation, or an infographic to your site, there are high chances of your website's speed slowing down, especially when
you don't limit your file size. Loading the plugin at the backend can also slow down the loading speed of your website which will ultimately affect the user experience. Moreover, if you change the content of the site and remove essential keywords, it can greatly affect your ranking. 
Hence, every change you make to your website doesn't only affect the way it looks but also affects other factors like SEO, user experience, and how the site functions.  This doesn't mean that you should not make any changes to your site, but while making any change, you will need to consider it for more than aesthetic reasons. 
Learn about how web design impacts your business.
Assumption 4: A website can be designed exactly how I want it to look even with template web design
Reality: In template web design, templates, and plugins are extremely limited
Yes, using CMS like WordPress or Wix provides many great opportunities for developing a website. They do make it look super easy for developing a website. But in reality, even making simple changes using WordPress themes and plugins is a hectic task. There are many templates and plugins but they have a very limited free version available. Moreover, free versions can be very basic that won't even allow making simple changes.
Also, when you use WordPress for building your site, many themes have the tag "Powered by WordPress" at the bottom of your site. For getting rid of it you have to upgrade your theme. Even there may be high chances of plugins not being available for your unique needs.
Assumption 5: The job is done once the website is launched
Reality: Regular updates and maintenance of the website is required to match the changing trends
Another misconception that people have is once the website is launched they can sit back and relax. But in reality that is not the case, you need to regularly make sure that your website is functioning smoothly and flawlessly.
We live in a modern world, where every now and then technology keeps evolving. So, to match up with such a technologically advanced world and beat your competition, it is necessary to regularly update and maintain your website. Even your car needs regular maintenance, so why not your website? Being the most crucial and integral part of your digital presence, maintaining a website is a must for it to function optimally and stay up to the bar with the most used technologies in web development and browser advancements. If your website fails to perform well, people will leave your site and head toward your competitors.
Regular updates are also necessary to help search engines understand that your website is active and relevant to achieve a good rank. It is always suggested to renew your website every 4 or 5 years.
Assumption 6: Google images can be used for our website
Reality: If the image is premium, you are at risk of a copyright issue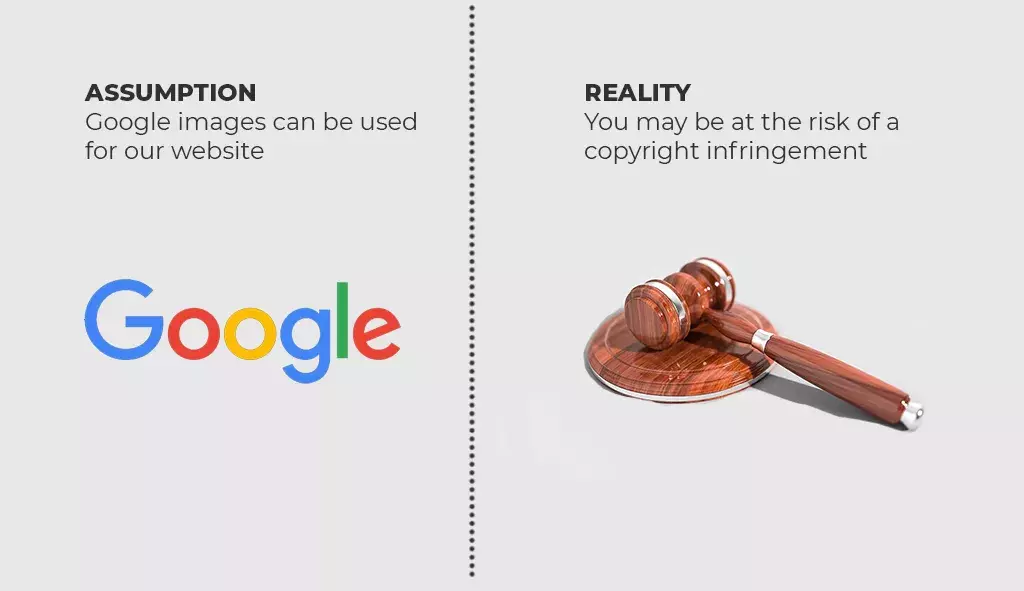 You take a lot of effort to build your website and when you finally have an excellent and properly functioning website, incorporating images from Google with poor resolution and large sizes can ruin your otherwise great website. When you build a website, it is absolutely crucial to use high-resolution and properly optimized images, so that they don't pixelate when your website goes live. It will also help to prevent the loading and performance issues of the image. 
If you choose to take images from google, they may not be of the appropriate size and quality for your website. Moreover, all Google images are not free for use. Picking any random image for your website will put you at risk of copyright infringement. So, you should never rely on Google images.
Assumption 7: SEO is not necessary for my website
Reality: SEO should not be ignored
Many people think that once their website is built, they will automatically start getting customers. Well, if that would have been the case, success would have been easy for every business that has a website. But in reality, to generate a huge amount of web traffic, you need to rank your website. If you disregard the importance of SEO, then it might be a great problem for you. There are millions of websites on the internet today and even if we search a particular niche, we end up getting lakhs of results on the search engines. Whereas, only the top 10 results are displayed on the Google search engine's first result page.
Well, the main aim of your business and the motive behind developing a website is to gain more customers. But if you don't take SEO seriously your website will get lost in those million results and won't be able to reach your target audience. SEO helps you to rank your website higher and make it noticeable to your potential customers by improving its visibility.
So, you need to invest a good time in properly optimizing your site for SEO. You can also hire a Jacksonville SEO Company or a good Web design company to build an amazing SEO-optimized website for you.
Assumption 8: As soon as the website is launched, you will see an influx of visitors
Reality: It takes some time before you start to see visitors to your website
When the website goes live, seeing an influx of visitors instantly sounds really good. But many people are not aware of the fact that Google and other search engines can take time to index new websites or any recent changes to an existing website. Moreover, you need to take appropriate efforts from your side to drive traffic to your website.
You should properly optimize your website for SEO to rank it well and increase its visibility, for driving traffic to your website. SEO is a lengthy process, it will take time to see visible results. Moreover, the length of time taken to see the organic traffic also depends on factors like the level of competition, the keywords you used, and as already discussed the time required by Google to index your website. You can also use other digital marketing techniques to drive more traffic to your website.
You can refer to our blog post; How do you improve your website traffic? so that you can get an idea to boost your website traffic.
Assumption 9: Securing the website is not necessary
Reality: Website security is always necessary to save it from hackers
If you think that website security is not important, then you will be in a lot of trouble in the future. Your website is the face of your business and it has a lot of personal and customer information. Moreover, you get third-party plugins and apps for your website, that are supported by regular updates.
If you fail to keep a track of them and skip them even for a single day, your website becomes vulnerable to hackers and malware. So, it becomes increasingly challenging for you to secure your data as technology changes. Hence, website security is necessary for keeping hackers away from accessing sensitive information.
Conclusively, we can say that web development might not be what you had expected when you first decided to develop your website. But being aware of the reality will definitely save you from the mishap of wasting your time and money. By reading this article you definitely must have understood that developing a website comes down to putting a lot of effort into research and fully understanding the pros and cons while building it. Finally, it is not wrong to keep an assumption until it matches reality. So, that you can take appropriate measures and efforts to achieve the desired results. If you find this task to be overwhelming, you can always take the advantage of many resources out there for finding a great web developer to complete your website. One of the simplest ways is to find it on Google. For example, if you are looking for such services in Jacksonville, you can search 'web design Jacksonville' on Google and get your company.