Why are most SEO Campaigns unsuccessful?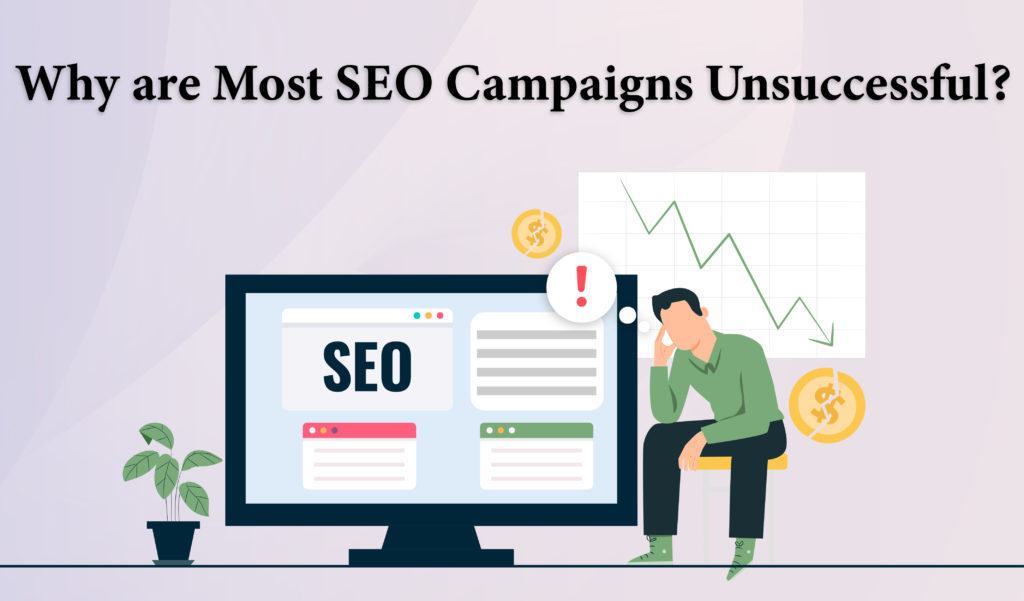 Whenever you open a conversation about SEARCH ENGINE OPTIMIZATION with a business owner or a marketing professional, you come across different opinions and views about it. Depending on the success and experience, you might hear some glowing reviews of how SEO was good for their brand. Whereas some people also think that SEO is a complete waste of time and money and does not provide the desired results for the business. Small business owners tend to think that SEO is for large businesses that can invest large sums of money in such practices.
However, the truth is that SEO is for every single business regardless of its size and industry. You can also avoid common SEO mistakes, But you need a proper strategy for it to be successful. If you overlook the basic points of web usability and user business, it will lead to loss of business and competition.
Hence, Jacksonville SEO experts have listed some reasons as to why most SEO campaign does not work so that you can avoid them. Let's know what are they.
1. Lack of Long-Term Perspective
SEO strategy is bound by some timeframe like six months or a year. But many business owners and professionals fail to see the need to retain their rankings. This shortsightedness leads to wrong SEO tactics that deliver little or no results. If you choose the right SEO strategy, it will deliver value to your business as long as it lasts.
2. Aimless Shooting in the Dark
It often happens that SEO strategy and planning are lacking in efforts because some people believe that they will never understand SEO and that learning it is just not required. They are convinced that it is a risky affair, and it is a waste to spend so much time and effort on it. But for your SEO campaign to start working, you need to make concentrated efforts to produce large quantities of great work.
3. Useless and Irrelevant Content
Quality content has a crucial Importance in determining your website's success. Nowadays many websites fail to realize the importance and power of quality content. If you use keywords above the required density, then your content turns out to be neither useful nor relevant or interesting. It loses the power to attract and hold visitors' attention. Also, if your website's content is not researched properly or it is hastily written and does not fulfill the needs of your customers, then there will be no reason for your customers to read and share your content, and eventually, they will have little or no motivation to try out your products and services. In the growing world of digital marketing, quality content is given paramount importance. And now Google's algorithm has changed to give original, quality, and relevant content a higher ranking. So, you should be paying more attention, time, and effort to the content you are posting on your website.
4. Choosing wrong keywords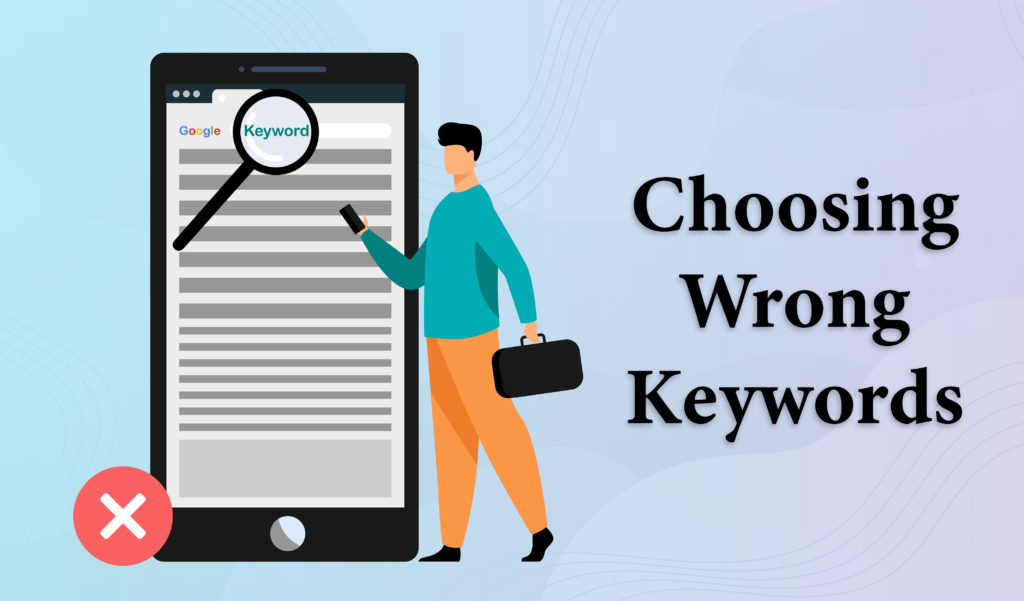 Keyword research is very integral to an SEO strategy. There are millions of websites on the internet and distinguishing yours from them is very crucial for your business. Hence you should choose the perfect keywords according to the niche you are focusing on. A lot of entrepreneurs depend on companies that provide SEO services to provide them with keywords. But this does not serve their purpose. A common cause for a failed SEO strategy is the selection and optimization of wrong keywords. If you want the right keywords, you should either choose a credible SEO company or analyze yourself with the help of a reputable keyword research tool. Also, you should always keep an eye out on how your competitors perform and the type of keyword they use.
5. An Unplanned Website Structure and Design
A good user experience is particularly important when visiting a page. A lot of website owners think that using SEO strategies will help them generate traffic to their website. But what they do not understand is that if the website design is unplanned or lacks any thought of SEO or usability, then the website is not worth visiting. If your website lacks coordination, during the planning of structure and layout of the website, it leads to a miserable user experience. This results in a severe penalty with a low SEO ranking. Thus, your website design should include navigation, anchor texts, keyword identification, and landing page URL. Jacksonville SEO professionals recommend testing the user interface through various reviews from users and the feedback forms which include points they want to see on your website.
6. High expectations
One mistake that people make is that they expect too much when they go into a new SEO strategy. SEO experts and marketing enthusiasts say that SEO is a near-perfect strategy. They claim that it is cost-effective and capable of generating a large sum of returns. These claims might be technically true, but it sets people to think that SEO strategy is a flipping switch that will generate immense traffic to your website. And when you do not see the results right away, you feel that SEO is a waste of time and money. This is also why marketers and entrepreneurs abandon their SEO efforts before time. SEO is a time-bound process and is a long-term strategy. So, it can take years to fully take off and needs constant attention. Therefore, you need to be patient with it.
7. Scams and black hat SEO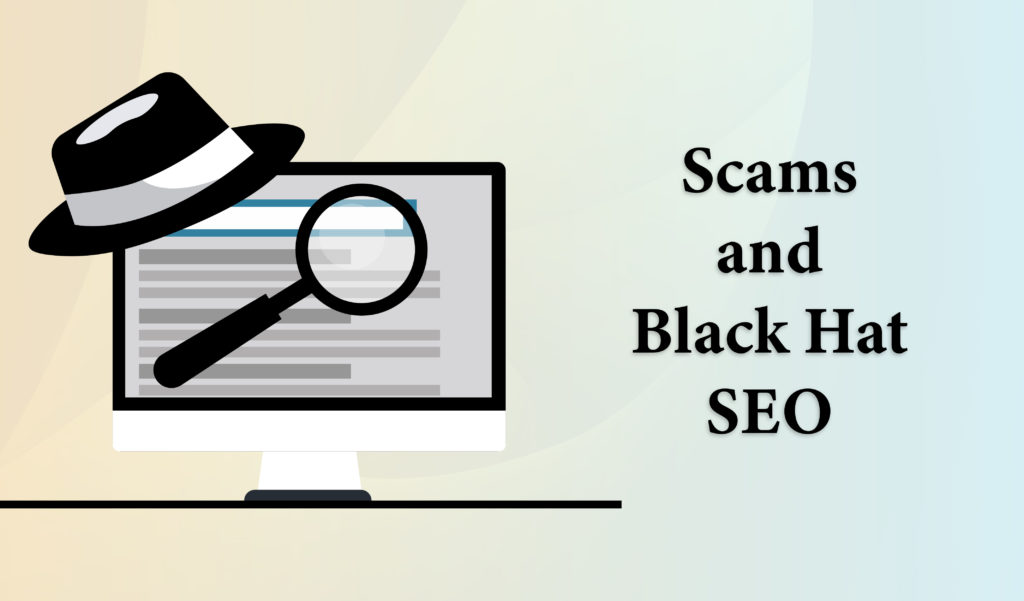 A lot of companies fall prey to scams and companies that perform "black hat" SEO. When a business owner does not have much SEO knowledge, they are likely to contact other companies who provide SEO Services. Naturally, they are attracted to companies that are inexpensive or promise big results. As a result of this, business owners hire people who abuse links or experts who do not care about the long-term reputation of your business. They might deliver temporary results at the start of the process but then you will eventually hit a penalty, or your ranking will fall back exponentially where it should be. Therefore, you should be patient enough to avoid such experiences.
8. Your conversion rate is low.
Generating traffic to your website is only a step towards selling your product, which is your ultimate goal. You should always analyze your visitors' needs as it tells you the purpose and the need for their visit. And these are areas you should be focusing on your website. You should use tracking tools to know where your visitors start reading and where they started looking for the "X" button. If your visitors get straight answers to their questions on your website and gain a user-friendly experience, they are more likely to subscribe and buy your product. An appropriately placed call to action button, easy navigation, trust signals, and social proofs can help convert your potential customers into loyal customers.
9. Your link profile is problematic.
Many people think that building links will lead to the success of your business. But that is not it. Simply building links is not enough. Instead, you must pay more attention to the quality of these links. According to the penguin and panda updates, you should know that you cannot just build any old link as you please. There are a few factors that you need to take care of while building links which are-
Whether the websites from the same niche, that you are focusing on, link to your site?
Do you have any disavowed links?
Did your website get links from a high domain authority?
If the answer to all these questions is yes, then you are clear. But if you even have a little doubt, then you need to revamp your link profile. You should be building relevant links from your niche, providing content that will get you featured in high DA websites, and disavowing bad links.
10. Competition (and no plan to avoid it)
Competition is an important factor when building an SEO strategy. Every business owner should know the importance of competition and competition related to their business. But a lot of business owners ignore the competition factor when planning an SEO strategy. The reason is that a lot of businesses and keywords are already dominated by established players who have spent years building their domain authority in the market. And if you want to displace such players, you will need a massive budget and a targeted strategy. And if this is not the way you want to go, you can always come up with a plan to avoid the competition. For instance, you can target a different audience segment, or you can target a different set of keywords and phrases that your current competition is not using. In the end, you should be knowing how to handle your competition because it can compromise your entire strategy.
11. You don't realize the power of social media.
Digital platforms have grown exponentially in today's world. With the importance that is given to social shares and relative user authority in the Google ranking algorithm, increasing day by day, you must use social media in your campaigns. But if you are still not budging to use social media, you are missing a lot of opportunities. But let us focus on this from another dimension, according to Jacksonville SEO Company, Bing controls around 24% of the search traffic and social media has become a direct ranking factor for them. So, when you are being ignorant about social media, you are leaving a lot of search traffic.
Also, you need to have a proper strategy when using social media. Your research should be based on the nature of your business. There are several types of social media platforms to elevate your business. But you should be prioritizing the one that will bring the maximum results. For example, if your business is visual-focused like fashion, jewelry then Instagram and Pinterest should be your priority. You can also choose social media channels based on your target audience. As teenagers are more active on Instagram and Facebook, you should be prioritizing these networks if you want to focus on the younger generation.
One important advantage of social media is that posting content on it increases your brand visibility. If visitors like your content, they will share it widely which leads to increased traffic and more leads.
12. You are impatient
SEO is a time-bound strategy. It can take weeks, months, or even a year or so to determine if your business is taking off. It is a long-term strategy and needs the patience to determine if your SEO strategy is effective for your business or not. However, you should expect a negative ROI in the first few months. As you gain experience and more insight into your SEO strategy, then you will be able to improve your ranking and ROI. You should try out different strategies because there is no fixed strategy that works for every business. Every business has unique needs, and it takes a trial and error method to determine what will work the best for you. You should be aware of the trap of tunnel vision. Having conversations and prospects is great but it is not the end of SEO. What pays off, in the long run, is increasing brand awareness and enhancing your company's reputation. When you are dealing with SEO, patience is the virtue that all experts and webmasters must practice. You need to be patient enough to expect the results you are working for.
13. You are not tracking Google's algorithm updates properly.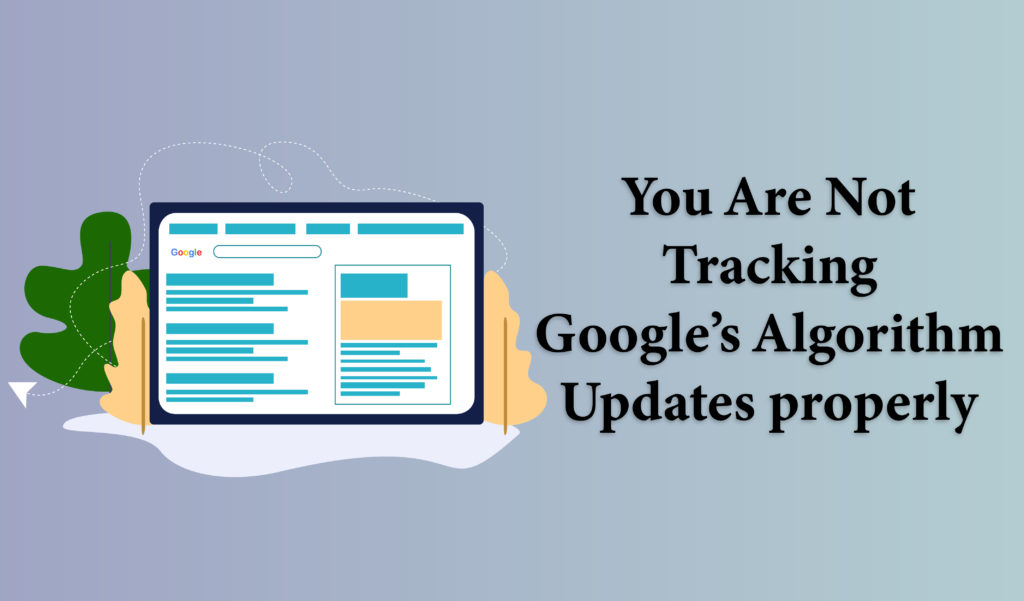 You should always keep yourself up to date with Google's algorithm. From this, you will have an idea of what to prioritize and what to avoid. For instance, video marketing is exceedingly popular these days. As we all know that YouTube has become the second most popular search engine. So, you can focus on those such areas as well. You should remember that following trends does not mean that you should sideline essentials. You need to make sure that your website is responsive and has a good user experience as well.
SEO is a dynamic as well as an unpredictable tool. It takes patience and constant effort to have a successful SEO strategy. Local SEO company in Jacksonville has listed the above-mentioned points that you need to focus on when working on SEO. By doing so, you can easily save SEO from failing by identifying the areas that are lacking or need work and start by making changes there.