Why does SEO need ongoing efforts?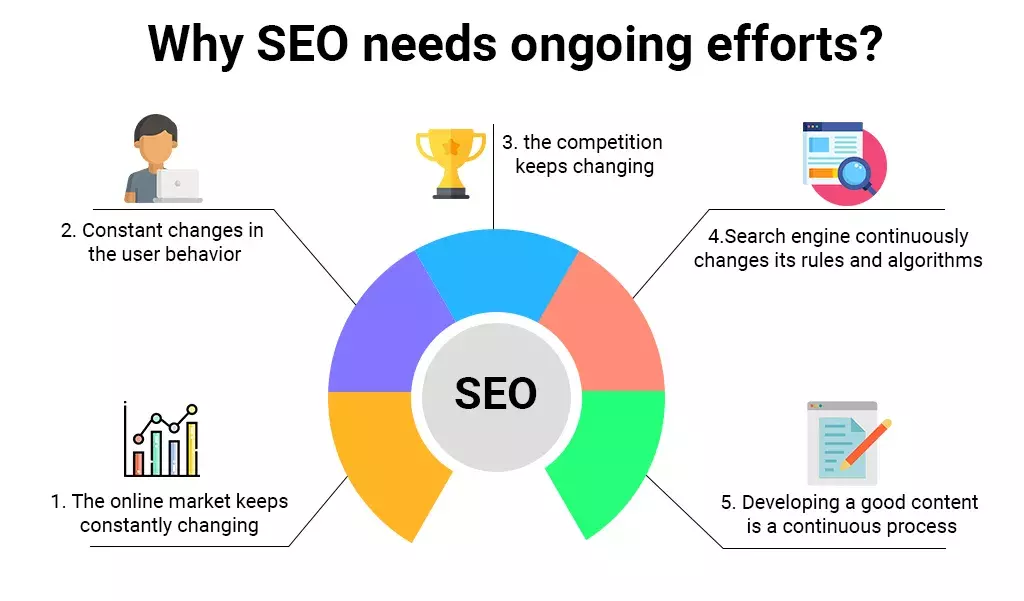 Search engine optimization (SEO) is imperative to the online success of every business and is one of the evergreen digital marketing strategies that deliver long-term benefits to attract qualified traffic to your website. Despite being in use for decades, many myths still revolve around SEO and one of them is that it is a one-time activity. Though it sounds great to optimize your website once and see it rank in a couple of weeks without taking any further effort, this is not how search engine optimization works. If you have ever heard the phrase "slow but steady wins the race", that is kind of true in the case of SEO.
Many organizations do ensure that the designers had carefully optimized their site for SEO to rank well to be easily found on the search engines, but only while building or developing their website and considering their job is done.
Firstly, it is important to note that SEO is an ongoing process that takes continuous efforts because of shifting market conditions, competitive innovation, changes in user behavior, and most importantly constantly updating search engine algorithms. It is a constant battle that requires an ongoing investment of effort to develop and maintain a prominent and organic presence on search engines. In fact, your SEO strategy should last as long as your website and business last.
Unlike other digital marketing practices, search engine optimization influences complex search engine algorithms involving hundreds of factors that keep changing and improving constantly through machine learning. With ongoing SEO, you can not only increase your exposure on the search engines but also maintain that exposure and sustain growth.
We as a Jacksonville SEO have listed some of the most important reasons that drive the need for ongoing effort and innovation to help your business survive in the treacherous waters of the online market.
The Online Market Keeps Constantly Changing
The online marketplace keeps continuously evolving and the rapid advancement of technology results in the constant introduction of new products and terminology. It churns out new gadgets, products, programs, and services. This prompts the users to search for which they use a set of new keywords or variations of the existing ones. As a result, the set of keywords that you targeted at launch may have produced good SEO results or been highly effective at that time, but now can become less common or even no longer used and have the same kind of impact now or over a short time duration.
For example, suppose that you sell audio equipment, and once upon a time, even searching "headphones" on google might have been enough to get traffic to your website. But now with all the different options available for personal listening, this keyword will not be specific enough, especially when people have a certain style or product in mind. Due to this, you might lose your rank and your site might get lost on the second, third, or fourth page where most people will never see it.
This is why it is important that the language on your website should also evolve to keep up with the market demands and to reflect the keywords or the language used by customers, peers, or prospects as we cannot always anticipate what is coming next. Thus, making SEO a continuous and constant process of research, re-evaluation, and re-optimization, especially regarding the trending keywords and phrases. This research will ultimately help you yield insights regarding which keywords are more effective and relevant now so that you can re-optimize your site for ongoing results. You will be left behind if you don't evaluate the market conditions regularly and respond accordingly.
Developing Good content is a Continuous process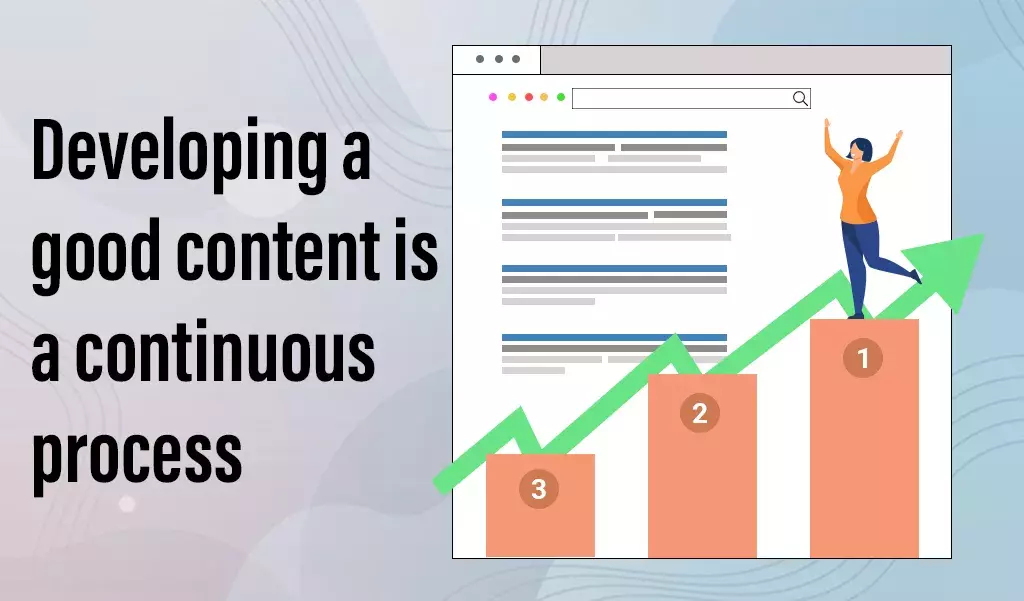 According to research conducted for content marketing, it was found that forty-six percent of businesses claim that they were updating their content at least once a week. Whereas only four percent of businesses were able to update their content every day and a major forty percent of businesses mentioned that they were targeting to post multiple times per day. The respondents in the survey found the content to be the most crucial part of their digital marketing strategies and realized that it should be at the core of their every campaign, including search engine optimization (SEO).
Here we can compare the content with food, just like food the content should also be served fresh and relevant to your target audience. So that your target customers will keep coming back for more. If you fail to maintain and update it, it will soon lose its relevance. Hence, content generation should be a continuous process and the core of your search engine optimization (SEO) and digital marketing campaigns.
Constant changes in the User Behavior
Same as the products, trends, websites, content, and terminologies change, user behavior also changes as well as they also start using different search terms. Hence, the once highly effective keywords or keyword phrases may not have the same effect today as we already read in the first point. Your competitors may leave you behind by targeting new sets of keywords while you still stick to a less effective set of keywords. You may also be losing out on potential customers if you keep emphasizing one set of keywords while your customers are using the other. Hence, regularly re-validating the efficacy of your keywords through the latest keyword research and knowing what search terms your customers are entering and what is more effective. So that you can change, remove, and update your SEO strategy.
Ultimately, an SEO strategy that keeps constantly evolving in order to meet the ever-changing demands of the online marketplace is like a best friend to a business owner.
Search Engine continuously changes their Rules and Algorithms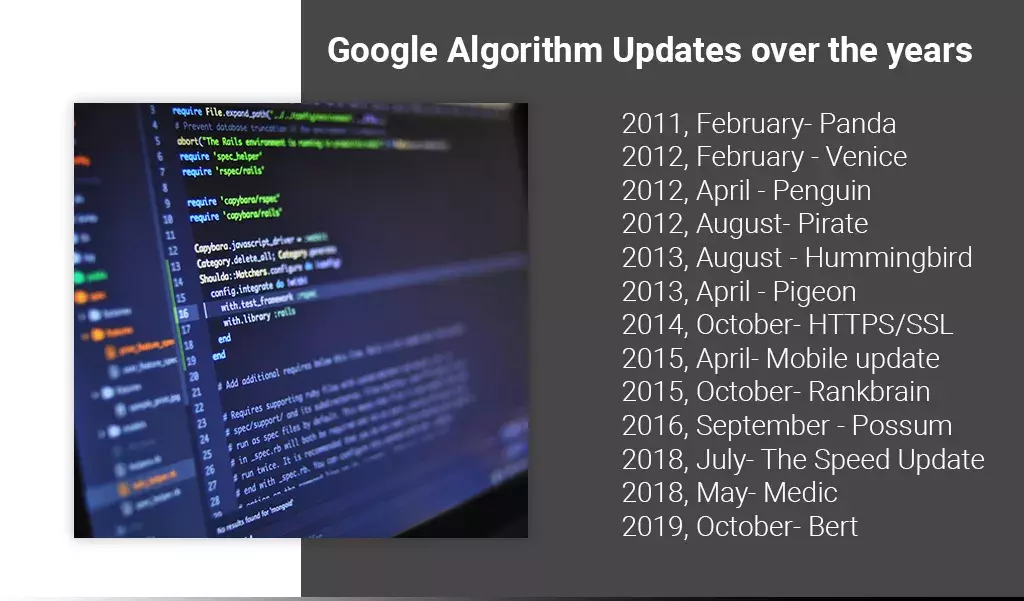 The major search engine, Google, is always in an effort to deliver the best possible experience to its users, hence it always keeps rolling out new algorithm updates by testing new ways to improve its results. Moreover, other search engines such as Yahoo and Bing are not static either. These search engines undergo regular revisions and updates that are related to how they evaluate and rank the websites to remain relevant to the users and compete with one another. While the fierce competition among businesses providing similar services or products is another reason for the constant changes in search algorithms.
Some businesses engage in deceptive search engine optimization practices that are black hat SEO to gain an advantage. Hence, Google works tirelessly to prevent the cheaters from gaining an unfair advantage and making it harder for them to cheat or game the system. It is believed that Google changes its search algorithm almost 300 to 400 times a year, so, on average it makes changes at least once per day to its algorithms. Simply because it is in their interest to make sure that their customers get what they need to drive advertising revenue and keep the shareholders happy because more users mean more revenue. The other search engines have the same goals too.
But it is important to note that these search engine algorithms will not only impact the bad players, but also the businesses playing by the rules are also greatly affected by them. Hence, just as it is important to stay updated about the changing marketplace, what customers are looking for, and what the competition is doing, it is also important to focus on continuous improvement by staying tuned to the new search engine updates and have an active and capable search engine optimization campaign. This will help you keep your website more search-friendly on the search engine.
Moreover, it was found in research that businesses who ran an effective SEO campaign by tracking marketplace changes, user behavior, and competitor's practices, and being updated with the search algorithms attained and retained a high rank on the search results. While the businesses that did not keep up with an effective SEO campaign experienced a drop of about 30% in their rankings.
Hence, SEO is a continuous process because the algorithms always change and if you don't keep up with them, you might end up losing your rank and thus your traffic.
Here are 9 ways that can help you drive organic traffic
The Competition keeps changing
The online marketplace keeps on changing very quickly and thus the competition turf. You might already have thousands or millions of websites competing with you and in addition to this, many players who might have not paid any attention to SEO before may decide to get in the game and ramp up their efforts. You will also face new competition at times whenever a new piece of content is published. On top of that, additional thousands of websites get launched daily, ultimately indicating the entry of new companies in your niche that change many parameters with it. Even if you are, for instance, running a landscaping company or a home services company, you may get a dozen competitors depending on the size of the market.
Beyond this, you might be aware of the fact that most people don't go past the first result page and those who do even don't go past the third page. If you ideally don't show up on the first page or at least the first three pages, your business will be at loss.
Your competitors constantly keep evaluating and optimizing their SEO and most importantly, there are high chances that most of the competitors in your local market will target the same visitors and promote the same services as yours within the same geographical area. They will be in a constant effort to outrank you.
In order to keep up and get ahead of the competition, it is also important to keep an eye on your competitors to look whether they have expanded their existing services or products and when they add new ones. This will allow you to consider and update your own offerings and SEO approaches as the updates made by your competitor might change the search results and rankings. For instance, suppose that you run a coffee shop and also serve breakfast with it and now your competitor has also decided to add breakfast to its menu that might grab your audience's attention. Here, you should make sure that you're your audience does not click away from you and that you don't lose your ranking. Hence, SEO should be an ongoing and continuous effort to enable the online existence of your business and rank higher on Google
Ongoing SEO maintains your Page Rankings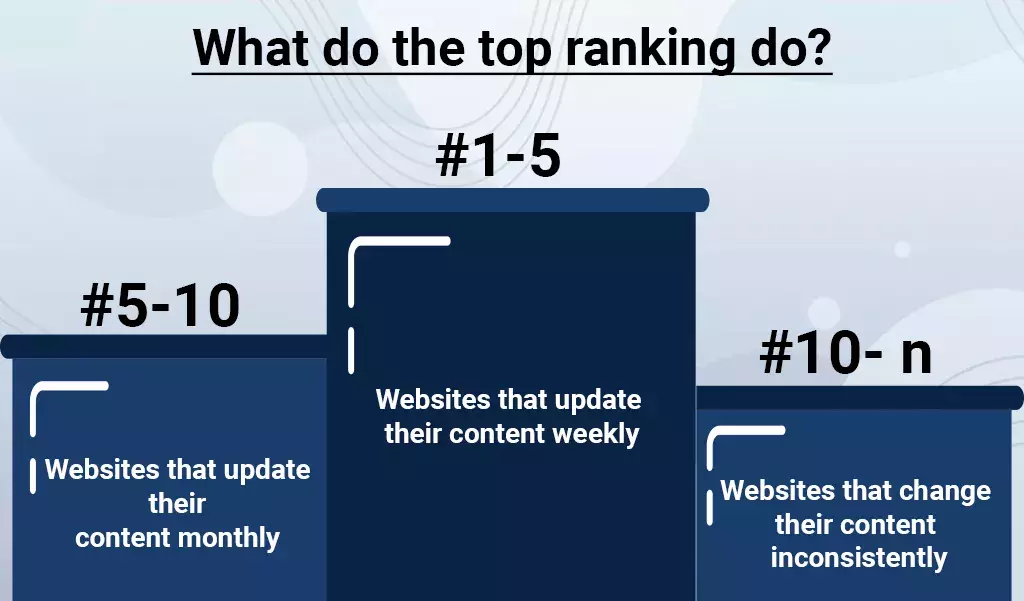 The way you regularly conduct SEO activities decides the ability of your website to rank on the search engine results page. As we have already been discussing in this article that SEO is not a one-time activity and should be an ongoing process in order to maintain page rankings. If you don't continue your SEO optimization, your page rankings will eventually suffer and see a drastic drop from significant listings.
This fact was discovered and confirmed in a search engine optimization study where businesses that discontinued their SEO campaigns experienced a significant drop in their page rankings by as much as 30%. On the contrary, the businesses that continued their campaigns saw a drastic increase in their rankings of about 18%. Hence, SEO needs continuous efforts.
It is crucial to restate and emphasize the importance of SEO and why it should be a continuous process. A well-maintained and constant SEO campaign is sustainable and gives you the assurance of boosting and maintaining your page rankings.
Moreover, you will be able to continually improve your SEO strategies based on data and user response to changes. Additionally, ongoing SEO is adaptable to algorithm updates, competitor changes, and changes in search methods. It also allows you to update your content and maintain the old ones to encourage users to come back to your website. As well as it works well with other digital and marketing efforts.
Conclusively, Jacksonville SEO Company says that ongoing SEO is vital in order to remain competitive in the online marketing world and to be on the good side of Google.