9 Effective SEO techniques to drive organic traffic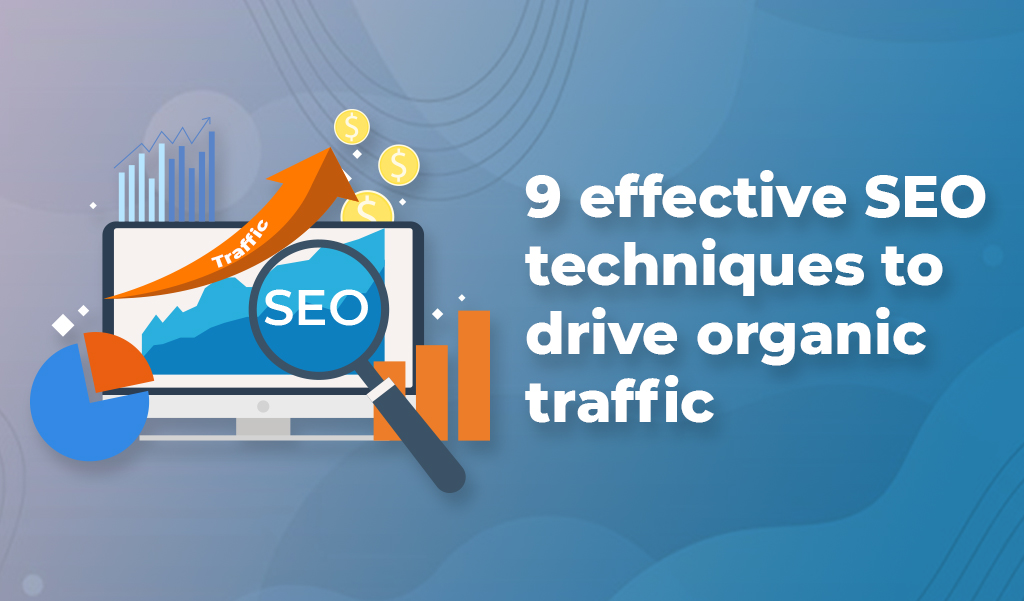 Are you looking to improve your search traffic organically? If yes, then the best way to do so is by enhancing your online visibility by climbing up the search results which can be done by optimizing your site for SEO. This provides you a great opportunity to generate traffic. If you wonder why then just take a look at this data. About 3.5 million Google searches are conducted each day from which 60% percent of the traffic goes to the top three results.
So, by being an SEO expert, you can easily rank your website and boost your traffic. But that is easier said than done. Google always prioritizes its users and hence keeps rolling out new algorithms to meet its users' needs in the best way possible. So, ranking your website on the search engine requires dedicated research and a lot of experimentation.
Hence, in this article, we as a Jacksonville SEO company ourselves, have listed down 9 effective SEO techniques in an effort to help you drive organic traffic.
1.

Conduct an SEO audit on your website
The first thing that you need to do is conduct an SEO audit to check how your website is currently performing so that you can identify critical areas to work on. Check whether you are attracting enough traffic or not and if not then analyze the reasons for it. An SEO audit will help you determine those reasons and build an SEO strategy to overcome them.
When you conduct an SEO audit, you need to consider some of the major points. Check whether you have descriptions and meta titles for all your website's pages. Make sure that your pages are optimized for targeted keywords properly and not just stuffed with them. Also take a look at whether your URLs are short, simple, and structured to convey what your pages are about at a glance.
You will also need to check whether your blog posts and pages are formatted properly and do your images have alt tags optimized with keywords. Additionally, check out whether you have any backlinks to your content and whether you have created links to other important pages on your site.
2.

Ensure that your website loads on HTTPS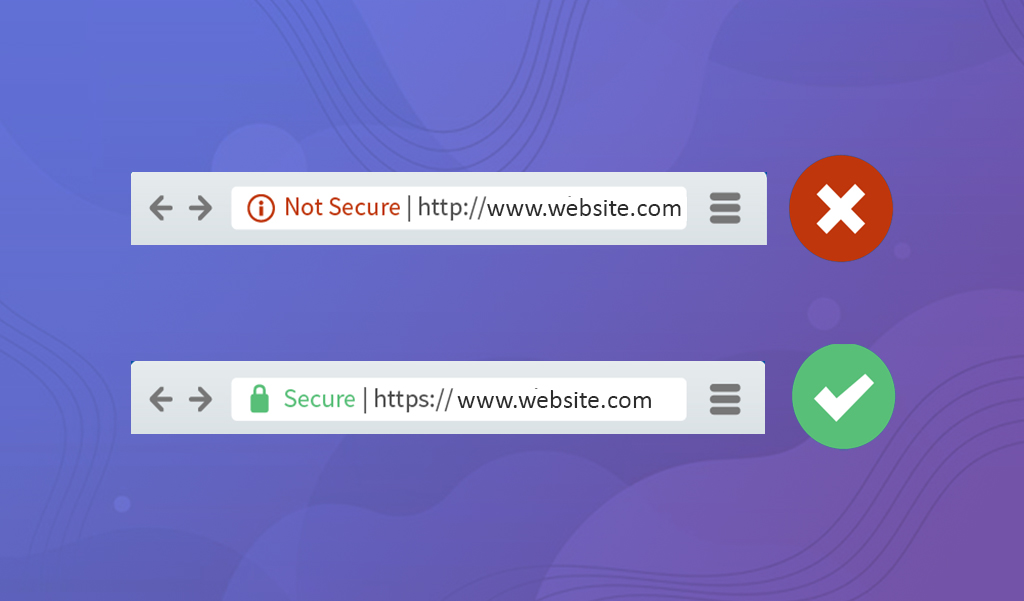 When you visit a website it loads with the URL that starts with either HTTP or HTTPS. The "S" in HTTPS stands for security and security is the top priority for Google. So, in 2014, Google announced HTTPS as a ranking signal and made it one of the ranking factors.
Though it was a lightweight ranking signal at first, Google gave more importance to HTTPS as a ranking signal over time. So, switching your websites from HTTP to HTTPS can help you improve your rank in search engines. Websites that are not secure can struggle to rank.
Google now flags every site that does not have an HTTPS certificate as unsafe. So, if your website is not yet secure then you might be losing huge traffic and also the conversion rates. So, to make your site secure, you will need to purchase an SSL certificate and validate it. This will help you boost your website's SEO presence and thus boost its traffic.
3.

Write engaging, valuable, and lengthy content
Google focuses on creating a more accurate and helpful search experience. So from now on a well-structured and high-quality content is going to win the search game. Creating good content will help you attract and increase your organic traffic. So, You need to focus your efforts on creating content with a purpose and that justifies why every single piece you created exists. It should be easily readily and well-formatted.
You should also make sure to write error-free content with no grammatical and spelling mistakes. Also, keep your paragraphs shorter, you can limit each paragraph to 3-4 lines. Long sentences can be hard to follow on mobile and computer devices. Your paragraph should support one main idea, so avoid splitting it as you can lose your point. Other formatting tips that will help you make your content more readable are as follows:
Break your text with supporting media like photos, videos, and graphs as too much text can overwhelm the visitors.
If you have a lot of data like stats, facts, or ideas then make use of bullet points to list them. This will make it easier to read for the users.
Make use of images and infographics to illustrate your points.
Include subheadings in your content to help the users scan your content easily and quickly.
With all these points in mind don't forget to consider the length of your content. Unfortunately, there is not a defined number of how long your content should be but a 2000 plus word post will be better.
4.

Know your Target Audience
The type of content you create completely depends on your audience. So, before you begin with your content research about your audience. Know their interests, location, age, etc. to create better content. This will help you target the right audience. To understand this better take a look at the example below.
Suppose that you are a local SEO company and you want to promote your SEO services. So, while researching keywords, your keyword tool shows you a volume of 1.5 lakh for a particular keyword like 'SEO'. A huge number, right? Hence, you will start targeting this keyword.
But you need to be aware of the fact that people searching for 'SEO' could fall into different categories. Some may just be looking to learn SEO while some might be enthusiastic to gain more information for it. So, you could risk creating content for all of them if you don't know your target audience. This will not help you rank better because you won't be able to please everyone with a single piece of content optimized for such a broad term. Hence, by understanding your buyer's personas, you can create better content that will get you results.
5.

Make your Website Mobile-friendly
77% of Americans own a smartphone and almost 80% of them have made an online purchase using their mobile device. More importantly, Google is now moving towards mobile-first indexing and prioritizing mobile-friendly websites. This means that mobile-friendly websites will get a higher rank as compared to websites that are not optimized for mobile devices. So, if you want to improve your visibility, optimizing your websites for mobile devices is necessary.
Even data suggests that more than 60% of the daily search traffic comes from mobile devices. So, your site should focus on creating a good mobile experience. Though the appearance and performance of the website on the desktop still remain important, the need to optimize your website for mobiles comes first. If you already have a website then you can confirm whether it is mobile-friendly or not easily. Just paste your website's URL into any of the mobile testing tools and get the results instantly.
6.

Generate High-quality backlinks
Backlinks are the critical component to grow your organic search. High-quality backlinks from sites having high domain authority are placed at significant priority by search engines like Google. It is one of the top three factors considered for the ranking. A good number of quality links will help you get a higher rank and thus increase your website's visibility. However, there are a couple of things that you need to remember while creating links:
Stay clear from paid links and comment spams.
Don't create low-quality backlinks
Avoid backlinks with duplicate content
Avoid low-quality guest posting while generating backlinks
If you fail to follow these points that are known to violet Google's guidelines then Google will end up penalizing you. Ultimately leading to lower rankings and thus reduced visibility. You can avoid this by knowing the best link-building strategies. You can also use digital PR to earn authoritative backlinks. This will eventually help you improve your Google rankings and thus drive organic traffic to your site.
7.

Enhance your website's user experience
Google always aims to provide the best possible results for its user's queries. So it becomes essential to improve your website's user experience. If your site is trustworthy, fast to load, skillful then users are more likely to spend more time on it. This will increase your chances of tanking as websites that have a strong engagement are generally pushed higher in the search engine result pages by Google. So to enhance user experience, you can consider the following points:
Enhance your content to improve its readability and its quality. Consider writing short paragraphs, including sub-headers, bullet points, white space, and images as we already discussed above.
You can use a pyramid style of writing which means providing valuable information at the top while less important information below.
Increase your website's speed as it is one of the most essential factors that can make or break your site's performance.
Hold your user's interest by making use of bucket brigades in writing sense to keep the flow of your ideas.
8. Target appropriate keywords
The days of stuffing your content with keywords are gone and if done so search engines are smarter enough and may penalize such websites. But ignoring keywords entirely will be a mistake as they are still important. Keywords act as a signpost and help Google spiders to understand what the content is about.
Doing proper keyword research will help you discover what people are searching for related to your niche. Then you can write blog posts or any other type of content that answers their specific query. There are many tools like Google keyword planner, Keyword Explorer, SEMrush, and Ahrefs that you can use to access keyword data. Select the one that will allow you to monitor a high volume of keywords.
You can also follow Google's Auto Suggest which shows you the most asked queries. Just type the keyword related to your niche and see what Google provides you.
9. Boost CTR by improving your titles and descriptions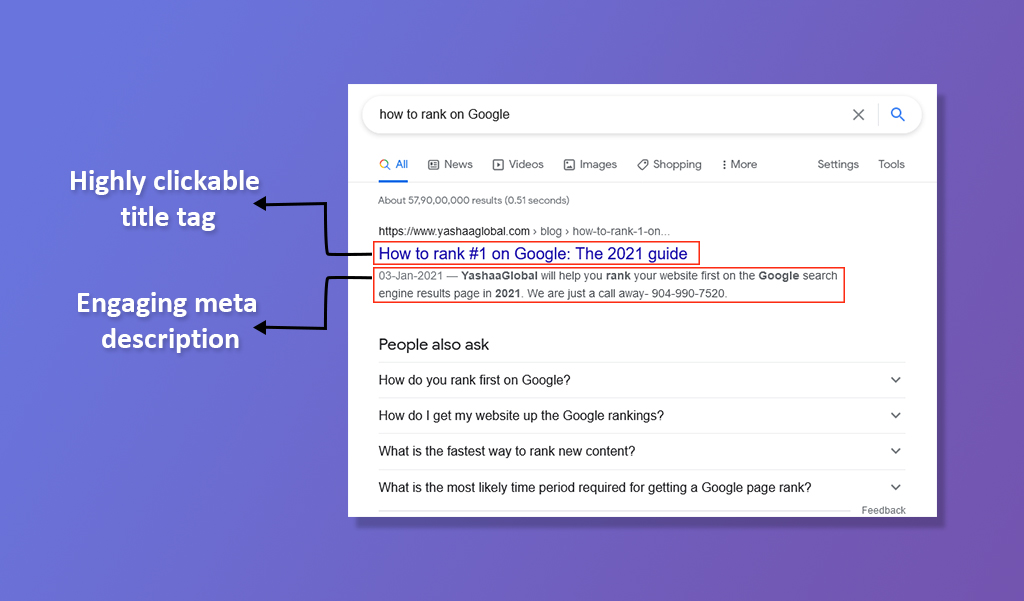 Once you have the right keywords and right content then the next thing that you should be optimizing for is CTR. Because it is also used as one of the ranking factors. So let us take a look at the elements that can impact your click-through rate. Typically they are title tags and meta descriptions that are usually visible to the user on the search engine result page. To understand how they will affect your click-through rate let us take a look at the example below.
Assume that you rank #1 on Google for a particular keyword. But you will not gain traffic until and unless the viewers click on your page. This is why optimizing for clicks becomes important. You can do this by optimizing your title tags and meta descriptions because that will be the first thing that your audience will see. This will encourage the users to click on them and visit your site.
To check whether what title tag or meta description will give you the highest CTR, you can either make changes and measure the results over a long time or leverage PPC. Just ensure that you properly set up the test that determines what is having an impact on your CTR.
You can test three different headlines by keeping the meta descriptions the same to determine the best title tag. Whereas, test three meta descriptions by keeping the same title tag and get the best one. This performance data will allow you to improve your organic CTR and thus your traffic.
Conclusively, we can say that if your site has a low bounce rate, engaging content, appropriate keywords, quality backlinks, is secure and responsive, and provides a good user experience, then Google will rank it higher. These SEO strategies thus play a very important role in improving your visibility and attracting a huge amount of traffic.
As we are aware of the fact that SEO keeps evolving rapidly, it is important to adapt it quickly. There is a lot to consider and you won't become an SEO expert overnight but even making efforts to understand the basics will create a big difference. It will help you improve your website's rank, engagement, click-through rates, and thus your traffic. You can also avail of SEO services that will help you manage every aspect of your website with cost-effective solutions.