Signs it is time to redesign your website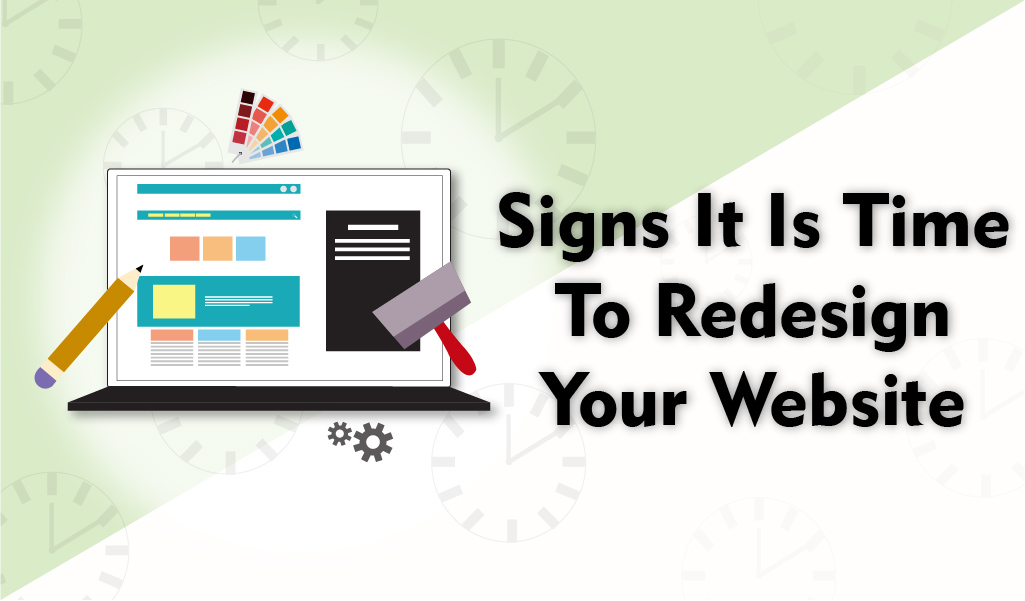 Websites are one of the most important marketing assets of businesses. If you are a business, then there are chances that you already have a website. Well, if your website is well-designed and user-friendly, it will drive traffic and keep your visitors engaged. But it may be actually hurting your business if it is not living up to your expectations. If your website appears outdated or does not connect with your customers, you could be losing out on a new business every single month. So, there could be an evolving need to redesign your website.
In case, if you are still not sure whether you should redesign your website or not, then we have covered some major signs that indicate that it is time to redesign your website in this article. So, let us take a look at those signs and understand when it is important to redesign your website.
Your site is cluttered or too complicated
When you must have built your website, putting information like your introduction, contact details, services, awards, contact form, promotions, and call to action on above the fold section on your home page might have seemed like a good idea. But now, it is not a good practice at all.
A complicated web design may confuse your visitor and as we know that a confused visitor can't be a potential buyer. trying to say too much to your customer when he or she visits your website is just like overselling them when they walk in.
So, if you think that your website is cluttered then redesigning it is a must. While if you are not sure then you can take opinion from you friends, colleagues, or other business associates, you can also reach out to a website design company for a professional opinion.
Your website is visually outdated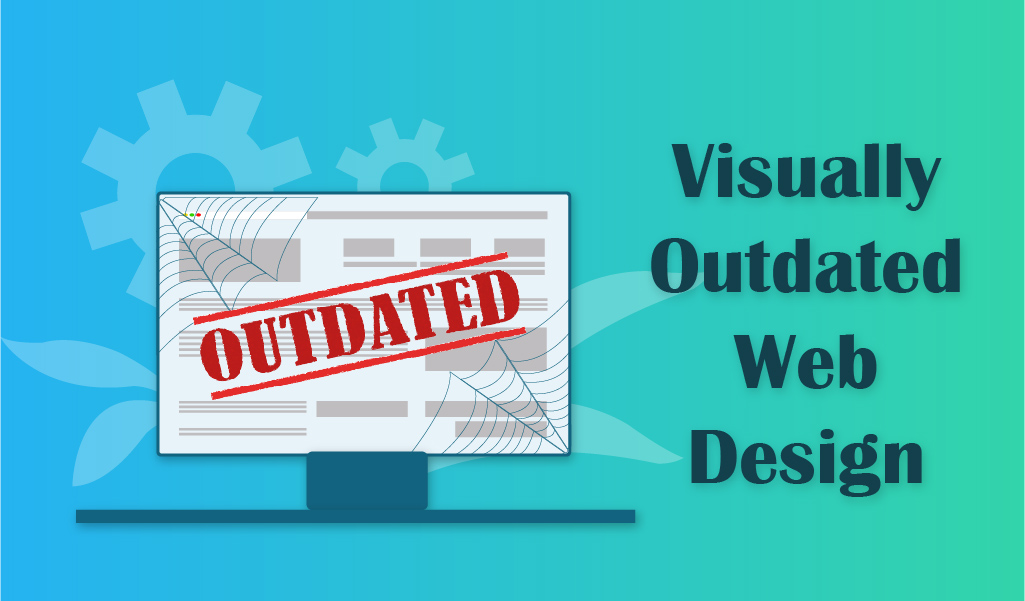 Your website is the first impression of your business and if it is not visually appealing then your visitor is surely not going to click around your website or continue scrolling it. So, if your website was built five years ago and still looks the same, then it is time to redesign it. Though there are websites that still perform the past five years, technology keeps changing.
Moreover, in the digital world, figuratively speaking, five years are almost like a hundred years. Within this duration, many new technologies are released while certain plugins and extensions become outdated. Additionally, new design trends keep popping up on the sites across the web.
So, if you haven't redesigned your website so far, it will generally represent that you are out of touch with the current trends and most importantly that you don't care. Thus, making it hard to position yourself as a leader in your specific field. So, if your website is five years old or even more than that, then it is worth considering an overhaul soon.
Your website loads slowly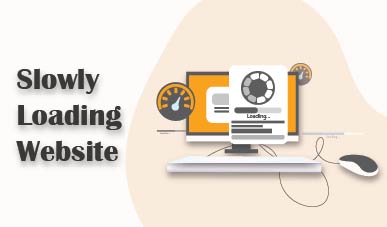 According to data, almost half of the people amongst the people interviewed said that they hate load speed times the most about browsing the website. While it is estimated that up to 75% of the people don't revisit the website that takes longer than 4 seconds to load.
Consumers usually expect to find the information they are looking for as quickly as possible on your website. If your website is slow to load, then they will probably hit the back button and try again with a different website. Additionally, slow load time also hampers your user experience, kills your conversions, and views as well. Moreover, Google also penalizes websites that have a slow loading speed by not ranking them higher.
So, if you are not sure of your website's loading speed, you can check it through a speed tester. If you find that your website takes longer than 3 to 4 seconds to load, it is time to update it for a cleaner and simpler design that will boost the speed of your website.
Your website has a high bounce rate and low conversion rate
The other major signs which indicate that it is time to update your website are high bounce rates and low conversions. If visitors are just coming to your website and not fulfilling the action that you want them to complete, then you probably have a low conversion rate. This most probably may be due to either the users coming to your website are not able to find what they are looking for easily or your website is completely outdated.
Whatever, the reason might be, if you see low conversion or high bounce rates on your website then you should consider redesigning it. Redesigning the website may develop your visitor's interest in what you have to offer and thus encourage them to spend more time on your website. The longer they stay on your site, the more likely they are to convert and the lesser will be your bounce rate. Hence, as a web design Jacksonville service, we will recommend you to revive your website as soon as possible to avoid more loss.
Your website is not Mobile-friendly
Nowadays, most people have a smartphone and just imagine the user experience of the visitor when he or she lands on such a non-responsive website while on their smartphone. It will not even take a second for them to bounce back.
If you don't have a mobile-friendly website by this time for your business, then we would recommend you to stop what you are doing right now and fix this problem as soon as possible. Because now, a mobile responsive site is no longer an option, but a requirement.
This is due to the fact that nearly 75% of website traffic comes from mobile devices. Additionally, it is found that people spend about five hours a day on their smartphones, and in most cases, this surpasses the time spent on a desktop. So, you should be where your market is. A mobile-friendly site will not only help you enhance your user experience but also boost your website's search engine rank. Hence, make sure to rebuild a website if it is not responsive.
Your website is not SEO optimized
When people are looking for new products are services and they don't know who offers them, so they usually turn to Google. It is found that 95% of people who turned to Google usually don't click past the first page while 70% of them don't even go beyond the first five results. So, if your website is not ranking well on this search engine, you could be missing out on consistent leads and phone calls regularly. Hence, as a business, you should always strive to rank your website in the top results of the first page.
So, if your website was not optimized for SEO when it was being built initially, you can redesign your website or make SEO optimizations to your existing website. Because now, SEO optimization is a must for the success of your website as it will help you improve your search engine rankings and thus generate more traffic and bring more customers to your business.
Well, an SEO audit can help you find the exact steps that you should take to improve your business's visibility on the search engines and thus bring more customers to your business.
Your competitors have a new website
Nowadays, online competition is fierce, no matter what industry you belong to. While, attorneys, dentists, home service contractors, etc. are among some of the most competitive industries where regularly getting leads is essential for the growth of the business.
Moreover, regardless of which industry you belong to, your competition understands the importance of having a high-quality website and how constantly to improve it to get more attention. So, if you think that your website is not as good as your competition then you will probably lose your visitors, leads, and sales to your competitor every single day. Hence, it is essential to stay competitive in order to achieve success and most of it begins with a website that delivers on the promise of your brand.
In such a case, it makes sense that when they change, you should revamp your website too. Analyze their website and see what they have done, but make sure that you don't replicate it. Your website does not need to look like their website, you can just consider some things that might be engaging for your target customers.
You cannot update your content easily
Today, there are various tools that can help you easily build a website. These tools come with a user-friendly content management system, drag and drop editors, and extensive documentation. Hence, you can achieve a great website with little to no coding knowledge. But if you find small edits such as updating text, images, or announcements are difficult to make on your website, then it may be time for redesigning it.
Even if you encounter difficulty while adding a page, updating a picture, or inserting a new copy every time with your backend system. In such a case it will be impossible for you to keep up with your industry and needs. Moreover, as your business grows, adding new information to your website will be mandatory, and having such a website can be a roadblock for getting out that important information to your customers. Hence, you should consider redesigning your website as soon as possible. It will allow you to make quick changes to your website whether that be editing an existing blog post, adding or deleting elements, or simply updating your terms and services.
You have too much technical troubleshooting
There is a major problem when you spend time troubleshooting your technical problems instead of providing customer support. If most of your time is invested in fixing technical aspects of your site rather than optimizing it then it is time to start looking for a new hosting option, content management system, or even the entire framework and navigation of your website. It can really be exhausting to continually look into the error messages and field emails asking the reason for the failure of a certain feature of your site to work as intuitively as it should.
Additionally, if scalability was not your priority when you designed your website for the first time, then you will face some problems like finding ways to place your important product, service, or company's information in the future. If such will be the case, your website will not have the ability to grow with content and pages. Thus, decreasing the chances of growing your profits and sales either.
Your website is difficult to navigate
Navigation can nearly affect every aspect of your website's performance from search rankings and bounce rate to conversions and user satisfaction. Generally, users should be able to easily find what they are looking for when they first visit your website. After all, they have visited your website for a reason. But if they are unable to locate the information, page, service, or product they are searching for, then they will not only depart from your website but may also take their business to a competitor. Moreover, Google will also have difficulty in crawling your site if it is difficult to navigate as Google relies on the structure and information of a certain page to determine how it is relevant to the purpose of your overall website. Hence, you should redesign your website if it is not easily navigable.
Conclusion
Whether you should invest in redesigning your website or not is obviously a major decision. However, if you are running from any of the issues mentioned above in this article then you should definitely consider redesigning your website. It is of course not an easy task and you may need to take make steps before planning to redesign your website.
Take some time and evaluate your online presence. Access your website's biggest pain points and determine what is missing, what needs to be improved, and how these issues can negatively affect your user experience. Once, you get a hold of all the problems then you can take one step closer to meeting your business goals by redesigning your website.