Tips to Drastically Improve your Website's User Experience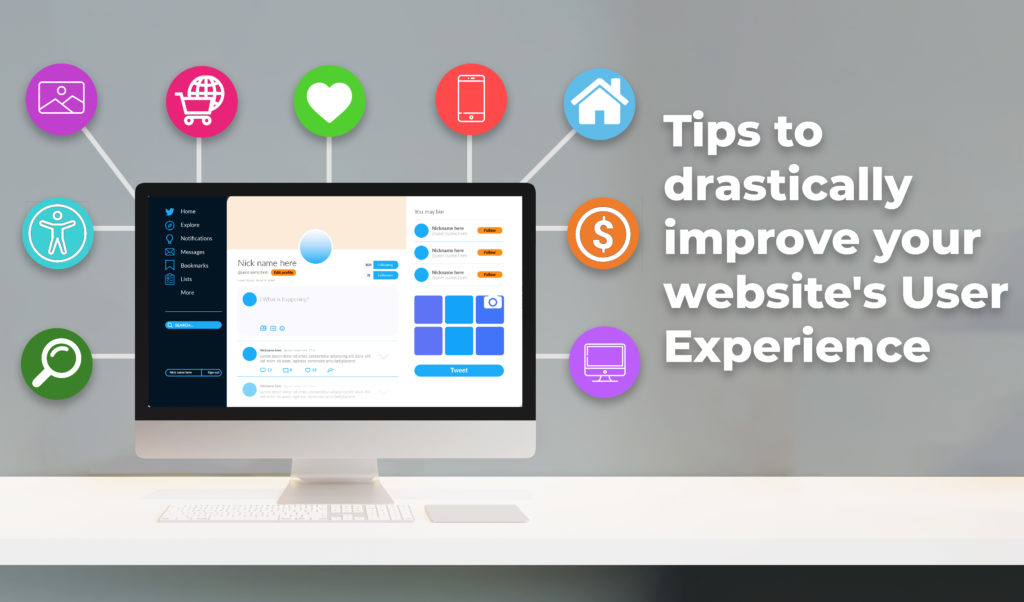 A website is a centerpiece of your digital presence, your twenty-four by seven salesman, and also a powerful marketing tool. Every website has a purpose, it can either be selling a product, a service, increasing the subscription list, or reaching customers around the globe. Even you must have developed a website with a goal in mind. Right? Well, now it is no more a secret that you need to provide your users with an amazing experience to achieve those goals.
Nowadays, people mostly search for products and services online so many of them will encounter your business online for the first time. Hence, improving your website's user experience becomes important. Providing a good user experience will make the users stay longer on your website and the longer they will stay, they will learn more about your business and engage with the products or services you provide. This will eventually help you build a good customer base and ultimately increase your revenue. After all, generating revenue always remains the primary focus of every business. In order to achieve this, you should enhance your website so that it is accessible, usable, efficient, and easy on the eyes.
Amongst the many methods that can help you build such an astonishing website that generates great engagement and user experience, we at Jacksonville website design have broken down the important ones. However, before beginning to help you improve your website's user experience, we would like to stress more its importance to influence you to take action as soon as possible.
The Importance of Improving the Website's User Experience
User experience touches every aspect of your business and is the most essential factor that can greatly impact the success rate of your business. It mainly focuses on how a visitor feels when he interacts with your website. By optimizing your user experience, you eliminate many obstacles that customers encounter while making a purchase. This is because user experience empowers the user to choose the path to conversions. So, improving your user experience will help you to drive your visitors through the conversion funnel with ease.
Additionally, we are all aware of the fact that Google's main priority is delivering a satisfying user experience. So, Google always prefers to show websites that are well-designed and user-friendly on its first result page. Hence enhancing your user experience will also improve the chances of ranking your website on Google.
Moreover, before trusting any company, people usually research about it, so you need to enforce your brand's credibility and user experience can help with that too. Because once the customer lands on your website he will check all the content that your website displays and see whether you are trustworthy or not. If they end up taking a lot of effort in figuring out who you are, it will annoy them and create a negative impact on them. Whereas, if your website is easily navigable, it will allow your users to seamlessly move between your web elements. So, they can easily know about your business, go through your reviews, and read your content. This will ultimately build a trustworthy relationship between you and your customers.
As we have already discussed above that every website has a purpose, it may be driving leads, making sales, or providing informative content. A great user experience will help your website to do its job well and thus achieve great results.
Tips to Improve Your Website's User Experience
When it comes to optimizing your user experience there are many variables you can think of. It may be the user interface design, usability, or accessibility. Apart from this other factors that can influence your website's user experience is the value of the content, product, or service present on your website, its usefulness to the visitor, and its navigability.
Though there are no limitations to optimize every crap on your website, if you are just starting, you should begin with the important ones. Below are some important tips that will help you optimize your website's user experience.
Make Use of Conventions
Conventions are essential to your website simply because people are familiar with them just like how we recognize the stop signboard on the road. As user experience revolves around people, you can take advantage of this human behavior. It will allow you to create an amazing user experience. So to take advantage of this human behavior, you should align your creativity with the thought process of people.
If a user, when lands on your website get confused, he or she looks for familiar elements. So, a website design company always relies on standard conventions to help the user through an experience. You should also get familiar with the standard conventions while designing your website.
One of the common practices is to place the logo on the top-left corner of your page. This will also help create your brand impression on the people. Because mostly in Asian and Western countries people have the habit of reading from left to right and top to bottom. So, the first thing that people will notice when they visit your website will be your brand logo.
Some other things that you need to consider are; placing a navigation menu on to the right corner of the page while social media links, sign-up forms, sitemap, and other less frequently clicked things in the footer, and highlighting the call to action button.
Optimize your Website Speed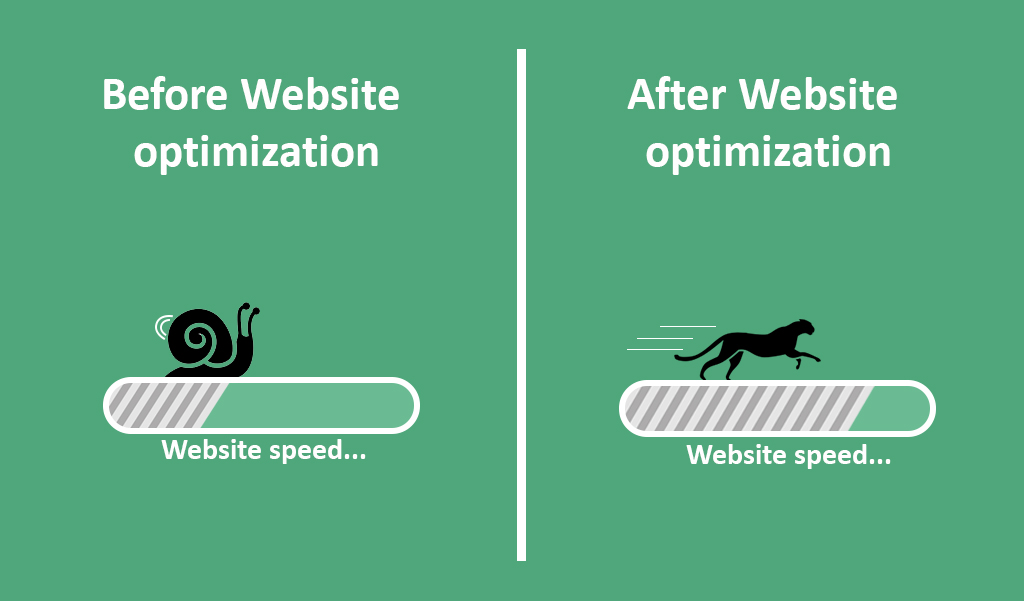 Page speed is one of the important factors when it comes to providing a seamless experience to the users. Almost 47% of people tend to leave the website if it takes more than three to four seconds to load. This means you will lose half of your visitors if your website is too slow to load. Moreover, if your website takes more than five seconds to load, it will increase your bounce rate by 20%.
Nowadays, people simply don't have so much time to wait and even patience. So, slow-loading websites often become a source of frustration for them and create an interrupting user experience. Whereas the websites that load within one or two seconds have seen a potential increase in their visitors and thus the conversion rates.
There are many effective ways to speed up your website like using CDN, minimizing JavaScript and CSS files, reducing the number of unnecessary plugins, HTTP requests, external scripts, and so on. But you can simply start with optimizing your images by reducing their size. Because images are one of the leading causes of a slow-loading website. By compressing the images on your website, you will see a dramatic change in its speed. Then you can also start optimizing the other factors that are responsible for slowing down your website. All these factors together will create significantly help in speeding up your website and thus provide a great user experience.
Use the Whitespace Generously
Whitespace also referred to as negative space is the portion of a page that is left blank and is essential to a good design. It is one of the quickest and easiest ways to improve your website's user experience. Moreover, according to research, it is found that adding space between two elements and in left and right margins can increase the user attention by almost 20%.
White space enhances your content such as text, images, icons, etc., and makes it more attractive and clearly visible. It adds elegance to your web pages with simplicity.
However, you need to find the balance between what is important to communicate and adding whitespace, especially when you are trying to get a lot of content in the area that is immediately visible before scrolling generally called above the fold.
Some of the ways that allow you to use white space to boost the user experience of your website are:
Increasing the line space in the body for text.
Adding white space on the left and right margin in long text blocks.
Grouping related objects with white space.
The key is to identify what is more important and allocate white space strategically to make your users focus on the most important parts of your website. This will also help you to make your website elegant and easy on the eyes while avoiding page clutter, thus improving your website's user experience.
Create a Responsive and Mobile-friendly Website
Everybody has a mobile today so most of the users tend to access the websites on their mobile devices. It is estimated that half of the website traffic comes from mobile devices. Users are five times more likely to abandon a website that is not mobile-friendly. So, if you are not optimizing your website for creating the best mobile experience, then you are shutting out a huge number of potential customers. Moreover, the need for creating a responsive website has become more crucial. Because recently Google has started penalizing websites that aren't optimized for mobile devices. Hence, it has become imperative to create a responsive and mobile-friendly website.
You can take the following measures to make your website responsive.
Ensure that your users can interact with your website with a single touch while designing the mobile layouts. For example, you can place the buttons in the center of the screen so that the users can easily click on them with their thumbs.
Make the font size large enough, so that it is easily readable on a small device such as mobile. This will save the users from the struggle of again and again zooming in to get the essential information they want.
Avoid cluttering your page with too many things as it can frustrate the users since the screen size is too small. Keep minimum things on a single page and be sure to make use of white space.
You must have seen most websites with a menu stretched horizontally across on the desktop but that won't work on mobile view due to the small screen size. Hence, include a dropdown menu for enabling the users to easily navigate through your site.
Make sure that whatever links and buttons you provide on your website are big enough to be pressed easily by a normal human thumb.
All these points will allow you to improve your website's accessibility on a mobile device and will result in an enhanced user experience.
Make your website easily navigable
Easy navigation is the key to a successful user experience. As we already discussed above that if your users are unable to easily move between your web elements, it will definitely annoy them and they will leave your website. This is definitely the last thing you would wish to happen. In fact, you would not even wish this to happen.
Your visitors are always in a hurry so we should make sure to help them to find what they are looking for and where they want to go quickly and this begins with your navigation menu.
Your main navigation bar should be at the top right of your page including the most important links to the pages like home, about us, services, and contact us. You can decide the order of these elements based on their importance.
Moreover, you can include a search bar on your website or buttons like contact us or back to the home page to make it easy for your users to move through your website effortlessly. Also include footer navigation consisting of a sitemap, contact information, social media links, and also a "back to top" link.
To conclude, we can say that cutting off every obstacle that might stand in your user's path while interacting with your website is the key to provide a good user experience. The above-mentioned points are basic but the most important ones that will help you drastically improve your website's user experience. So, here is a quick checklist to help you remember those points.
Make use of conventions
Use the whitespace generously
Optimize your website speed
Create a responsive and mobile-friendly website
Make your website easily navigable
You can begin with these building blocks and then eventually start optimizing other factors too that affect your user experience by analyzing how people are interacting with your website.
Finally, to provide a great user experience, you need to continually analyze, optimize and test different variations of your website to see what works the best for you. Similarly, here is a guide that will help you understand what the top ranking websites have that make the website successful.