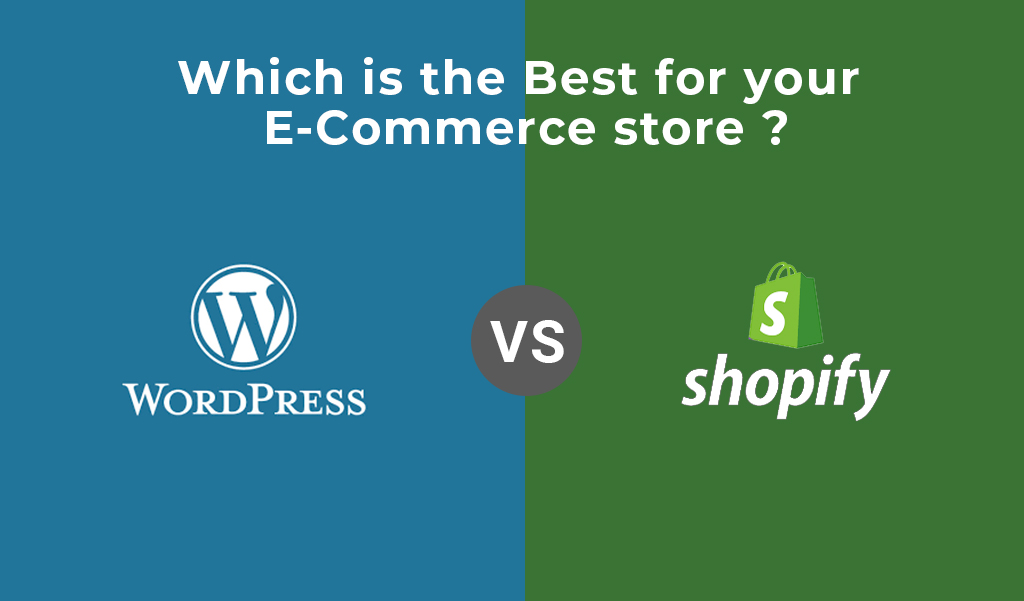 Now, building an e-commerce website has become more convenient than ever. If you have ever considered launching your own e-commerce website, you definitely must have come across the most popular platforms, WordPress and Shopify. Both these platforms allow you to build a successful e-commerce website but you might wonder which one is better for creating your online store. Each one has its own features that make selling online quite simple to get your store running.
With such good options available, it is hard to decide which platform is the best one for you. But one platform may be better than the other depending on what you are planning to build. So, to make the process of selecting the right platform for launching your website simple, in this article we will provide you a full examination of both these platforms with their main distinction based on pricing, flexibility, ease of setup, customer support, payment options, content management, and SEO. Going through all these essential factors will help you get a much better idea of which platform will serve your needs best. But let us first take a quick overview of both these platforms and understand the major difference between them.
What is WordPress?
Launched in 2003, WordPress has been around for over 16 years. In technical terms, it is defined as a content management system licensed under GPLv2, which means anyone can use and modify it for free. Putting it into simple words, we can say that it is a simple and easy open-source website creation platform. Once installed, you have whole control over it and you can make changes to the site layout by using themes, plugins, and even dig into the code to make more significant changes. WordPress is available in two different versions viz. Hosted WordPress and Self-hosted WordPress.
You will get Hosted WordPress at Wordpress.com where you just need to pay monthly charges to get access to a broad range of features that enable you to build and maintain a website. However, you will need third-party tools like WooCommerce, or Ecwid to add e-commerce features to it.
Whereas, Self-hosted WordPress is a part of the software that you can download and install on your own web server. As it is an open-source platform, the code behind it can be easily tweaked and customized to a high level. If given in the hands of the right web developer or a web development company then by installing the right plugins, it can meet the requirements of any web design project because of its extreme flexibility.
The installation of WordPress on your server is free but you need to pay additional charges for hosting, domain registration, potential plugins, and more, which we will be discussing further in this post.
What is Shopify?
Shopify is a commerce platform that allows users to build their online stores and sell products. It has features for everyone from beginners to e-commerce experts and provides a range of templates that can be customized to meet a range of business requirements. This platform allows you to open a storefront, showcase your products, engage with customers, accept payments, etc., and also offers all the tools that you will need to manage these activities. One of the major advantages of this platform is that it doesn't require any technical or design skills to create an e-commerce store. So, anyone can use this platform without resorting to coding. However, users with coding skills will be able to customize their stores more extensively as Shopify also allows users to edit the HTML and CSS of the website.
When working with Shopify, you don't need to worry about buying web hosting or installing the software because everything runs on Shopify's servers as it is a 'hosted' solution. Shopify is a "software as a service" (SaaS) tool, you don't own a copy of the software, instead, you pay a monthly fee to use it.
What's the Difference between Shopify and WordPress?
Before we begin comparing these two platforms on various parameters let us first take an overview of their differences. Though both WordPress and Shopify aim towards building a good website, they have two different approaches for creating and managing your store. The major difference between them is that Shopify is an online tool built specifically for e-commerce whereas WordPress doesn't come set for e-commerce. But there are some great plugins like WooCommerce that you can install to turn your WordPress site into an online store. If we look at their e-commerce market share, we come to know that 21% of the e-commerce websites are built with WooCommerce while 18% are built by Shopify when we consider the top one million websites. Whereas if we take a look at the top ten thousand websites, we come across the data that only 6% of websites are built using of WooCommerce plugin on WordPress while 23% use Shopify. However, as a web design Jacksonville, we will not advise you to pick a solution simply based on popularity, but understanding this data can help you to see trends on what your competition might be using. This data also indicates that there is still a lot of room for both these platforms to grow.
Now as we go further with some more specific comparisons based on different parameters, you will be able to understand better, which platform is best for you depending on your requirements. So, let's begin.
Ease of use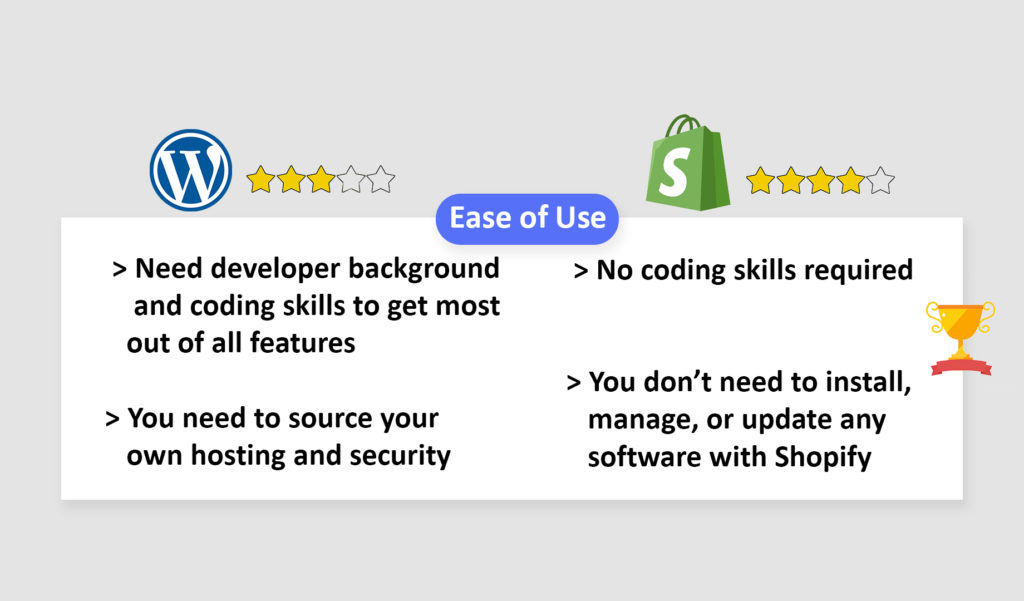 If you are new to the world of online selling, then before opting for either WordPress or Shopify platform, you will need to think about which one will be easiest for you to use.
Talking about Shopify, we know the fact that it is built especially for creating e-commerce websites. It is not intended for any other purpose beyond this and transaction management. To start using Shopify, you just need to register for an account. If you are still not sure whether you want to choose Shopify over WordPress, then you can try Shopify's 14 days free trial.
Shopify provides you a variety of tools that can help you make the of your online store. Whether, it may be coupons, discounts, payment delivery systems, or anything you want, Shopify has covered it all. On top of this, you don't need to install, manage, or update any software with Shopify and also don't need to worry about security or backups, either. Moreover, as already discussed there are no coding skills required for using Shopify.
In contrast, WordPress was not designed specifically for creating online stores like Shopify and requires a little more work like sourcing your own hosting and security. WordPress for sure gives you a way to create an attractive online store, but you will need some developer background to really get the most out of all features. Especially, beginners will have a hard time mastering all the functions and take a longer time to launch their store. So, if you are looking for a simple solution to develop your e-commerce site it will be better to stick with Shopify.
Pricing and Value
There are a lot of parameters when it comes to comparing both these platforms, but one of the most essential components for any business is the prices. This is the other big difference between Shopify and WordPress.
Shopify offers a 14-day free trial and comes with a range of 3 plans along with Shopify Lite that allows you to set up the Facebook store and Shopify Plus which is an enterprise-level plan sold on a quote-by-quote basis. As you upgrade your plan you unlock more advanced features. But, most of you will probably be good with one of the three plans. Below, you can see the breakdown of the prices depending on the pans.
Monthly plan
Shopify Basic: $29.00
Shopify: $79.00
Shopify Advanced: $299.00
Yearly plan:
Shopify Basic: For one year- $26.10, for two years- $23.00
Shopify: For one year- $71.10, for two years- $63.20
Shopify Advanced: For one year- $269.10, for two years- $239.20
If you are a beginner basic plan is perfectly adequate for you. Here, you will have an access to all the themes, get 24/7 support, and also have the majority of e-commerce features. Later, you can upgrade your plan to 'Shopify' that will provide you the extra advantage of having a detailed reporting tool and abandoned cart recovery. Selecting the 'Advanced Shopify plan' takes you one step further by letting you in on advanced reporting and real-time shipping.
On the other hand, WooCommerce, a plugin on WordPress is free to install. But when you start setting up your website, you will come across some other costs depending on things like:
WordPress Website Hosting Costs: $350 per year or $5-$100 per month
WordPress Theme Costs: Basic templates can cost you from $35 to $50 and premium templates can range from $80 to $200.
WordPress Plugin Costs: One-time Cost: $50 to $500 while monthly costs have a price range from $5 to $150.
Part-time developer guidance: $500 to $2000
It is difficult to decide a winner here due to the variable costs of each platform that depends on how you are going to build the website. But remember to take the prices into account while choosing the right platform for you.
SEO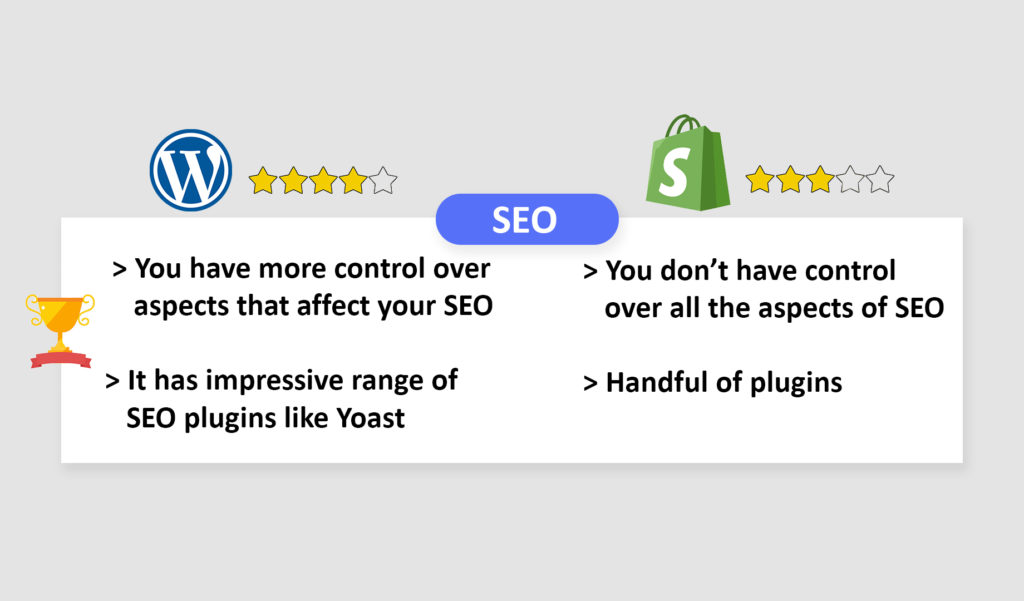 Search Engine Optimization (SEO) is vital to the success of every website. It helps you rank higher on Google. Because without good visibility in search results, it is nearly impossible to expect sales. The use of AdWords can definitely drive more traffic to your site but for a long time success of your online store placing it higher in organic results is crucial.
Though WooCommerce and Shopify both give tough competition to each other, when it comes to SEO, WordPress overweighs Shopify. WordPress has an impressive range of SEO plugins and Yoast is one of them. It is very simple to use and offers excellent support. WordPress allows you to add detailed meta descriptions and titles to tell Google what they are about. As WordPress is flexible, you will have more control over different aspects of your site that affect your SEO.
Meanwhile, Shopify lets you modify many important components but you do not have complete control over everything.
Here are some SEO techniques that can help you drive organic traffic to your website.
Customer Help and Support
Customer help and support are always easily overlooked when you invest in a new tool. You assume that it is necessary as you can easily learn the system. However, you may face problems that won't be easy to solve so it is always better to know whether assistance is available or not.
Well beginning with Shopify we can say that it is the best e-commerce website builder for customer support. You can receive 24/7 support through different mediums like phone, live chat, and email via Shopify. It also has a handy center and a range of community forums for help. So, overall, you get the hang of the service easily with all the support solutions.
On the other hand, unfortunately, WordPress doesn't provide a lot of support. There is of course support out there in form of WordPress forums but if you need more immersive support then you will need to work with a developer specialized in WordPress. But you may not always get the responses as speedy as you like. So, you are left up to deal with most of the problems on your own. However, going with a hosting provider that offers Managed WordPress hosting is one way to get more support and help.
Once you have chosen the platform according to your needs, it is important to make your website outstanding, there are few e-commerce websites that dominates the overall market, these are the elements that are present in good e-commerce websites and you can apply this to your e-commerce website too to transform your website's user experience.
We all know that one size doesn't fit all, so when it comes to developing an e-commerce site, everything depends on your needs. So, you should always consider your needs carefully. Both WordPress and Shopify are great platforms for building an online store. Both these platforms have a lot to offer for what it takes to launch a successful e-commerce site. However, they do differ from each other in some parameters. While Shopify mainly focuses on e-commerce sites, WordPress is all about building flexible sites.
You can consider Shopify over WordPress if you want an easier setup whereas considering WordPress will give you more features for SEO than Shopify. Though both platforms are excellent, when you compare their features with your ultimate goal, one will stand out as your best choice. It is important to have a fast-loading website to offer an enhanced user experience to your viewers, here are 10 effective ways that can help you speed up your website.