Why Website is Important for Small Businesses?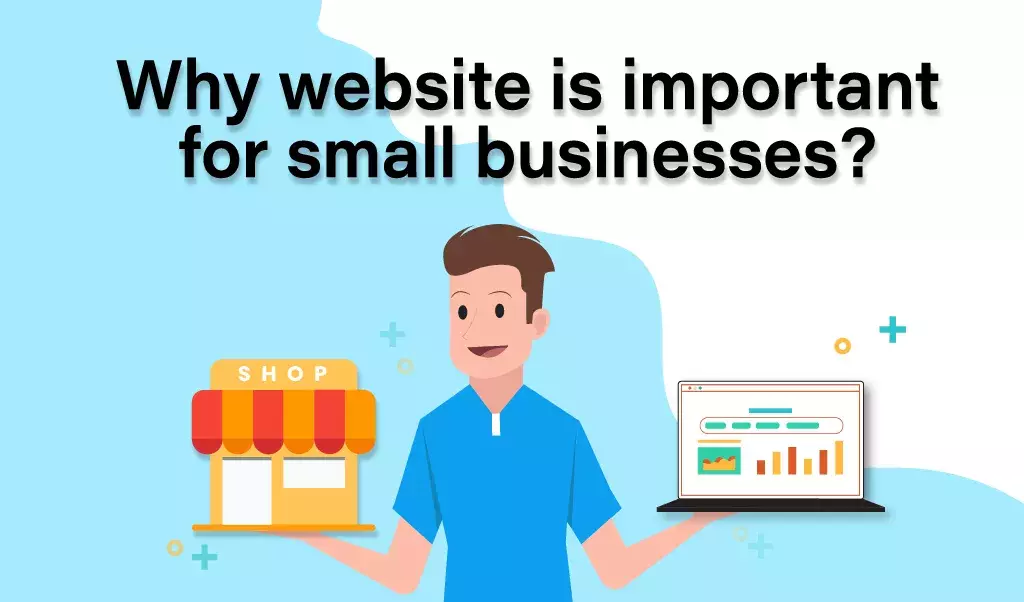 Running a business on your own is not an easy task at all, while you always have a never-ending to-do list. This does not mean that you should use this as an excuse for not having a website.
However, still many small businesses, especially the new ones only focus on necessities and urgent matters. Additionally, they only consider spending money when they need to, so it is easy to see why these businesses might think that website is a luxury item. 
Moreover, most small businesses usually believe that just creating a Facebook page, listing their number, or traditional mailing would be enough for an online presence and help them sell their services or products. But the truth is regardless of which industry you belong to, the advent of technologies and the rise in smartphones has made it important for every business to have a responsive and attractive website. It will act as a strong, professional destination that gives customers the impression of your business to your customers and motivate them to engage with it. 
If you are still not convinced take a look at the following points to know why it is crucial to have a website presented by web design Jacksonville services.
A website is an anchor for your marketing
Your marketing efforts always begin and end with your website, hence getting a website is essential before you print a single business card or spend a penny on advertising. Because a website is where all of your marketing efforts should drive interested customers. It provides you with a place where your potential customers can go to learn about your business and you can centralize all of your business information and marketing messages. You have a lot more control over your brand as it gives you the platform to tell your potential customers about your business, what you do, and who you are. 
Take a look at some of the following ways where you can use your website as an anchor for all your online marketing efforts.
Put all your important business information like your address, phone number, contact form, email address, menu, prices, special promotions, and events on your website. This will help you provide a helpful resource for your customers so that they can visit your site and get all the details they need about your enterprise.
End your marketing campaigns with a call-to-action to get more information on your website or create flyers to hand out an event and add your website URL so that people can visit your site to learn more about your product and services.
Your website will Be a gateway to your brand as you can use it to support all your marketing efforts.
Your website helps you build credibility
Not showing up in search engines is one of the major reasons to lose credibility as a business. Not having a website will make you and your company look outdated, untrustworthy, and out-of-touch. You will miss out on tons of referrals even if you are fantastic at word-of-mouth marketing. 
While on the other hand, visitors can get a sense of what kind of business you run and can hopefully become your customers by checking out your website. 
It is found that eighty-four percent of consumers believe that a business with a website is more credible than one without a website. Having a website can fuel the perception of your entire brand and make it look more legitimate, serious, and credible. You can showcase your services and products through your website in the best way possible. It will help you increase your flexibility, control, branding, and credibility and thus allow you to easily convince your customers about why they should choose you. 
The following are the elements of the website that can help you build the credibility of your business.
Original photos: Make use of original photos of your business, staff, products, and services, instead of filling your website with stock images.
Before and after photos: Display the value and quality of your work by including before and after photos of what you can accomplish through your services.
Testimonials: Collect reviews from your customers and publish them on their websites.
SSL certificate: Add an SSL certificate to your website in order to make it secure so that your customers can safely share their personal and financial details.
Active social media profile links: Include your active social media profiles links so that your customers can gain more proof that you are a trustworthy, active, and engaged company by vising your social media platforms. 
Informative blogs: Show your clients and customers what you know by writing informative blogs. This will help you get your customers and clients to trust your company.
Terms and conditions page: Include a link to your privacy policy page at the bottom of your website. This will allow you to tell your audiences about what you are doing with their information as well as act as an agreement between you and your brand.
If you have such a professional website, then your customers are more likely to see your business as credible.
A website helps you promote your services or products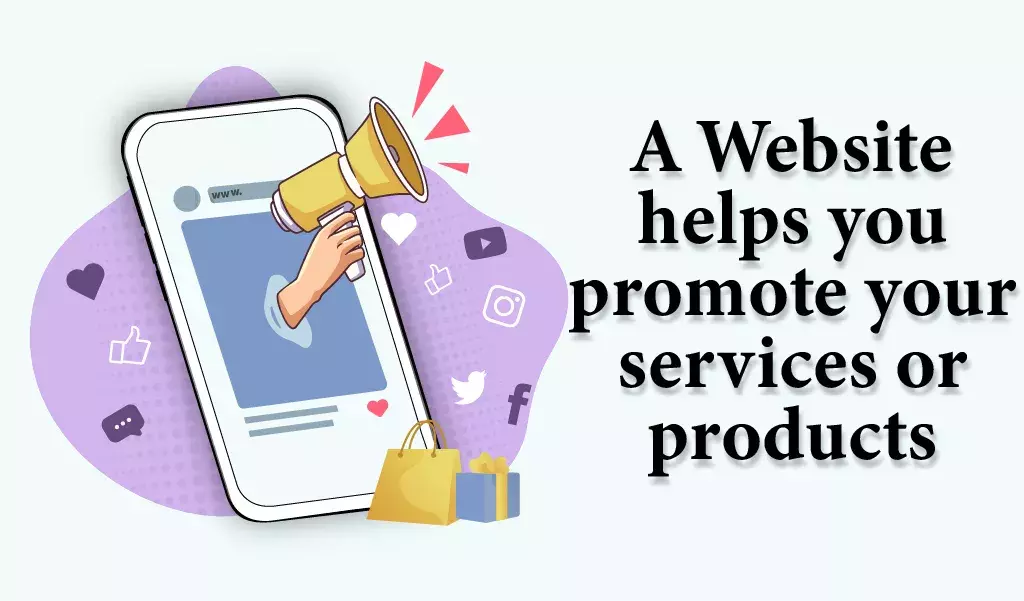 Your website can act as a direct sales tool by sharing up-to-date information about your offerings. It will be a 24-hour sales channel that will sell even when your business is technically closed. In addition to this, you can update information in real-time, add a simple product or menu, and more to help you make sales.
You can use your website as a sales support system by adding some elements like:
Online booking option: If you are a service-based business then your website can help your customers take the next step toward doing business with you by allowing them to book an appointment with you. Apart from just making sales your website will also make introductions that lead to sales.
Portfolios: Before your customers choose to take your services, most of them want to gather as much information as they can. So, including portfolios is a great way to show your customers what your business is capable of.
About page: Many customers usually research a business before engaging with them. Including an about us page that introduces your business, brand values, unique selling propositions, and mission statement can help your customers understand what your business stands for and who is behind it.
An active blog: Adding a blog is another great way that allows your customers to know more about your products and services. You can show off your expertise through your blog and a blog with fresh content can increase your search rankings too.
Your Website Can Help You Expand Your Reach
Every business always aims to reach new customers and expand in the market. While business often comes from word-of-mouth, your website will open up to a brand new audience and provide you the chance to reach millions of people online.
You might be highly successful in your local area but without a website, this reach will always be limited. But with a website, you will be able to connect with many more customers that are interested in utilizing your services. It is one of the cheapest ways to bring sustainable leads to your business. Moreover, its responsive design will allow the users to access it from any device thus increasing your traffic. Moreover, it is seen that 57% of users mostly don't recommend a poorly designed mobile design. Hence, it is a must for every small business to work on having an excellent mobile-friendly design. This will allow you to reach a greater number of customers and opportunities as well.
Having a website will help you gain a competitive advantage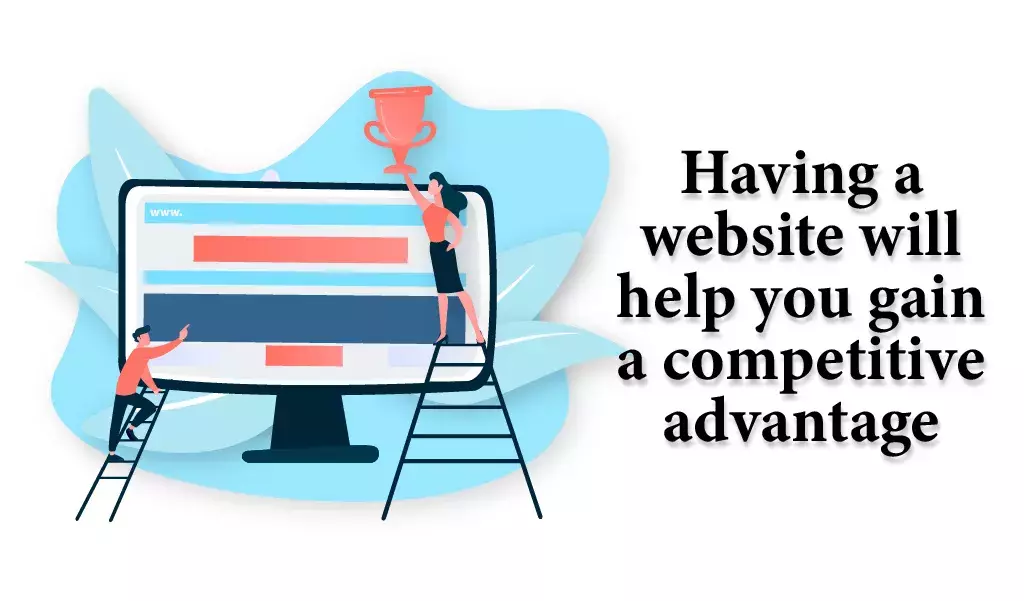 As already discussed many times above, most consumers usually use the internet before making a purchase. Consumers do proper research as they wish to be fully informed about their purchasing decisions and know what they are buying and from whom. And a website can help you with that. But if you don't have a website you will be losing your customers to the businesses that are already taking advantage of this technology. So, your competitor will have a direct advantage over you if they market their website effectively. But having a website will help you level the playing field.
However, still many small businesses don't have a website and if you are one of them then there is no time like the present to get one and establish your online presence, ultimately beating your competition.
Your website will be your long-term investment
Investing in building a website will provide you with a long-term rate of return that you will not get anywhere else when it comes to spending a marketing budget. Your website will be a great investment in your company's future and one that will bring you excellent value. Whatever you spend on building a website will possibly return back in a couple of times due to the extra customers that an optimized website will bring you.
Planning to create a New website, here we have covered all the points in factors to consider while planning your website
With a website, you can control your online destiny
When you run your own website, you have control over both the content you produce and the platform you maintain thus giving you the following two major benefits.
Control over your brand story and business information
If you rely on a third-party platform for your web performance, then you will be at their mercy. You can surely rely on sites like Yelp but you will be risking a lot as it does not communicate your brand's vision or energy either.
But with your own website, you can control your brand story and ensure that the correct details about your business are being presented to your customers. 
Many small businesses usually set up their presence on other platforms like Facebook, YouTube, or Medium instead of building a website and believe that they will get the same benefit of having a website without needing to develop one. But this will prove to be a big mistake. Because when you build your brand on a third-party platform, they own your platform, not you. So, if they ever change their guidelines or shut down then your business will shut down too. 
Whereas, on the other hand, having your website will allow you to have whole control over your online destiny.
Your Website Will Get You New Customers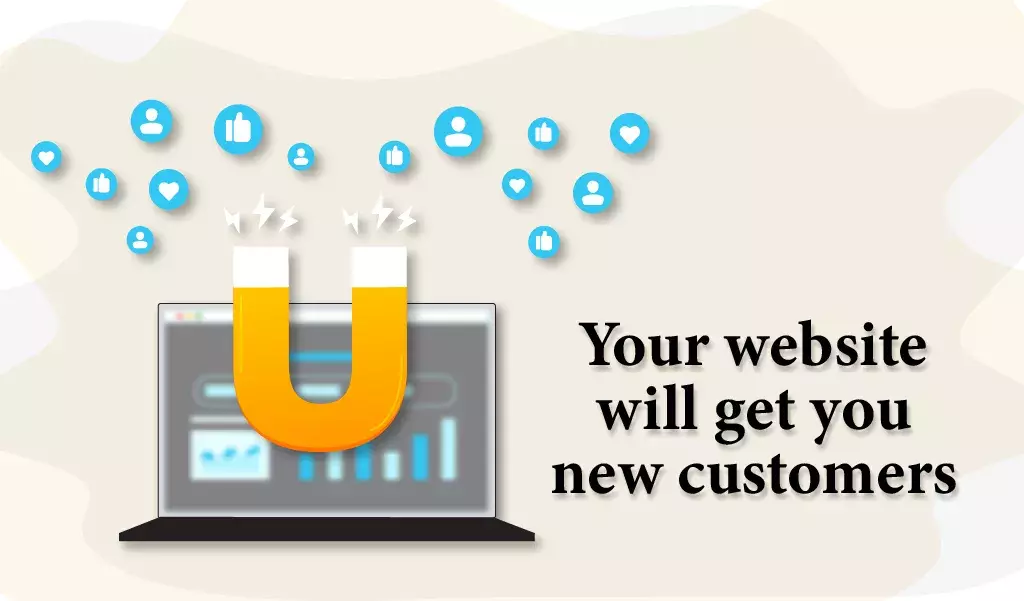 The ability of a business to succeed often rests on its potential to bring more clients. But is quite expensive and unreliable to reach thousands of people with the use of only traditional marketing methods such as direct mail or print advertising. Whereas having an online presence enables you to reach more people regardless of their location at comparatively lower prices.
People usually turn to the internet when they have a problem and if you have a website then you are there when your customers are searching to find a solution to their problem. Hence, it is a good idea to make sure that your business is included in Google's search results with so much sway over people finding stuff on the internet. In fact, 77% of small businesses confirmed that a website is a great way to find new customers.
Apart from gaining new clients, a website also helps you keep your existing customers engaged, informed, and well-served. While with a website the ability to update your business information 24/7 on the internet improves customer communication, you get free time to focus on other business priorities. 
While on the other hand, you will have very little control over that happening without a website.
Reference Blog: SEO techniques to drive organic traffic to your website
By now it will be totally clear that, if you don't have a website then you will miss out on major opportunities to generate more leads and gain new customers. So, now that you know why you need to build a website for your small business, a web design company in Jacksonville will suggest you get started now and launch your small business website today.